Trinity United Church move is a sign of the times
by Helen Hall
Kitchener Citizen
May 8, 2018​​

​The interior of Trinity United Church looked a little forlorn as winning bidders came and collected their items following an online auction of the building's contents in April.
​
But, says Transition Minister Bill Bruce, this is a good news story.
​
"It's not a disaster," Bruce said, "it's about smart decisions on how to use what we've been given."
​
Bruce has helped several churches through the experience of selling their buildings and coping with change.
​
Built in 1906, Trinity United Church was located at 74 Frederick Street in downtown Kitchener. The building was in need of repairs and the size of its congregation was shrinking.
​
"The entire sector is changing. It's a fact. It's been a fact for a long time," Bruce said.
​
Wanting to spend its time dealing with its mission and service rather than worrying about building repairs, the church's board decided in 2017 to sell the building.
​
After the sale, the congre-gation packed up what it wanted to take with it and then held a processional walk to the chapel at St. Matthews Lutheran Church at the corner of Benton and Church where it currently leases space for its services.
​
Over 1,000 remaining items from its former home were put on the online auction block, including its pews, speaker system, dishes, children's toys, furniture and office items.
​
"It looks picked clean to me," Bruce said following the sale. He said the church members have worked hard "repurposing and finding new homes" for the contents of its previous building.
​
Jane Maass, who has attended Trinity United Church since the early 1970s, helped organize the online auction.
​
"I think the auction went very well," she said as people filed into the building on April 21 to pick up their items.
​
She said it took three and a half days for Timewell Auctions to photograph the items and post them online.
​
Maase said the stained glass windows in the building would be removed and stored for when Trinity decides where its next permanent location will be.
​
The church building will be demolished, and replaced by a 33-storey condominium building.
​
IN8 Developments purchased Trinity and the building next door for the condos called Duke Tower Kitchener.
​
They will offer one and two bedroom suites starting from the mid $200,000s. Considered to be a prime downtown location, the building has the Frederick Street light rail transit stop right outside its door.
​
The building will also feature a rooftop patio with barbecues, pet play area, communal garden plots, and a fitness centre. The units have a smartphone package that allows the lights and thermostat to be operated by the owner's smartphone.
​
Construction of the new condominiums is expected to begin this year and be completed in 2021.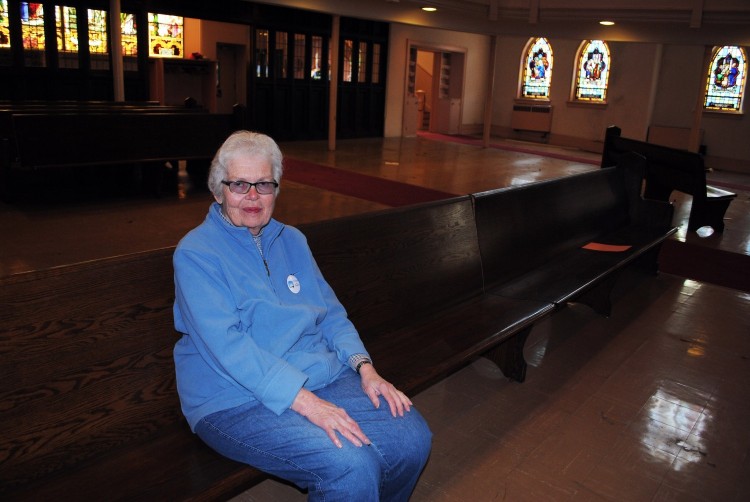 Trinity United church member Jane Maass sits on one of the last pews remaining in the church on Frederick Street after the church sold its contents in an online auction. The building has been sold and the congregation is currently renting space at St. Matthews Lutheran Church on Benton Street. The church will be demolished and replaced with a 33-storey condominium building.
Photo by Helen Hall