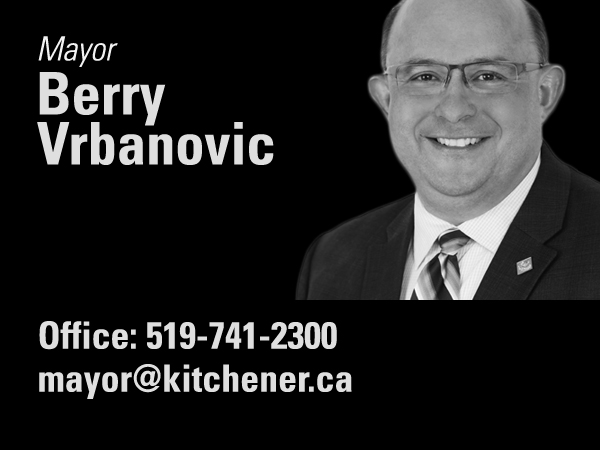 Happy July! I trust everyone enjoyed the Canada Day long weekend and had an opportunity to celebrate our great country in Downtown Kitchener, at the University of Waterloo or at other celebrations in your neighbourhood or amongst friends! While July 1st is our nation's birthday, we are all fortunate to live in this great country and have reason to celebrate Canada and being Canadian each and every day!


LOTS OF GREAT EVENTS IN JULY


One of my favourite parts of the summer is all of the special events and festivals that take place in our community for people to enjoy! I encourage you to get out and enjoy these events – they are a big part of what makes Kitchener a great community to live, work and play in! Some events to look forward to in the coming weeks include:
• our annual giant car show, Cruising on King which takes over King Street on Friday July 13th
• the Kultrun World Music festival which runs July 13-15th in Victoria Park with music from around the world including Canada, Ecuador, Poland, Korea and Chile
• Rock and Rumble in Carl Zehr Square on July 28th with 80's and 90's bands – Honeymoon Suite and Northern Pikes
• Discovery Square on July 31st in Carl Zehr Square
• Show & Shine Classic Car Mondays each Monday evening in July in the plaza at Highland and Westmount.
And of course, you should start planning ahead for the weekend of August 9-12th in Downtown Kitchener as the annual Kitchener Blues festival returns once again for another awesome year of Blues!


REGIONAL SCS SITES


At its June meeting, Regional Council considered a report that proposed two SCS sites in the region – one in Cambridge and one in Kitchener. Each of these sites would be health care sites, with a full suite of wrap-around services also available to those seeking access. The report also suggested two possible locations for the Cambridge site and one possible location for the Kitchener site at 115 Water Street North. Council directed staff to consider additional locations which might be suggested by the municipalities or the community, in each municipality, during the first part of July. A public consultation would follow in August with a report coming back to the region in the Fall following this process and after direction from the new provincial government on these sites.


NEIGHBOURHOOD STRATEGY WINS NATIONAL AWARD


Recently, at the Canadian Association of Municipal Administrators' conference, the City of Kitchener received the prestigious Willis Award for innovation for our Neighbourhood Strategy. Love My Hood: Kitchener's Guide to Great Neighbourhoods strategy was recognized for its grass roots approach to building social infrastructure and for creating an environment where residents can affect their own neighbourhoods by working together. I'm very proud of the work we have collectively done around building great neighbourhoods and appreciate the great leadership by both our staff and the citizens who were part of the steering committee that led this project. It's great to know that all of our work on this initiative will now be shared with municipalities across Canada and will hopefully help shape great neighbourhoods across our great country!


PILOT WINTER SIDEWALK PROGRAM


At the June City Council meetings, Council considered a proposal from staff that would have seen the City pilot a range of sidewalk clearing options in different parts of the city during the upcoming winter 2018-19. This proposal was more than two years in the making, based on input from various members of the community including our accessibility advisory committee, GRAAC and also the TriTag citizen group which advocates for better investment in sidewalks, trails and bike paths. The intent of the various pilots was to see how each pilot meets citizen expectations and how it improves accessibility for pedestrians, those with accessibility challenges, those with children in strollers, cyclists and others. I was hopeful that Council would have supported this entire proposal, so a future council could make some evidence-based decisions, based on full information in the future. In the end, only two parts were approved for 2018-19 – namely proactive sidewalk enforcement through the entire City and the exploration of partnerships with community organizations for older adults and those with accessibility challenges who are on limited incomes. This revised pilot will come back in spring 2019 for the next Council to consider.