For News Tips & Advertising call...
Kitchener East - 519-578-8228
Kitchener West - 519-394-0335
City Council Columns - June 2021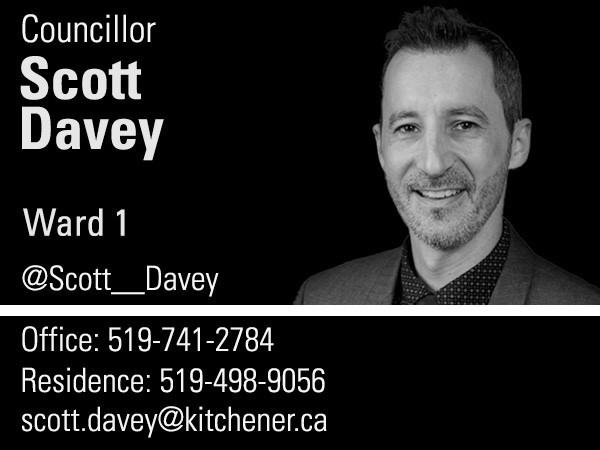 We have a serious housing problem in Canada, and unfortunately, the situation is worse in KW than in other major urban centres. We've moved from an 'affordable housing' crisis to an 'ANY-housing' crisis. Just ask anyone searching for a home. For all but the very wealthy, it's a nightmare. Why is this happening? When prices escalate in a free market, we need to examine supply and demand. Many have noted the demand spiking, despite closed borders. Canada typically welcomes 300,000+ new residents annually but with COVID there's zero immigration, so demand should be dropping. Certainly, COVID's causing people to flee Toronto to our Region, but Toronto's market has been rising as well. Some believe speculators (i.e. short-term flippers) are manipulating the market, and most point to record low-interest rates as pushing demand. These are clearly important factors, but enough to outweigh an immigration freeze and higher unemployment? Looking at the supply side, ScotiaBank recently released a study showing Canada at the bottom of the housing supply list among G7 countries. Worse, within Canada, our area is second to last among major urban centres (per 1000 residents), and dead last in terms of our ability to grow housing supply (to match our growing population from 2016-2020). KW has 13% fewer homes per 1000 people than the Canadian average, and 25% fewer than the average for the G7. Until the cities and Region come together to address this supply problem, this crisis is here to stay.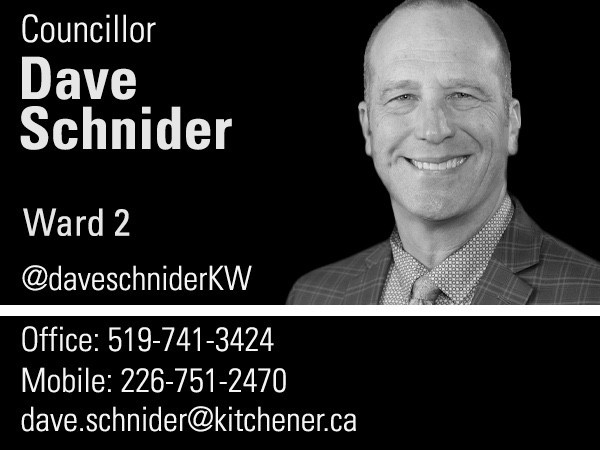 It's great seeing the nicer weather and getting outside to enjoy some fresh air. Walking on our trails and throughout our neighbourhoods is popular. On your walk, you'll notice some nice-looking gardens and enjoy the beauty they bring. I serve on the Kitchener In Bloom Committee that recognizes and thanks those who create a beautiful garden. When you see one, note the address, go to kitchener.ca, search Kitchener In Bloom and click on Recognize A Property Online. They receive a letter of recognition and thanks for their efforts. As the Province gradually eases some of the COVID-19 restrictions, we're rethinking some of our signature events, adapting them or re-scheduling them. Neighbours Day will be rescheduled to the fall, Ribfest is tentatively rescheduled for September, Canada Day Celebrations will be broken down into smaller activations and Outdoor Movie nights will happen across the city with pre-registration required. See all the details by searching Summer Activities at kitchener.ca Take the Make Tracks Challenge. We've set up 5km routes around each of our community centres. There's a story map to give you directions and points of interest along the way. The 40 km/h speed limit pilot on residential streets continues in parts of our ward. Let's all do our part and drive safely and drive the speed limit. Drive like you do on your street, on every street, and be aware of your speed. Have a safe summer! If I can assist you, contact me or call our contact line anytime at 519-741-2345. Follow me on Twitter and Instagram at @DaveSchniderKW and friend me on Facebook.
Thankfully, with the recent release of the Province's Roadmap to Safely Reopen, we can expect more things to do and enjoy around the city in the coming months. City staff worked quickly to reopen splashpads at Community Centres and Parks across the city. I encourage everyone to be patient and to please continue following the capacity and safe distancing guidelines when visiting. Skaters can look forward to the new Upper Canada Park skate park to be completed for use by late summer with construction expected to start sometime this month. You'll see fencing around the construction area and there will be some impacts to the use of the park, but City staff are working with the contractor to help minimize this. Doon Valley and Rockway Golf courses are now open with online booking tee times available at www.kitchenergolf.ca. Until mid-June, there's still time to enjoy the outdoor art exhibit Arena & Alpha at the Homer Watson Gallery, 754 Old Mill Road. Info at www.homerwatson.on.ca or 518-748-4377. I had the pleasure of being on the selection committee for the My Ideal City Essay contest. I want to congratulate the 14 winners, age 10-12 years, who presented their 'Ideal City' visions to Council. Look for the winning essays in this issue of the Kitchener Citizen. Kitchener In Bloom is about recognizing residents and businesses for their front yard gardening efforts, which also help our city be more beautiful. Pollinator, vegetable and herb patches qualify too! To nominate an address call 519-741-2200 ext. 7537 or fill out the online form at kitchener.ca/KitchenerinBloom.
Funding for the Aquatic Centre at RBJ Schlegel Park

I'm so pleased and excited to share that on May 18, along with representatives of the Federal and Provincial government, we announced joint funding to support the construction of the Aquatics Centre at RBJ Schlegel Park in Kitchener. The Government of Canada is investing more than $9.7 million in this project through the Community, Culture and Recreation Infrastructure Stream of the Investing in Canada plan. The Government of Ontario is providing more than $8.1 million, and the City of Kitchener is contributing more than $6.5 million toward this project. The Aquatics Centre will include an eight lane, 25 metre pool tank and warm water leisure pool, a spectacular viewing area on deck and gallery, fully accessible family and universal change rooms and washrooms, a dedicated accessible aquatic entrance, community meeting rooms, and food and beverage services. Southwest Kitchener is the fastest growing area in our region and with our city pools at capacity on average (pre-pandemic), this new investment is much needed. Swimming and water sports are Kitchener's most popular recreation activity, and along with an aging population, an aquatic centre will be an increasingly important part of how our community stays healthy and active. Speeding I often hear concerns about speeding in Ward 5. Resident safety and ensuring roadways are safe is a top priority. As a reminder, I urge drivers to please use caution and drive slower in our residential neighbourhoods.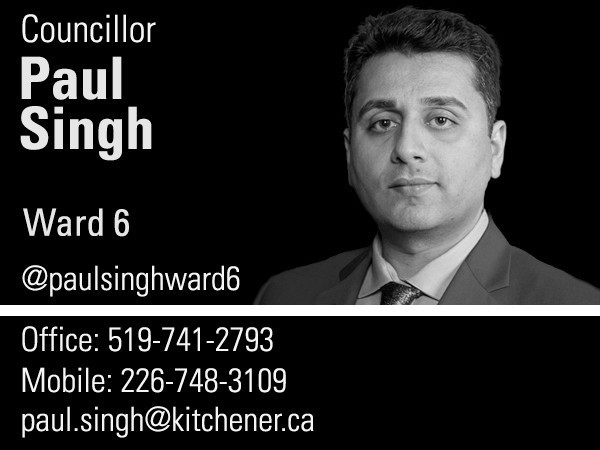 Council approved an amendment to the Comprehensive Review of the Zoning By-law (CRoZBy – Stage 2a) which also addresses permitted uses and regulations related to backyard homes and other residential dwellings. CRoZBy Stage 2a streamlines nine residential zones into seven zones to align with the low, medium, and high-rise residential land use designations in the Official Plan. The zoning bylaw states exactly how land can be used and where buildings or other structures can be located. The old bylaw was over 30 years old and needed to be updated to match our Official Plan. The new zoning bylaw was prepared in stages: Stage 1 (Commercial & Industrial), was approved in April 2019; and Stage 2 (Residential), was approved last month on May 17th. Kitchener has more than 50,000 residential properties. Stage 2 was divided into two parts: In Stage 2A, the new residential base zones were drafted and approved. The new residential zones will be added to zoning by-law 2019-051 but will not apply to any properties. The application of these new residential zones to specific properties will start happening later in 2021 through Stage 2b. The new residential zones are being applied to properties across the city on a ward-by-ward basis. To find out if your property has been updated with the new zoning, look up your address in the zone lookup tool or use our interactive map. Go to kitchener.ca, search CRoZBy, scroll down to these links under Stage 2b. If you have any questions or concerns about the impacts from the new zoning bylaw on your property, you can reach staff at crozby@kitchener.ca.
My Ideal City


​On Monday May 17th we announced the 14 winners of our annual My Ideal City creative essay contest at our live-streamed, virtual Council meeting. The winning entries this year came from students, age 10-12 years, from St. Mark C.S., Suddaby P.S., Williamsburg P.S., King Edward P.S., Queensmount P.S. and Groh P.S. Students each took turns reading their essay, sharing with us their ideas about what kinds of programs and services they think would make an ideal city. I'm so pleased to see youth in our community taking an interest in their local Municipal government! There were so many inspiring suggestions from the winners! I had the honour of introducing Melanie Preis, a grade 5 student from St. Mark C.S. Melanie said "an ideal city should have many different things. It should have welcoming clean neighbourhoods, and different arts and cultures. Different cultures help bring new ideas and traditions to a community." She suggested "This will make a city more fun and enjoyable…" A special thank you to all the students who submitted an entry and to the teachers, principals, and parents who encouraged and supported students to participate. My Ideal City is a valuable opportunity for youth to interact with their municipal government and encourage civic engagement. I hope this experience created some lasting memories for these students and perhaps sparked an interest in becoming future community leaders! Council and committee meetings are recorded and stored in our streaming video archive. To watch the My Ideal City event visit, www.kitchener.ca, keyword search: 'Watch a meeting'.
Hello Ward 8! Kitchener is home to a wide variety of parks and open spaces that support the wellbeing of residents and a healthy local ecosystem. With the great weather we are now having, I know many of you and your families are out visiting our parks and trails and enjoying all that nature has to offer! It's so important when we visit these areas that we remember to put our garbage in designated garbage bins and pick up after our dogs. I just love my walks with Angus and I'm always prepared with bags in my pocket should the need arise! When enjoying outdoor spaces, please keep nature in its place. Allow plants and flowers to grow and don't pick them; leave the toads, frogs, turtles, and other animals in their natural habitat to help preserve our parks and keep them safe and clean for every living thing. It's not unusual to see wild animals like coyotes and foxes in neighbourhoods next to a park, trail, or natural area. Do not feed the wildlife. Always ensure your composter is secure and covered with a lid and don't put meat products in outdoor composters. By keeping your yard clear of garbage, piles of branches, leaves and debris, you can avoid attracting wild animals to your property. If you happen to see an animal behaving strangely, please call our corporate contact centre at 519-741-2345 to report it. For more information on co-existing with urban wildlife, visit www.kitchener.ca/UrbanWildlife. We can all work together to preserve our parks, trails, natural areas and our neighbourhoods, to keep them safe and beautiful so we can continue to enjoy them.
It was great to learn that 50+% of adults over 18 in the Region have received their first COVID vaccine, and that supplies are increasing across the country: Kudos to the healthcare and other professionals helping to make this happen. It's also great to see people outdoors enjoying beautiful Victoria Park. A recent article, however, raised the question of overcrowding. Is it big enough? Do we need more parks in the core? Numerous residents have contacted me concerned Victoria Park may be too small to accommodate the needs of future residents in the many new condominium towers being built. The City's goals are to: "give residents access to a neighbourhood park or playground within 500m of their homes; [and] have at least 1.5 hectares of parkland for every 1,000 residents." The Ontario Planning Act allows municipalities the option to accept 'cash-in-lieu' of parkland. The money collected is then used to improve or build new parks. However, downtown developments do not currently require any 'parkland dedication' or cash-in-lieu-of. Given that Ontario Bill 197 states that Kitchener must have a new Parks Plan Bylaw in place before September 2022, I would like to see greater collaboration between the City and developers to include parkland on downtown development sites and a bylaw requiring this. One resident suggested to me that the former bus depot be turned into an extension of Victoria Park. Rick Haldenby recommends making a park out of the failed development site on Margaret Avenue. These are thoughts worth considering. Where do you think the City should build a new park?
Every Child Matters

Last week's horrible discovery of the unmarked graves of 215 Indigenous children at a former residential school site brought to the surface the atrocities that occurred across Canada with the residential school system. This devastating news was not the first, and sadly it will not be the last time such discoveries will be made. This tragic, dark reality of our collective history is deeply painful to even try to fathom. 215 children. We need to honour their lives, which were cut short way too soon, by educating ourselves, listening to those whose lives have been directly or indirectly affected by these horrible realities. For individuals looking to learn more about residential schools, here are two resources: https://projectofheart.ca/ and https://fncaringsociety.com/welcome. As an organization, the City will continue to partner with Indigenous leaders, groups, and individuals as we forward our equity work. Within this year, we can expect to welcome a Senior Indigenous Advisor role to the new Equity, Anti-Racism and Indigenous Initiatives Director.

Tiny Home Takeout and A Better Tent City

I want to take a moment to thank Ward 10's St Mary's parish for their social justice work in exploring and delivering authentic and innovative programs to support individuals who are homeless, and street involved. Tiny Home Takeout's delicious pizza and daily specials are available at 6pm Tuesday to Saturday, free or pay what you can. We are hopeful that A Better Tent City will have their new potential Woolwich-based home confirmed soon.
Happy June Kitchener! It's hard to believe that we are already almost half-way through 2021 and that in about 10 days we will officially be welcoming Summer 2021 on June 20th. The last fifteen months have been challenging for all of us, but with more and more people in Kitchener and throughout Waterloo Region being vaccinated, the stay-at-home order behind us and the Province of Ontario's new re-opening framework almost upon us, there is much to look forward to in Summer 2021!


​REMEMBERING THE 215 CHILDREN OF THE TK'EMLÚPS TE SECWÉPEMC FIRST NATION


​A little more than a week ago, residents of Kitchener and people across Canada learned of the gut-wrenching discovery of the remains of 215 children buried at the former Kamloops Indian Residential School. This is, without question, a national tragedy. Last week, on behalf of our community, I extended my heartfelt condolences to the families and communities of these children, who remain in our hearts and our minds. As a community, the residents of Kitchener stand alongside the Tk'emlúps te Secwépemc First Nation and all survivors of the horrific residential school system, who have been forced to remember and re-live their trauma upon hearing this news. Each of these 215 children had a name and a family. None of them returned home and their families were never granted the dignity of knowing what happened. This tragedy is another reminder of the important work done by the Truth and Reconciliation Commission and how much more work needs to be done to achieve true reconciliation. This tragedy is a reminder of this horrific part of our country's history and last week, we joined cities and communities across Canada in lowering our flags at all city facilities for 215 hours to mourn together with all Canadians. I also joined Chief R. Stacey Laforme of the Mississaugas of the Credit and others in the call for a National Day of Mourning and I joined Canada's Big City Mayors' Caucus in lending our support to a national initiative to identify, commemorate and protect residential school burial sites across Canada, a process that must be Indigenous-led and carried out through ceremony. It's important to understand that this tragedy calls for so much more; it underscores the need for continued education and awareness about Canadian history, the ongoing oppression of Indigenous people and the anti-Indigenous racism that our institutions have been built upon. All Kitchener residents can take action throughout June – National Indigenous History Month – by learning more about the devastating history of the Residential School system. Residents can also show respect and solidarity by making a donation to a local Indigenous organization or by placing an orange ribbon, a teddy bear or a pair of children's shoes outside their home during the month of June as a small but powerful reminder of this tragedy and a symbol of remembrance. I want to recognize the impact this news may have on the mental health and well-being of residents in Kitchener and throughout our region. If you require it, support is available for those in need Support resources: · Waterloo Wellington Here 24/7 Addictions, Mental Health & Crisis Support - Phone: 1-844-437-3247 (HERE247), Website: https://here247.ca · Indian Residential School Survivors Society - Phone: 1-866-925-4419, Website: https://irsss.ca · Kids Help Phone, 24/7 distress line - Phone: 1-800-668-6868, Website: https://kidshelpphone.ca As we reflect on this tragedy, the City of Kitchener continues to support First Nations, Métis and Inuit communities and partners in meaningful efforts towards reconciliation and is committed to taking real action to do our part. To learn more about the City of Kitchener's work, visit: https://kitchener.ca . As individuals and as a community, we must all renew our commitment to educate ourselves and address the recommendations of the Truth and Reconciliation Commission.


​TRANSFORM WR


​Next week, Kitchener City Council committee will be considering the TransformWR strategy which shows how the City of Kitchener and other municipalities within Waterloo region will reduce our local greenhouse gas (GHG) emissions by 80% by the year 2050, meeting our Paris climate change accord agreements. TransformWR was developed by area municipalities and local non-profits through the ClimateActionWR collaborative, administered by Reep Green Solutions and Sustainable Waterloo Region. Achieving our targets will require bold and immediate action from everyone across the community. All of us, as municipalities, businesses, organizations, and individuals, have important roles to play. A central goal of the TransformWR strategy is using work to reduce GHG emissions to transform Waterloo region into an equitable, prosperous, and resilient low carbon community over the next 30 years. The TransformWR strategy focuses on transforming four areas to make the biggest impact: How we move (transportation) How we build and operate our spaces (buildings) How we produce, consume and waste (waste and agriculture), and How we relate (equity and economic development) The TransformWR strategy was developed with funding support from the Federation of Canadian Municipalities through their Transition 2050 program. Watch for additional information on this in the months ahead.
​

CANADA DAY 2021


​The City of Kitchener has some exciting plans in the works to celebrate Canada Day, beginning in the week leading up to July 1st. Our plans need to conform to the most recent public health regulations and ensure that we celebrate in a COVID-19 safe way. While I can't provide the update here, I encourage you to visit www.kitchenerevents.ca as we get closer to the big week to find out more details about Kitchener's 2021 Canada Day celebrations!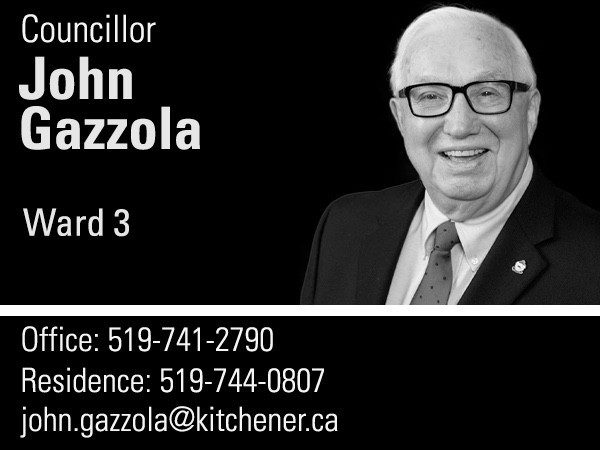 COVID-21:

We currently continue to be under a provincewide shutdown with most indoor facilities still closed for public use. More and more of our citizens are getting vaccinated. I expect that, shortly, almost everyone over the age of 12 will be eligible to register for their second shots. I urge everyone to register and receive both their shots. Only then will things return to some form of normal. In the meantime, please adhere to the current protocols of keeping proper distances and wearing masks. For up-to-date info on what is closed or open please visit www.kitchener.ca/en/council-and-city-administration/covid-19-updates.aspx

50 x 30 Waterloo Region:

This is an active Regional grass root organization who support a commitment to meet the science-based target to reduce local emissions 50% by 2030 to preserve a safe climate future. During the past several weeks dedicated members of this group have written to all Councillors requesting them to support a TransformWR Climate Action Strategy when it comes before Council Committee on June14, 2021. Over 700 global cities have already committed to a similar resolution. Additional information relating to this matter can be obtained by visiting https://www.50x30wr.ca This is a current and significant topic that deserves our attention. I encourage everyone to take an active role in these discussions. I value and appreciate your comments on such a vital issue. I continue to hear from many constituents about their local concerns.. Please feel free to contact me, at your convenience, to discuss any and all Ward/City issues. I am pretty much available 24/7 as I have no other places to visit. Thank you for your continued support during these challenging times. john.gazzola@kitchener.ca 519-744-0807 (Home/Office) jgazzola@rogers.ca 519-498-2389 (Cell)