For News Tips & Advertising call...
Kitchener East - 519-578-8228
Kitchener West - 519-394-0335
City Council Columns - August 2021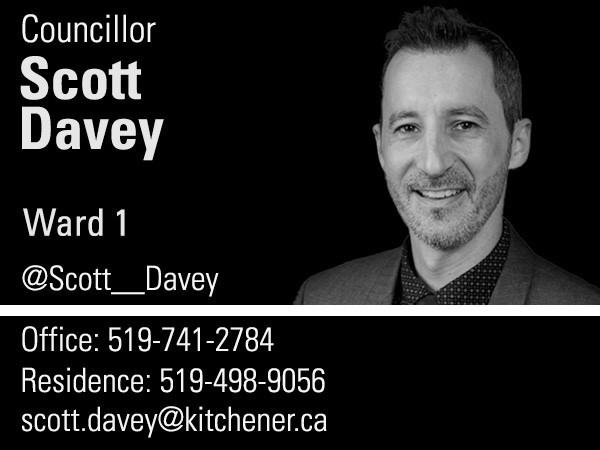 Hi Ward 1! Hope you're having a good summer. As I write this, aside from the troubling Delta variant, things are slowly returning to normal as far as COVID-19 is concerned. I hope you've had the chance to get double-vaccinated! The biggest concern I'm hearing is anxiety over the back-to-school plan. While I share those concerns, having two school-aged children, that issue is well outside of my jurisdiction. Switching to what's within my jurisdiction is the approaching 2022 budget discussions for the City of Kitchener. You might recall, from previous writings in this space, that we have adopted a tax-increase policy averaging the current and previous year's inflation as a target for each budget. This change was implemented in place of the former single (current) year policy for the express reason of smoothing the peaks and valleys of tax increases affecting taxpayers and by proxy, renters. This relatively new policy appears to be timely as inflation is currently hitting 10-year highs in North America. Ontario's inflation is sitting at 2.5% with just the first six months of data and will likely breach 3% by year-end. Rather than that high figure, our new policy would see a tax increase target roughly half that once averaged with 2020's 0.64% inflation. Kitchener has had a remarkably consistent run over the past 10+ years of budgets. We've been close, but always under inflation in each of those years, a feat no other local municipality has matched.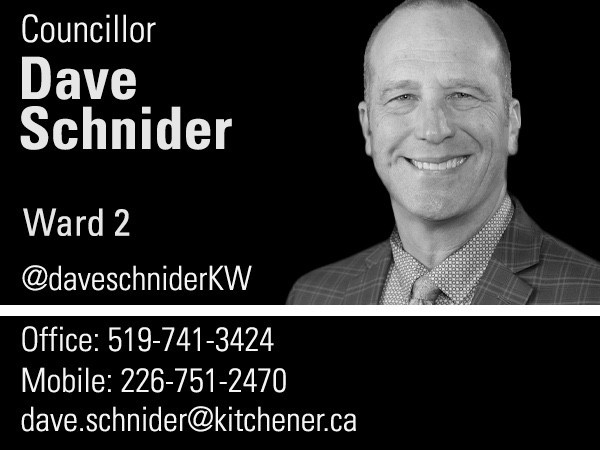 As a member of the Kitchener In Bloom committee I'm excited by how many gardens are being recognized throughout our city. A beautiful garden can really lift your spirits and we're blessed to have so many residents and companies creating them for us to enjoy. If you'd like someone to receive recognition from the city, go to kitchener.ca and search "Kitchener in Bloom" to enter the address. Our next municipal election is in October of 2022. Our staff want your input on different methods for voting and your thoughts on your past voting experiences. It's a short but important survey that's open until August 31. Go to engagekitchener.ca and select "Your Vote Your Way." While you're there, check out the other opportunities to share your input and ideas. The Ward 2 community centre outdoor markets are very successful. Visit the Centreville Chicopee Community Centre on the 4th Thursday of each month from 4-7pm and Stanley Park Community Centre every Thursday from 5-7:30pm to get fresh local produce and goods. A big thanks to the Stanley Park and Centreville Chicopee Community Associations for putting these markets together and to our city staff for their support. I'm looking forward to the return of Kitchener Rangers hockey in October. Provincial protocols are still pending for October, and there will be some adapting needed, but I'm sure the Rangers organization will make coming back to the Aud a great experience. If I can assist you, contact me or call our contact line anytime at 519-741-2345. Follow me on Twitter and Instagram at @DaveSchniderKW and friend me on Facebook.
The ability to find affordable housing for many has become increasingly difficult. As a result, council approved a zoning by-law change that would allow for a range of units, including backyard homes, coach homes, laneway suites and tiny homes on approximately 25,000 properties in the city. While this by-law change certainly won't solve the affordable housing crisis, it's a step in the right direction. The Backyard Homes competition invites participants to design a backyard home in Kitchener. Submissions are open until midnight on August 20, and later this fall the winning proposals, that could win up to $2500 for their recommendation, will be announced. Parks are an essential part of a healthy and connected community. The City of Kitchener is asking residents how we can make them better. You can have your say and share your ideas about this and other city initiatives at engagewr.ca/kitchener. For information and updates on our parks, go to kitchener.ca and search, "park development." Please slow down! I have mentioned in many columns that traffic safety is the number one concern of citizens across our city. You may have seen the Love My Hood "Drive Slow" signs along boulevards throughout the city recently, reminding everyone to drive the speed limit. As the summer winds down and a new school year begins, we all need to do our part to make sure every child gets to and from school safely. I want to give special thanks to Cllr. Schnider and staff for taking the initiative to create a pilot program making a limited number of these signs available in each ward.
I hope you are enjoying your summer Ward 5! Good news, design work is underway for a new Kitchener Public Library (KPL) branch in Southwest Kitchener. The Southwest Community Library has been discussed by the Library Board and City of Kitchener Council for many years. In 2000, a Branch Libraries Review identified the need for a new community library in Southwest Kitchener, as an area of planned growth and development in the city. In 2011, the KPL Board passed a resolution to endorse the proposed library location at Abram Clemens Street and Rosenberg Way. Core infrastructure work has begun to support the development of the Rosenberg community and critical infrastructure is anticipated to be complete in 2021. Construction is planned to take place in 2022 with a potential opening of the new library in 2023. Libraries are important, as they provide a safe, inclusive, and vibrant space for the community. Over the years, KPL's services and supports have grown. In addition to core library services, KPL offers some unique services such as access to 3D printers, The Heffner Studio providing two project workstations and a music workstation available featuring a variety of free and licenced music software, video editing, graphic design and photography. You can even book your wedding at KPL! Ceremonies in the Stacks is a unique wedding experience for couples who wish to celebrate their wedding at the Central KPL. Library Settlement Partnerships Services are also available for new Canadians offering help with language training, career and employment, housing, health care and more. Visit www.kpl.org.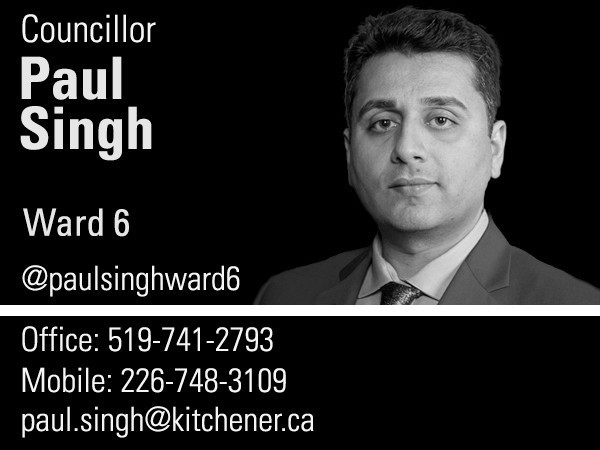 I hope you have been staying safe and with that in mind, I encourage you to consider being vaccinated, if you haven't already. As our city grows, it can impact the needs of the community. The Region of Waterloo is currently making improvements to Ottawa St. from Fischer-Hallman Rd. to Alpine Rd. to better service the area. Improvements are being made due to aging infrastructure and changes in traffic, pedestrian and cycling volumes and use. The works in progress will: • Replace asphalt nearing the end of its service life; • Create designated cycling lanes between Williamsburg Rd. and Strasburg Rd.; • Create/improve pedestrian and/or cyclist crossings; • Make changes to bus stop areas to improve service quality; • Improve the left turn demands from Ottawa onto Williamsburg Rd., Howe Dr., Mowat Blvd., Howland Dr. and Elmsdale Dr.; and • Reduce congestion during peak traffic at the Ottawa and Westmount Rd. intersection. Although this portion of Ottawa St. is a Regional road, and not under the City of Kitchener's jurisdiction, I participated in some meetings with Regional staff to help provide area perspective and advocacy on behalf of the Ward 6 residents. I also emphasized the need for improvements to the Strasburg and Ottawa intersection in anticipation of increased traffic and pedestrian volume due to the new area developments. I want to thank you for your patience during the construction of these works. I'm hopeful the improvements will better manage traffic volumes and provide greater safety and a better experience for you when you are cycling, walking, and driving in this area.
Westheights Pond


​I have heard from some area residents that Westheights pond is in need of repair and regular maintenance. After reaching out to our Operations and Maintenance team in Sanitary and Stormwater Utilities as well as with our Parks team, there is currently no maintenance or rehabilitation work planned or required for this pond as far as "in-water" works are concerned. Westheights pond is a natural kettle lake that formed during the last ice age and is not engineered infrastructure. There is a combined inlet/outlet structure from a storm sewer that is connected to the lake but it is only utilized in large storm events if the storm sewer is over capacity or if the lake level gets too high to protect the neighbouring properties from flooding. Parks staff have been asked to have a look at the pond to see if there's any need to address logs and debris when possible. Through the LoveMyHood grant program, residents could apply for funding to support a pond planting project. Planting vegetation around the pond could complement rehabilitation. It would be up to residents to acquire the plant materials as well as to physically plant them. Intake for LoveMyHood applications is happening this August and another in November. For more information on LoveMyHood, visit: www.lovemyhood.ca.
Active Transportation


​With students back in the classrooms this September, and with the extra traffic that can bring, I find my thoughts turning to safety in school zones. Vehicles parking or stopping around schools for student drop offs and pickups can be dangerous. Whenever possible, active transportation like walking and biking to and from school should be encouraged. Students who walk or cycle to school not only improve their physical health, but also arrive at school more alert and ready to learn! Reducing the number of cars commuting to schools improves air-quality, creating a healthier environment. Consider practicing a safe walking route to school with your kids prior to the beginning of school. Students who walk can foster a deeper connection with their community by finding joy in nature and other people along the way. Walking to school can also provide a great opportunity for kids to take on more responsibility for themselves and for younger children. With more students walking and riding their bikes, the issue of traffic and speeding is top of mind for safety. In March 2020, Council directed staff to develop a Vision Zero strategy. Vision Zero is a new way of thinking about creating safer roads to reduce traffic fatalities and serious injuries to zero. We recognize the need to make improvements that will contribute to safer roads, vehicles, speeds, and road user behaviors. We expect to complete the Vision Zero strategy by the end of 2021. For more information: www.kitchener.ca/visionzero. In the meantime, motorists, slow down. You have control over your actions.
It's nice to see music events returning to the streets of downtown Kitchener. One very exciting piece of news is that the Kitchener Market has partnered with the Registry Theatre and the Business Improvement Association to bring live music to the Market every Thursday evening in August and September. "Music in the Market" will feature local musicians, drink options from TWB Brewing, and food prepared by Chef Rob. Doors open at 6:00 pm and music begins at 7:00 pm. There is a $10.00 fee per person. Tickets and the schedule are available at kitchenermarket.ca, click on "Music at the Market" on the homepage. It was so good to have some live music throughout the downtown during this year's Blues Festival that took place at 8 restaurants August 6-8. If you missed this, don't worry, as other live music can be enjoyed throughout the downtown at the different outdoor patios in August. Grab a meal out and enjoy. Get your fresh fruit and veggies each Wednesday from 9:30am to 1pm at the Mill Courtland Neighbourhood Market at the Mill Courtland Community Centre at the corner of Stirling and Mill St. They're also selling fresh croissants and butter tarts from City Café. "Deliciosos!" Check out the CAFKA 2021 art installations found around the Region. Visit cafka.org for more info. I hope you're able to enjoy the events and activities found throughout the city as things slowly begin to open-up. Summer will be over before you know it. Make the best of it! Please contact me at Debbie.chapman@kitchener.ca with your concerns and questions.
This month, our community is experiencing some intense highs and lows. The sense of anticipation and hope is palpable now. With more residents vaccinated, the variants of concern will be increasingly held at bay, so VERY soon we will see COVID restrictions further lifted in Waterloo Region. We will visit with loved ones in person for the first time in so long! Another sign that we are heading in the right direction as a community is that last month all the Region's municipalities approved the Transform Waterloo Region (TransformWR) strategy, a community climate change mitigation plan. The strategy has been developed through the ClimateActionWR collaborative lead by Reep Green Solutions and Sustainable WR. The strategy sets out a path for municipalities, businesses, organizations, and households to reduce our greenhouse (GHG) emissions by 80 per cent from 2010 levels by 2050. We also endorsed, in principal, a community GHG emissions reduction goal of 50 per cent by 2030 calling on the provincial and federal governments to assist municipalities in achieving this target. We can achieve this, but it won't be easy. We will need to change how we think and how we go about things every day to keep climate a priority. Learn more at: climateactionwr.ca. At the same time, our hearts are heavy with the discovery of thousands of unmarked graves of children who never made it home from so-called Residential Schools. As we grapple with this awful truth and work toward a path of reconciliation, I encourage all of us settlers to double down on the necessary work of learning and unlearning.
Mayor Berry Vrbanovic will return in September.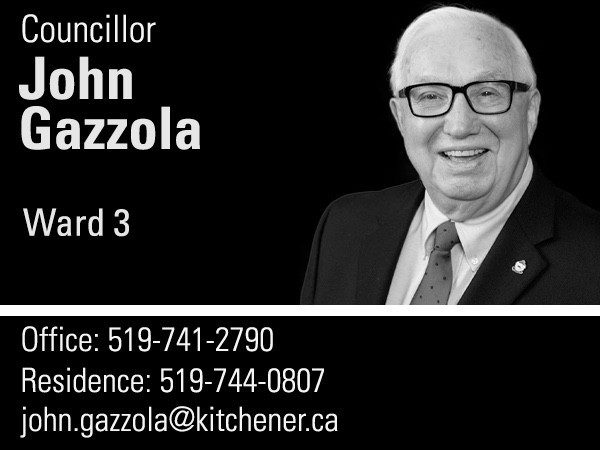 Getting Vaccinated

I would like to devote this month's column to urging everyone to get both their vaccination shots. The only way to ever get back to what we called normal is by having everyone vaccinated. To get to herd immunity which is classified as normal; 90% of the population must be fully vaccinated. All the vaccines used in Canada are safe and effective. The vaccines don't give you COVID-19 but they do prevent you from getting any serious illness from the virus including the new deadly variants that we are now seeing throughout the world. This is not a personal choice issue. It is about protecting OTHERS – your friends and families. It is not an attack on your civil liberties. It is like not being allowed to smoke in a restaurant or other public place. Not smoking anywhere benefits your health; not smoking in a public place benefits the health of all those around you. It is my hope that in the very near future that everyone who does not have an authentic health issue because of vaccines will be fully vaccinated. I expect there will be some sort of passport proof system put into effect. I will be advocating for all City employees to be fully vaccinated and for entrance to city facilities to be limited to those fully vaccinated. Provisions can be made for that small group that are unable to be vaccinated for legitimate health reasons. Until we reach the 90% vaccination level, we need to continue wearing masks and maintaining proper distance separation protocols... Please feel free to contact me, at your convenience, to discuss any Ward/City issues john.gazzola@kitchener.ca 519-744-0807 (Home/Office) jgazzola@rogers.ca 519-498-2389 (Cell)