THE BOARDWALK AT IRA NEEDLES
Free, heated Splash Circle could be first of its kind in Ontario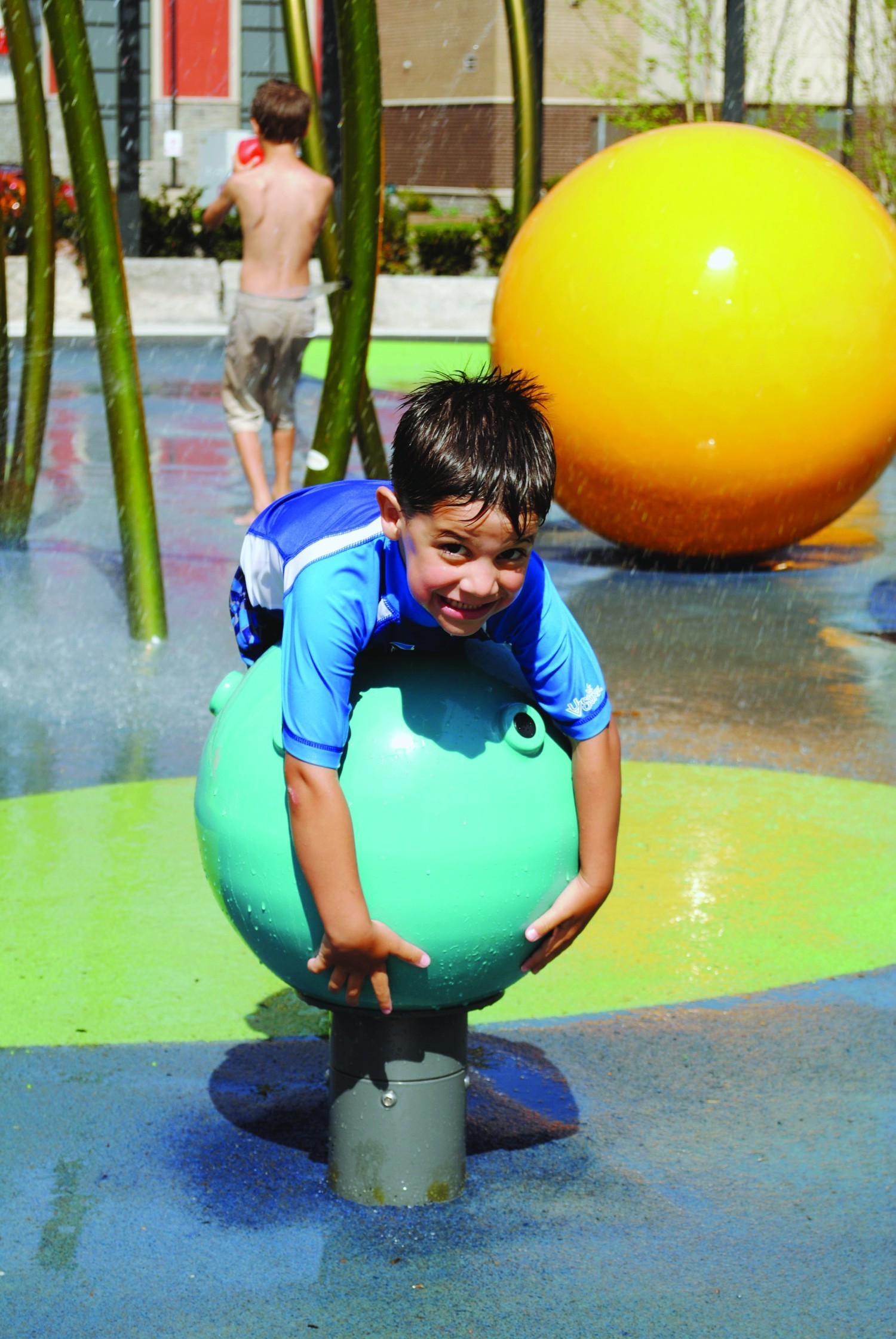 by Helen Hall
Kitchener Citizen​
June 1, 2018​
​
Almost 10 years ago, Jennifer Benninger recalls that she was disappointed to learn a shopping mall was going to be built on Ira Needles Boulevard across from her home.
​
But, she says, The Boardwalk has turned out to be a great neighbour.
​
"It's wonderful to live across the street," Benninger said. "So far it's been really well done."
​
She said the owners of The Boardwalk, INCC Corp., have taken "a lot of care" to make sure that the shopping centre has lots of green space, has brought more buses into the neighbourhood, and now with its new heated Splash Circle, Benninger said her young family will "just come hang out" in the summer.
​
The Splash Circle opened on May 25. The water is heated and there is no admission charge.
​
It will be open every day from roughly May to September between 10am and 8pm, weather permitting.
​
The Boardwalk spokesperson Cynthia Voisin believes it could be the first of its kind at a privately-owned facility in Ontario.
​
"There are so many young families on the west side of Kitchener and Waterloo who will use this," Voisin said. She said that playground equipment will be installed on two circles on either side of the Splash Circle.
​
Voisin said they keep in contact with the local neighbourhood associations. They realize that the mall is more than a shopping centre to those who live nearby. It's the place where they can walk to work, or where their kids get their first job. It has more than just stores, it provides the neighbourhood with doctors' offices, dentists, vision and hearing centres, x-ray clinics and a laboratory.
​
It's also a place for people to socialize, with a movie theatre, restaurants, coffee shops, a fitness centre, and public art pieces, including three large kinetic wind sculptures in the center of three roundabouts at the mall.
​
Created by award-winning artist Ron Baird, the sculptures were designed at Baird's workshop in Barrie and installed on site. Baird is one of Canada's most successful sculptors, creating over 300 public, corporate and private commissions.
"We want to create a vibrant area in the neighbourhood," Voisin said.
​
Voisin said the landscaping at The Boardwalk is also important to them, and the area around the Splash Circle will be "a lush environment with shade."
​
She said over 1,000 people work at The Boardwalk, and it will also give them a nice place to sit and eat their lunch.
​
The Boardwalk has a transit hub that nine Grand River Transit routes pass through, including one that goes out to New Hamburg.
​
The Boardwalk currently stretches about one kilometre in length on Ira Needles Boulevard, with half of the mall in Kitchener and half in Waterloo.
​
A line in the cement shows where the divide is, and Voisin said it is a nod to both cities.
​
"I'd like to have the two mayors come and shake hands over it," she says with a smile.
​
The same day the Splash Circle opened at The Boardwalk, a 10-day outdoor carnival kicked off in the mall's parking lot. Proceeds from the carnival will go to St. Mary's General Hospital in Kitchener.
Marshall Orlando tests out the new Splash Circle at The Boardwalk at Ira Needles Blvd. on its opening day May 25.
Photo by Helen Hall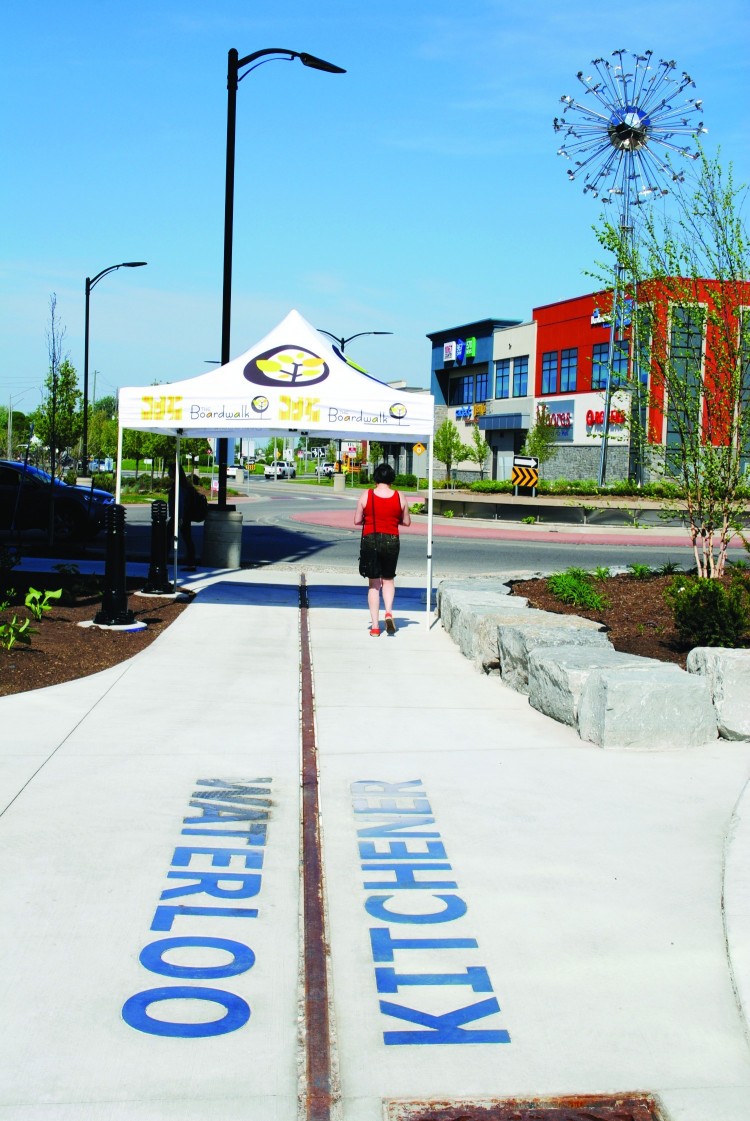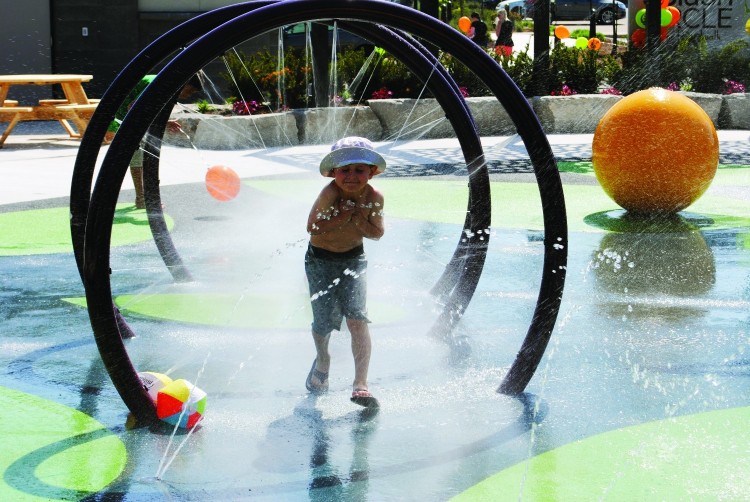 COOL FUN AT THE BOARDWALK - Lucas Clayton-MacKay runs through a sprinkler at the Splash Circle that opened at The Boardwalk at Ira Needles Blvd. on May 25 during some very warm weather.
WHERE TWO CITIES MEET - A sidewalk at The Boardwalk shows where Kitchener and Waterloo meet at the shopping centre. At the top right of the photo, one of the kinetic wind sculptures can be seen rising up from the center of a roundabout.