Research into family business leads
to history book on local funeral homes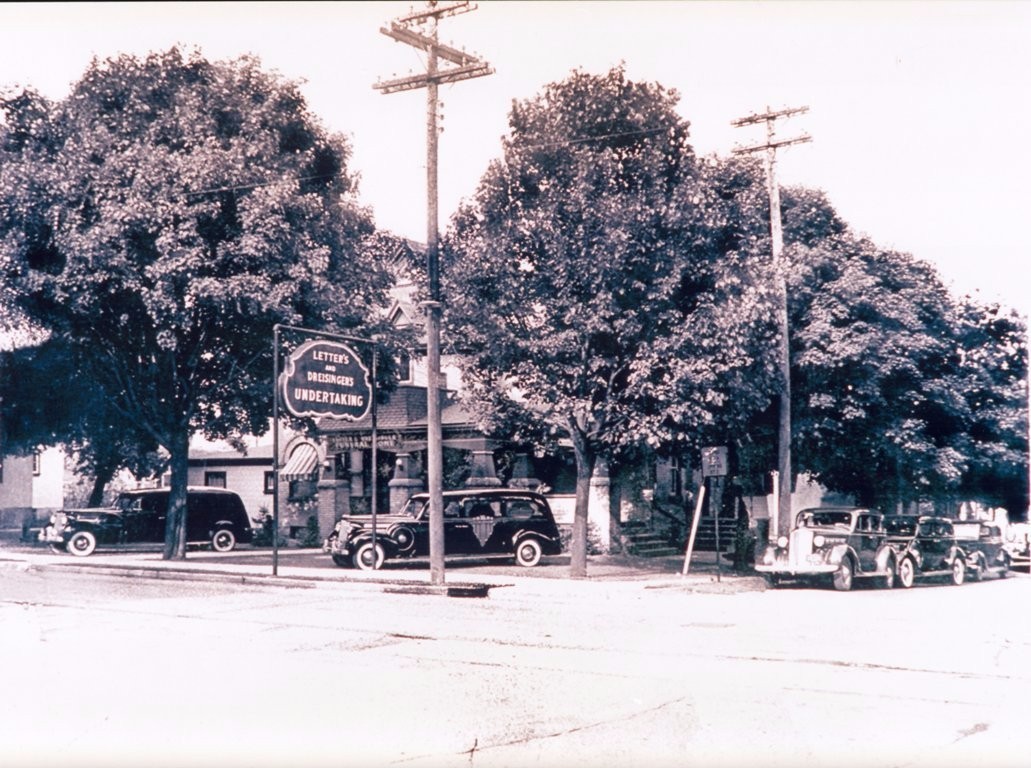 by Helen Hall
Kitchener Citizen
March 8, 2018
​​​
What started as some research into her family's business has turned into a much bigger undertaking for Marion Roes.
​
Roes is writing a book on the history of funeral homes in Waterloo Region. Her great-grandfather Christian Dreisinger purchased an undertaking business from Charles Ruppel in Elmira in 1905. As was common at the time, Ruppel was offering undertaking as part of his furniture business in Elmira.
​
Dreisinger at first operated out of his home and then purchased the Wachsmuth Block in 1906 at the corner of Arthur and Church Streets for his funeral and furniture business.
​
In 1977, the funeral home moved to 62 Arthur Street South, its current location.
​
Dreisinger was followed into the business by his son George, and his grandchildren Hazel and David. Hazel's daughter Grace Maher also entered the profession, along with David's son John Dreisinger.
​
In 2009, the business was sold to Monty and Karen Steenson.
​
Maher still works there, and has for over 48 years. Roes is another one of Hazel's daughters.
​
"I did work after high school in the furniture store," Roes said. "The funeral home was in the same building."
​
Her quest to understand more about the history of her family's business began when she found an old photo of a funeral home at the corner of King Street North and Spring Street in Waterloo.
​
"It had a huge sign, 15 feet high, that said 'Letter's and Dreisinger's Undertaking'," she explained. The photo was taken in the 1930s.
​
She had no idea that her great-grandfather had once had a funeral home in Waterloo.
​
That started Roes on a quest to learn more about her family business history. Roes has always had an interest in local history and is a past-president of the Waterloo Historical Society.
​
She learned in her research that Dreisinger also had a partnership with Orton Bechtel in a funeral home in Kitchener in the late 1920s at 178 Queen Street South at Joseph Street.
​
Bechtel went on to partner with Edward Ratz operating the Ratz-Bechtel Funeral Home. That funeral home closed on December 31, 2015 and was located at 621 King Street West in Kitchener since 1949.
​
Through her research, she learned a great deal about other funeral homes and undertakers in the region.
​
In 2014, she received the Edna Staebler Research Fellowship at the Joseph Schneider Haus and began working on her book.
​
She said she is getting "good material" from interviews, libraries, and historical records from such organizations as the Board of Funeral Services, which was a licencing body for undertakers.
​
The book also looks into Mennonite burial customs in the area, that have always been part of the practice at Dreisinger Funeral Home in Elmira.
​
Roes published an earlier book on funeral home vehicles. She has in her collection "wonderful old photos" of Dreisinger funeral vehicles and published "From a Horse-Drawn Hearse to Studebakers, Packards and Cadillacs: Dreisinger Funeral Home Vehicles."
​
That book looks at the evolution of funeral service vehicles at Dreisingers in Elmira. It is available to read at the Grace Schmidt Room of the Kitchener Public Library.
​
It is also for sale at the gift shop at the Waterloo Region Museum at 10 Huron Road in Kitchener.
​
Roes publishes her books herself and expects this latest book to be over 500 pages and should be completed in about two years.
​
If you have any stories about local funeral homes that you would like to share with Roes for her book, she can be contacted by email at mlroes@sympatico.

Letter's and Dreisinger's Undertaking at 116 King Street North at the corner of Spring Street in Waterloo in the 1940s. The business closed in 1943 when Norman Letter retired and the building was changed back into a residence for Letter and his wife Lydia. The building was demolished in the 1970s and the land sold.
Photo courtesy of Marion Roes Collection
For News Tips & Advertising call...
Kitchener East - 519-578-8228
Kitchener West - 519-394-0335