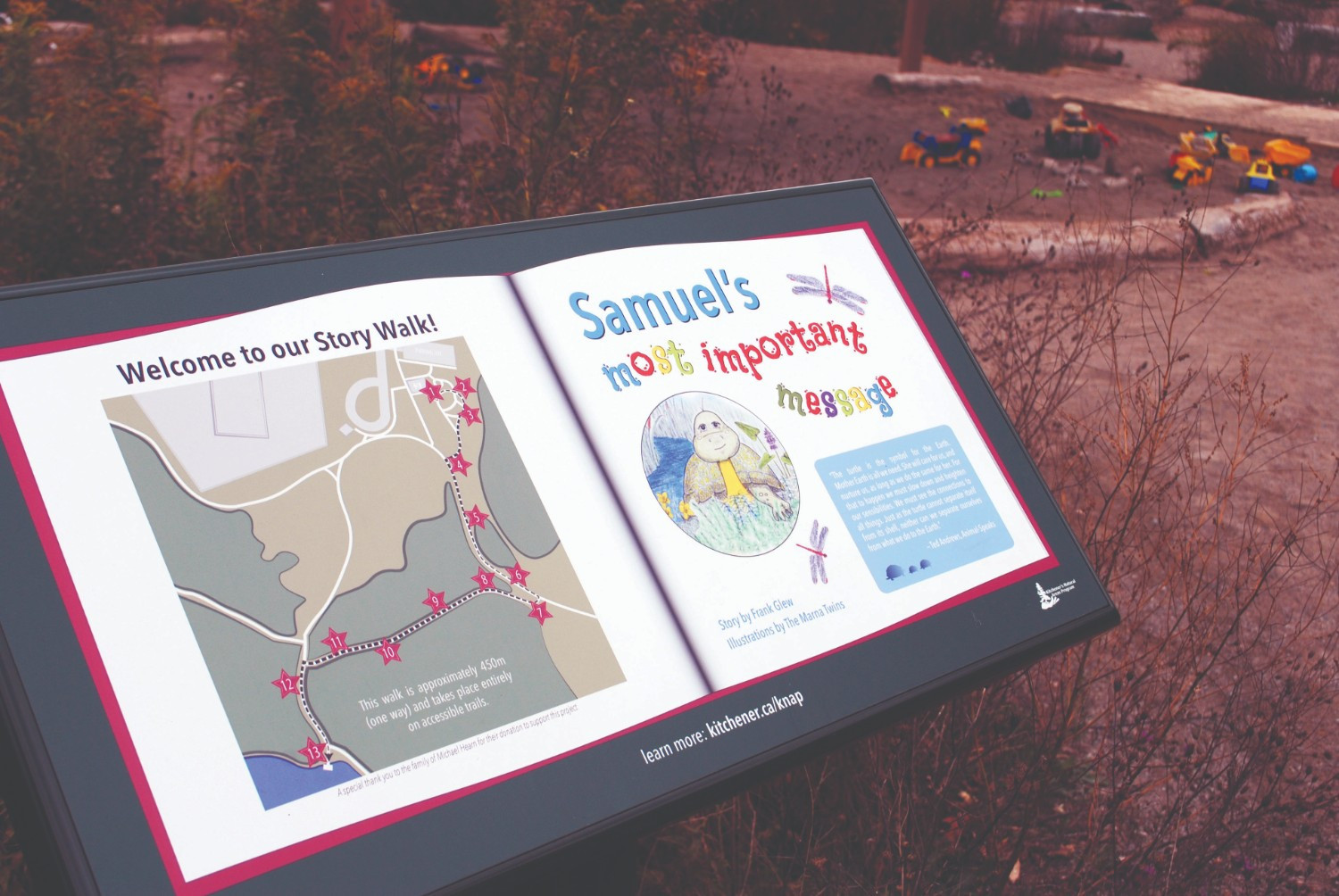 by Helen Hall

Kitchener Citizen

​​​​
Frank Glew is a man who was ahead of his time.


The environmental scientist, retired teacher, and former outdoor education co-ordinator and university instructor, "re-invented" himself as a children's author as a way to share his passion for nature and the environment.
​​
Today's concerns about climate change, environmental emissions, pollution and endangered species make his message more important than ever.
And some would say that children have now surpassed adults in their commitment to protecting the planet.


In 2005, Glew published the best-selling children's book

Samuel's Most Important Message

. It tells the story of a Blanding's Turtle named Samuel, which was based on a turtle that Glew discovered and photographed in the Huron Natural Area.


​
The book explains to children how turtles have to protect their shell, which is their home, to stay alive. He compares a turtle's shell to the earth for humans, and how we must protect our home.


​
Blanding's Turtles are now a threatened species in Ontario. Samuel is believed to be still living at the Huron Natural Area.


Since then, Glew has written 12 children's books. And, he has done thousands of presentations in schools and has given away $865,000 worth of free books.


​
He said he "loves watching the looks on kid's faces" when he visits schools.


​
Samuel's story is now being shared at 13 stations along a trail at the Huron Natural Area.


​
Glew says having the story-boards along the trail "opens up environmental dialogue, plus gets everyone out to share nature" adding that "you will never destroy anything you love."


​
The idea to share Samuel's story in his Huron Natural Area home came to Glew after he was contacted by the Sudbury Conservation Authority, which asked if it could add Samuel's story to one of its trails in a program called "Tales for the Trails."


​
Glew is recognized along with Tom Clancy, a former Director of Parks and Recreation with the City of Kitchener, as visionaries who helped in the creation of the Huron Natural Area.


​
In the 1980s, Clancy thought the land where the natural area sits, which was slated for industrial use, should be preserved as a natural area. He approached Glew for assistance when Glew was the outdoor education co-ordinator for the school board. Clancy thought if he could get the school boards involved, he would have a better chance of saving the land.


​
Glew's discovery of the Blanding's Turtle happened when he and Clancy were exploring the area in 1989. Samuel was discovered, but it would still be some years before his story was written, illustrated and published.


​
The two men talked the public and separate school boards and the City of Kitchener into working together to purchase the land and save the 107 hectares as a natural area. Kitchener's website now describes the Huron Natural Area as its "largest and most valuable natural space."


​
It is regularly used by school groups and for City of Kitchener nature programs, and by hikers, bird watchers, dog walkers and nature lovers.


​
So it seemed appropriate to Glew that Samuel should be featured along the trail. Glew modified the story a little from its original version to make it less general in nature, and more Kitchener oriented.


​
He approached Mary Elizabeth Hearn, whose late husband, Waterloo Regional District School Board Superintendent Mike Hearn, was an avid supporter of the Huron Natural Area. Glew thought Samuel's storyboards along the trail would be a great way to remember Hearn as an educator and lover of the Huron Natural Area.


​
Hearn funded the 13 $500 storyboards and they were unveiled last May. She also takes care of the maintenance of the boards.


​
Glew thinks Samuel's story is even more fitting to the Huron Natural Area today than when it was written. In 2010, the remains of an aboriginal village and a number of other artifacts were found along Strasburg Creek when the city was expanding the trail system. Archaeologists believe the village was built 500 years ago.


The site spans the space of two soccer fields at the south end of the Huron Natural Area.


​
Glew says the turtle is a sacred symbol for Aboriginal people, and there are Native stories that say that humans live on the back of a giant turtle - the earth.


Glew said teachers can get a digital copy of the book through him by emailing fsglew@gmail.com or by emailing Kitchener's Natural Area Co-ordinator Josh Shea at joshua.shea@kitchener.ca. This gives them the opportunity to read through the book with students before hitting the trail as a class, or suggesting that children go through the area with their families.


​
"We should look after our shell, the earth, like the turtle looks after its shell. Our lives depend upon it," says Glew.
​