GROWING KITCHENER COMPANY


​Deep Trekker's robotic firefighter can go where humans should not
Deep Trekker's Cody Warner with the robotic firefighting device outside the Kitchener office.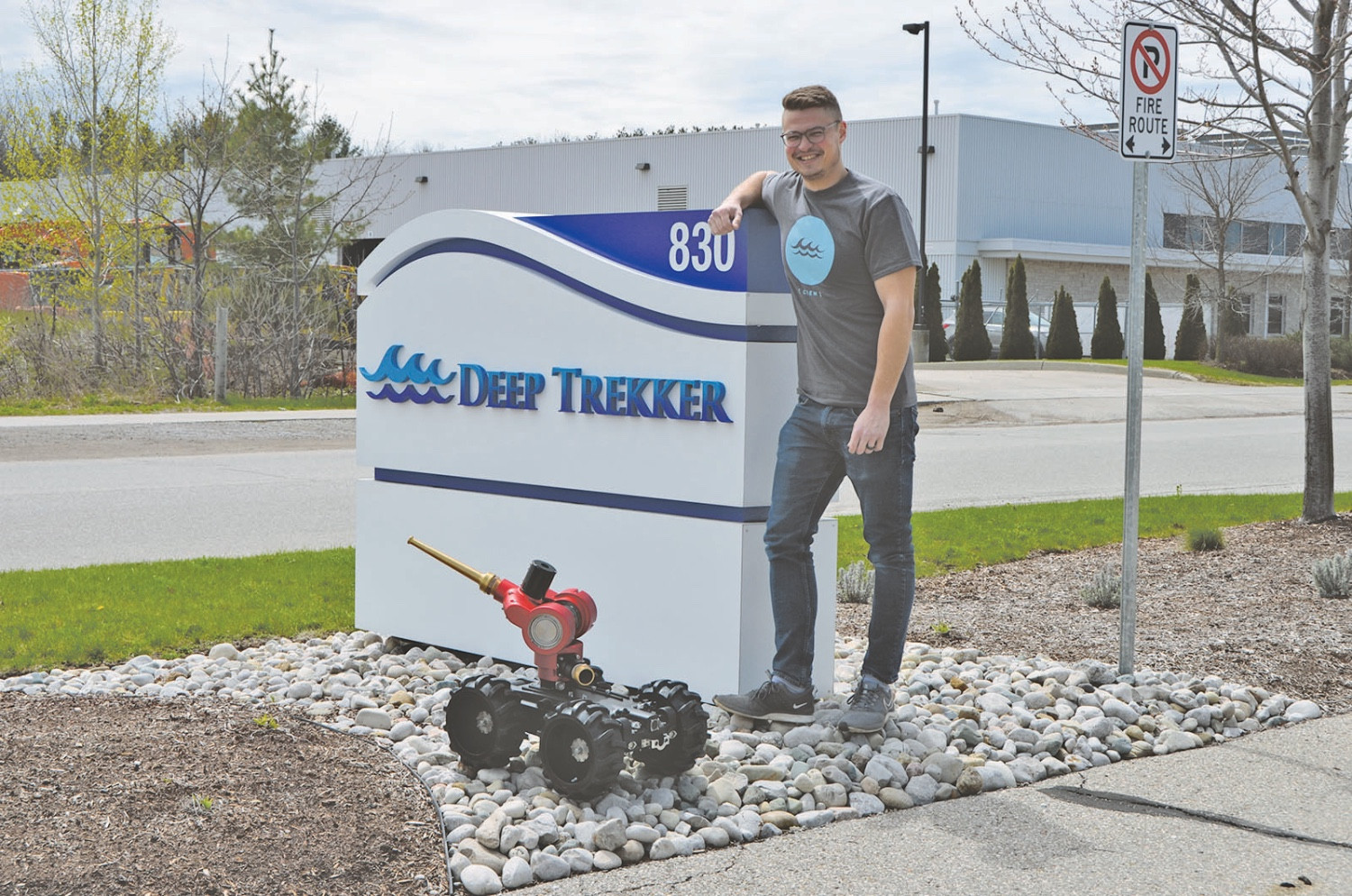 By Irene Schmidt-Adeney
and Helen Hall
Kitchener Citizen
June 6, 2019
​​​

​
​When Paris's Notre Dame cathedral caught fire in April, a robotic firefighter named Colossus helped reduce the damage by going into the burning building when it would have been unsafe for firefighters to do so.

​​​
Soon a similar robotic firefighter may be constructed here in Kitchener.
​


​​Deep Trekker is known for its submersible robots that are
​primarily used to inspect watercraft and pipes below the
​water surface.
​

​​The company received international attention when its equipment was used to explore two famous shipwrecks – the HMS Erebus, from Sir John Franklin's ill-fated journey to the Northwest Passage in 1845, and the USS Arizona, which was sunk in the bombing of Pearl Harbour in 1941.
​
Deep Trekker sales manager Cody Warner said the company has been working on a robotic firefighting device, known as the DT840.
​
"The DT840 is a completely submersible, battery operated, wheeled vehicle. It was originally designed for Explosive Ordinance Disposal (EOD) operations, where it can be operated with manipulators to remotely intervene with explosives and avoid human intervention," said Warner.
​
"Due to its size and strength, and hearing about firefighters in Listowel being killed by a roof collapse, our engineering team decided to design an attachment to help in firefighting. The device carries a fire hose attached to an adjustable nozzle head to spray water on a fire, without having a person hold the hose directly at the site," he said.
​
In March 2011, volunteer firefighters Kenneth Rea, 56, of Atwood, and Raymond Walter, 30, of Listowel died when a roof collapsed on them when they were fighting a fire at a Dollar Store in downtown Listowel.
​
"The goal is to expand the distance from the human firefighter to the fire itself, particularly in hazardous scenarios like a chemical fire at a train or an industrial fire," said Warner. "The crawler is also equipped with cameras to assist in getting a visual of the situation before sending the crawler in."
​
Other robotic firefighting devices have been created by the American military that are used for fires on military ships and to go into forests for wildfires. They can be programmed from up to a quarter mile away.
​
Warner was one of 12 employees when Deep Trekker opened its production facility in Ayr in 2014. The company moved to south Kitchener when more space was needed. Warner now leads the company's sales team and the company as a whole has grown to over 50 employees.
​
Because of the company's connection to Ayr, it approached the North Dumfries Fire Department to see if they would help test the robotic firefighting device. They hope to begin testing in July.

For News Tips & Advertising call...
Kitchener East - 519-578-8228
Kitchener West - 519-394-0335