CRESTVIEW PUBLIC SCHOOL
Community garden provides connection, opportunity, knowledge
​ to local school and neighbours
Eadie, in her mother's arms, and Mira Barkley help weed and water the community garden that was established in June in the front yard of Crestview Public School. With them are their parents Jane and Darrick Barkley.



For News Tips & Advertising call...
Kitchener East - 519-578-8228
Kitchener West - 519-394-0335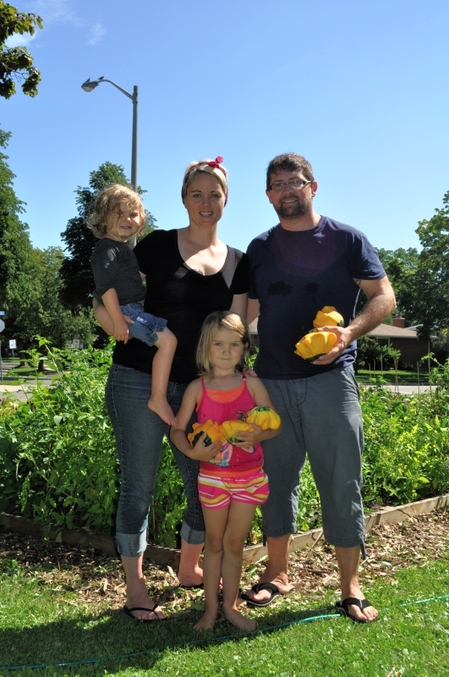 By Carrie Debrone
Kitchener Citizen
September 11, 2014
​​​
When students at Crestview Public School returned to start the new school year they were able to see the fruits of last year's efforts – literally.
​
The new community garden, created in June at the front of the school on Montcalm Drive in Kitchener and planted mainly by the students, was in full bloom.
​
Sporting tomatoes grown from seeds that have been in outer space and given to the students by Canadian astronaut Chris Hadfield, as well as several varieties of heirloom tomatoes, cabbage, gourds, white pumpkins, kohlrabi, cucumbers and potatoes, the garden is a prominent feature at the front of the school.
​
Garden initiator and one of its chief stewards Jane Barkley, who is also a member of the Crestview school council, was looking forward to seeing the reaction of the children on the first day of school.
​
"Many of the plants were started and planted by the students in the spring before they left school. They likely haven't had a chance to see them all summer so I'm really excited to have the kids come back and see them growing," she said.
​
Describing the garden as a "modest beginning" the Crestview community garden consists of six, 10 x 10-foot plots. Barkley said it cost next to nothing to create.
​
The wooden bed walls came from the free section on Kijiji and she and her husband Darrick constructed them.
​
The soil was obtained free from the Waterloo region's compost give-away and both the mulch border around
​the beds and the larger tools needed to till the earth
​and create the garden was provided free of charge by
​Steckle Heritage Farm in Kitchener.
​
Even the garden's seedlings were free – a donation from Eastwood Collegiate Institute.
​
The only item Barkley purchased was a garden hose.
​
When she, her husband Darrick, who is also the Executive Director of Food Link Waterloo Region, and their two children Eadie and Mira weed and tend the garden, they do it using their own gardening tools.
​
Obviously passionate about gardening and growing food, Jane said she got her love of food from her grandmother, Eadie.
"She loved food and loved to share it with others. She fed us all and I guess seeing that had a ripple effect on me," she said.
​
Barkley proposed the construction of the garden, and proposed that it also be used by the school to help educate students about food.
​
"We live in such a diverse neighbourhood here. There are new Canadians, many families and children, apartments and subsidized housing nearby and many people are trying to grow food," she said.
​
"At this school there's always been a conversation around food and nutrition. Many students come here without adequate nutrition. The garden will give that direct connection to food that for many people has been lost. So many children think food comes from boxes and cartons."
​
"If we buy cherry tomatoes for our kids they won't eat them. But if we grow them, they pick them off and eat them. Kids need that direct connection with food."
​
Barkley, who has been a representative on the Waterloo Region Food System Roundtable, serves on the board of Food Link Waterloo Region and volunteers at the Food Bank of Waterloo Region and the House of Friendship said she believes there are a lot of "missing links" when it comes to food – something a grassroots project like a garden could address.
​
However, the school board did not say yes right away to her garden plan. It took about eight months of planning, careful research of other successful community gardens (some at schools) and providing proof that the Barkley's were determined to see the garden succeed well into the future, before it was finally approved in late spring.
​
"Our main goal was to show that it can be done even with limited time and a limited budget. You don't have to have a lot of money or resources or even know a lot about gardening to start a community or school garden – It's a learning opportunity," she said.
​
The garden was planted in a low maintenance design, cutting down on the amount of time needed to weed. This summer, rain provided most of the watering it needed and all it took was a few hours a week of work provided by her family to see it flourish.
Two beds are being used by one of the neighbours to grow vegetables and Barkley would like to see more neighbours involved in the Crestview garden.
​
"When we were setting it up the neighbours across the street came out to look at what we were doing. Some were skeptical but once we told them everything we had planned and why we were doing it they were curious and very enthusiastic," she said.
​
It wasn't long before neighbours began to stop by to "tinker" in the garden, pulling a weed or picking off potato bugs.
"It's created energy here and brought people together," she said.
​
Barkley hopes the coming school year will provide opportunities to start a Garden Club at the school and that it will be used by the students who are members of the popular Environmental Club. She also hopes to get neighbouring schools, both Stanley Park Senior Public School and Grand River High School students involved in the garden.
​
She also hopes that what is produced by the Crestview community garden will be used in a diverse way – some of it eaten by the students, some donated to places in need of food such as the food bank that now has some cold storage available. Some produce could be sold by students as a school fundraiser or Barkley added that perhaps Crestview could connect with a local restaurant that would feature its vegetables on the menu or hold a feature event for the school community.
​
She dreams of a time when every school has its own miniature urban farm that is integrated into the curriculum so that all students can learn about farming and gardening.
​
"A garden touches so many aspects of life and has the ability to do so much," she said, "but you have to pace yourself and not try to do it all at once. It will then succeed over the long term."
​
Anyone wanting information about how to start a community garden or to share ideas can email her at jane@freshendevours.ca