For News Tips & Advertising call...
Kitchener East - 519-578-8228
Kitchener West - 519-394-0335
City Council Columns - September 2023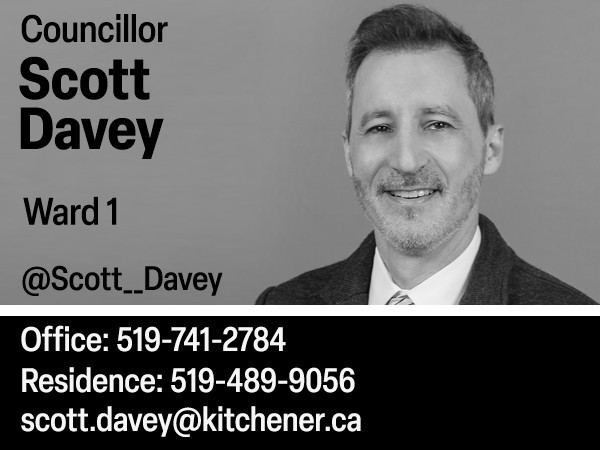 Hi Ward 1! As summer comes to a close, so begins a new school year for those both little and big. I'd ask kindly that you mind speed limits and take a little extra care, especially when traveling through our many school zones. While school zone speed limits have been reduced to 30kph across the city in pursuit of greater safety, I have often been asked why it's necessary to maintain this slower limit 24/7 and all year around. I don't have a good answer, and when asked, our staff didn't offer compelling rationale either, at least in my opinion. Compounding the issue is the new use of speed cameras (i.e. photo radar), and their anticipated proliferation, pending Region of Waterloo Council's direction this fall. It doesn't make logical sense for residents to be worried about a speeding ticket for slipping over 30kph when driving down say, Franklin St. North at 9pm on a Sunday evening... in July. The limit should certainly be enforced during a wide window of school hours, but only then. The speed limit outside these hours should be the normal 40kph (which, while I'm on the topic, needs to be better enforced on ALL residential streets.) A motion detailing such a change was brought to council by a fellow member but was ultimately deferred, pending the Regional Government's fall decision, including a hopefully consistent approach for the school zones that the Region owns. Please don't hesitate to contact me if you have feelings on this issue in advance of council's discussion. You can reach me at scott.davey@kitchener.ca Have a great September!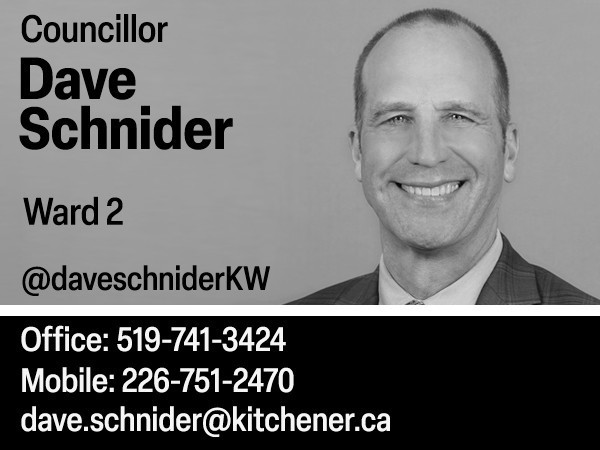 Our Summer Events Schedule in Kitchener was incredible. I saw huge turnouts for Neighbours Day, Cruising on King, Wayback Festival, Canada Day Celebrations, Ribfest, Blues Festival, Splash of Summer, and Kids Park. Fall and Winter events like the Belmont Village Bestival, Oktoberfest, Council's Grillefest, Thanksgiving Day parade, Santa Claus parade and the Christkindl Market are coming up! I have details on these and the Hockey Faster Than Ever Exhibition put on by THEMUSEUM under Events/Festivals/Things To Do on my website: daveschnider.com Registration for Fall Programs from Stanley Park and Centreville Chicopee Community Associations open on September 15. Visit spcakitchener.ca and cccakitchener.ca I'm receiving some comments over the proposed grades 7 to 12 school that the Waterloo Catholic School Board would like to build at Fairway Road and Woolner Trail. I have concerns with student safety, as they must cross Fairway Rd. at the roundabout. I'd love to hear your comments and encourage you to share them with the Catholic School Board Trustees too. I have their contact information on the "Who To Contact" page on my website. School is back and I have free "Please Slow Down" signs to remind drivers to drive safely on your street. Email me your address at dave.schnider@kitchener.ca and I'll deliver one to you. I'm happy to assist you. Contact me directly or call our contact centre at 519-741-2345 or email info@kitchener.ca. Follow me on Twitter and Instagram @DaveSchniderKW or "friend" me on Facebook. Visit my website daveschnider.com for lots of Ward 2 and city info.
Council recently approved a new four-year strategic plan and revised vision statement that looks 20 years into the city's future. Four city staff members crafted our new vision statement after much community input and feedback over the past year through community engagement and in-person interviews with residents at various events, and over 30 volunteers also participated in a resident panel. "Building a city for everyone where, together, we take care of the world around us and each other." My first impression of our new vision statement was - yes! This statement is forward-facing and will help to guide us as a city united to achieve all envisioned goals: being a connected city, cultivating a green city, creating an economically thriving city, fostering a caring city and stewarding a better city. It speaks to caring for each other and everything around us, making a great community to live in. Working together to reach these goals will ensure our children and grandchildren are as proud of the city tomorrow as the one we live in today. Our city is going through tremendous change and growth at an unprecedented pace. The people make the city; I am confident we will meet or exceed these goals because we are Kitchener. .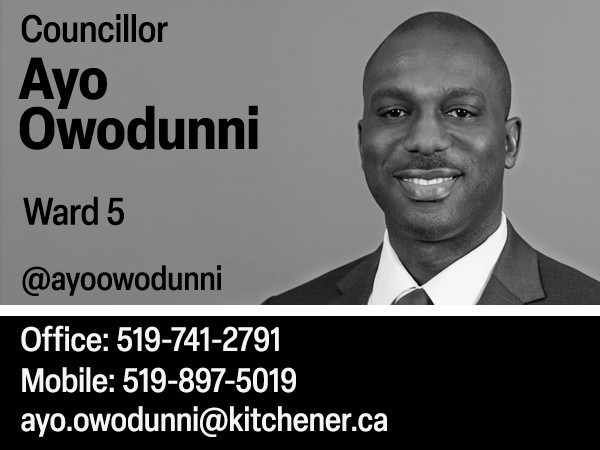 Hello everyone,
​Welcome to Fall 2023. The weather is slowly changing, and the kids are back in school. One of the concerns I heard while going door to door was speeding in the school zone areas. Council is currently debating whether to reduce our speed limits around school zones to 30 kph. The city is also purchasing a special by-law camera mounted on cars that drive through school zones during school openings and closings. Hopefully these cameras will deter speeding, and thus improve driving behaviours in these areas. I am also excited to share that we have approved our new 20-year vision and strategic plan. Our vision is "building a city for everyone where, together, we take care of the world around us – and each other." Do visit the City of Kitchener's website to learn more: www.kitchener.ca/strategicplan. Grillefest is coming up soon! Come out to the Gaukel Block on October 6th and have one of your councillors or city staff serve you a traditional sausage on a bun as part of the Oktoberfest festivities! All proceeds will go to support the Food Bank of Waterloo Region. We will be collecting dry and canned food donations during the event as well, so if you can bring something to support the Food Bank, please do so. I'm looking forward to a fun and successful event. Happy fall! I hope your kids enjoy every part of the season like I do. Hope to see you at a community event or community centre soon! If you want to reach out to me anytime with questions or concerns about the neighbourhood, you can reach me at ayo.owodunni@kitchener.ca.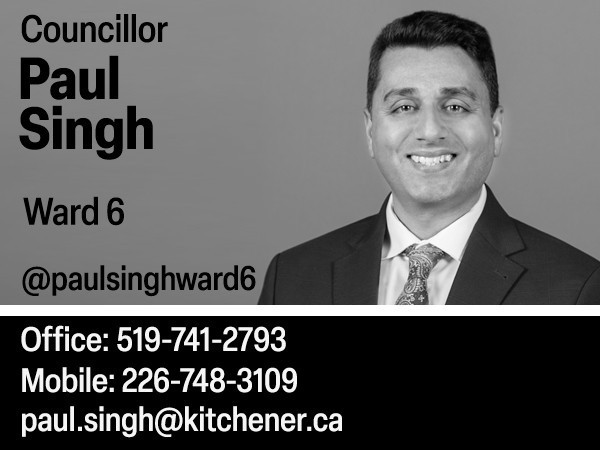 I'm writing to inform you of a motion I intend to bring to Council in September, entitled, "Limiting Boulevard Signs and Enhancing Sign Bylaw Enforcement in Kitchener." It aims to address the issue of excessive blvd. signs in our community and enhance the enforcement of the Sign Bylaw. Excessive blvd. signs contribute to visual clutter and pose a safety hazard for drivers and pedestrians. Thus, it's important that we take action to regulate and monitor the placement of these signs. The current provision in the Sign Bylaw of a 30-day sign hold after removal, has proven ineffective in deterring further use of blvd. signs. To address this, the motion proposes the removal of this provision and to see if it's feasible to develop a digital innovation app that would allow residents to easily report the geo location of blvd. signs. This collaborative approach will enable community members to actively participate in identifying and addressing violations. Additionally, the motion aims to require realtors to prominently display either the date or weekday of scheduled open houses, providing clearer information to residents, and deterring the misuse of signage permission. The motion also suggests increasing fines to serve as a stronger deterrent to violators. I believe these actions, along with increased enforcement efforts and communication with residents and real estate associations, will significantly contribute to reducing the use of blvd. signs and promoting responsible signage practices. I kindly request your feedback and encourage you to stay engaged in this matter.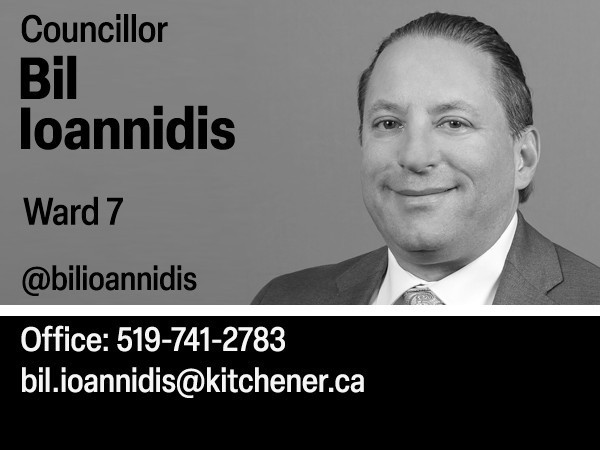 Hello Ward 7! I hope you had an enjoyable summer, and are ready now for the fall season! I'm hearing a growing number of concerns from residents regarding construction and the installation of Bell's services all over Ward 7, especially in the Forest Heights area, so I'd like to share the following information with you. Bell Canada is currently undertaking a large-scale buildout of its fibre internet, in order to reach more homes and businesses, and to boost their capacity, while providing better service. They have teamed up with Aecon and Clearway Construction to carry out this project. However, I understand that during the construction phase, it can be stressful for you to hear excessive noise, and deal with dirt, dust, and gravel. I've also heard your concerns about their service levels being less than adequate. I'm concerned for your welfare, so in response I've expressed my feelings to the appropriate Bell, Clearway and Aecon staff about being better corporate citizens and showing more common courtesy to residents as they work through the neighbourhood to upgrade services. If you encounter any issues during the construction, I suggest you reach out directly to Bell to draw their attention to the matter. Please contact Matthew Cholewa, Network Provisioning Specialist, at matthew.cholewa@bell.ca or 226-750-5210. You can also reach out to Aecon Head Office: aecon@aecon.com or 416-297-2600. As always, I'm happy to assist you with any city and ward matters. You may reach me at bil.ioannidis@kitchener.ca. I look forward to a safe and peaceful fall season together with all of you.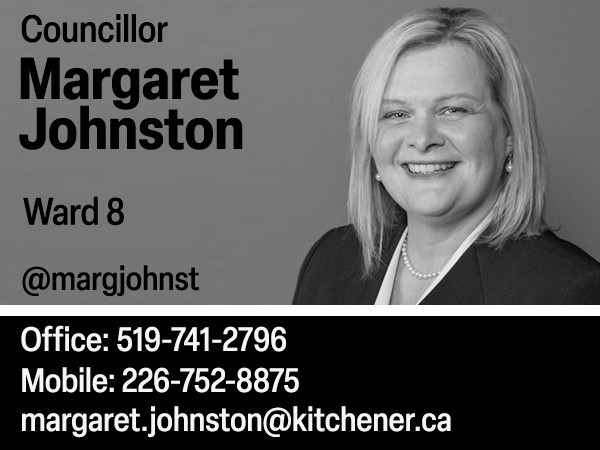 Hey Ward 8!
​I hope you enjoyed a fantastic summer! I always view September as the true 'New Year' to those going to or back to school, have a terrific year full of learning and connecting. I'd like to tell you a bit about our naturalized areas in Kitchener, and how to keep them natural. By being a steward to a natural area in your neighbourhood, you can protect the value of your property, and make an important contribution to the environment. How can you help? Avoid the temptation to 'clean-up' natural areas. Native plants, leaves, even fallen trees provide important food and shelter for wildlife. Removing human litter such as coffee cups, wrappers, and other garbage is always welcome. Avoid attracting wildlife out of the natural areas. Keep garbage and compost properly stored on your property. Do not tame or feed wildlife and ensure any bird feeder is not attracting rodents or other mammals. This will help keep wildlife in their natural area where they belong. Dumping waste in Natural Areas Piled and discarded materials, even if biodegradable, cause a lot of damage. These materials take a long time to break down and smother the plants and habitat beneath. Do not introduce invasive plants to the area. Natural areas thrive when there is a balance of co-existing native plant species. This balance is easily disturbed, and the control of invasive species is difficult and expensive, oftentimes the natural area is permanently changed. When landscaping your property, use only native plant species.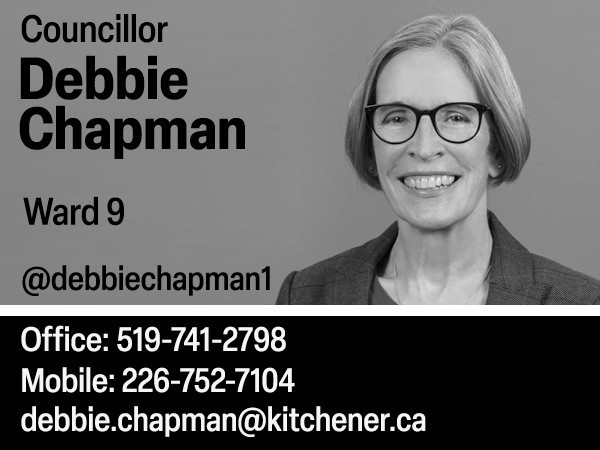 I attended the Association of Municipalities of Ontario (AMO) conference in London in late August. It is an opportunity to network and learn what other municipalities are doing. Some of the announcements made at AMO by the Ford government included: the Ontario Building Faster Fund that provides $400 million annually to those municipalities that meet 80 % of their housing targets; a review of the definition of affordable housing that would consider income; extending strong mayor powers to 21 additional municipalities; and the appointment by September 11th of regional facilitators to review levels of government in Waterloo and other Ontario regions. AMO's demands included calling for an immediate increase in social assistance rates, increasing the supply of deeply affordable supportive housing and increasing funding for the Homelessness Prevention Program. If implemented, these measures would help the Province and Municipalities respond to housing needs as a human right. So much more needs to happen to provide adequate housing and a dignified life for all. Council received a development proposal for 93-99 Benton St. at St. George that would demolish the 13 existing units, housing 30 residents (including 10 children) to build a 12-storey tower. The developer offers to waive the last month's rent, rather than the required three months, for the displaced residents. I have met with some of the residents that live in this complex. Their current rents are affordable. If they are evicted, many fear homelessness. I will not support this proposal as it's currently written.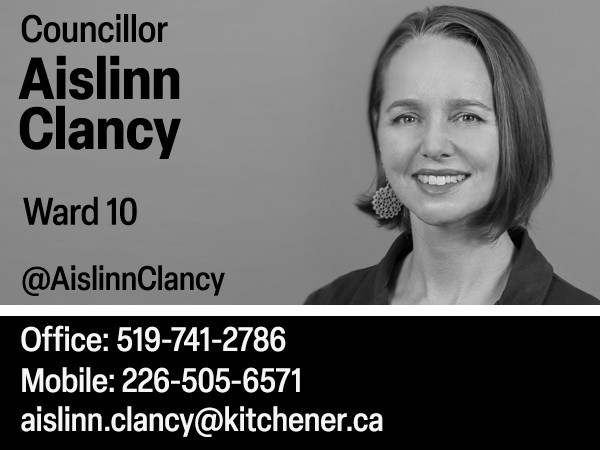 Hello Kitchener!
​It's back to school time. Backpacks are getting filled, alarm clocks are going off and everyone is back into routines. What does that mean? It means we need to slow down when we're driving, especially as the days get shorter. Also, let's see if more families can walk, bike, or take transit to get to school! My kids have been lucky to live close to school and scoot and walk to start their day, rain or shine. Also, don't forget to sign up for some activities to ensure you have good physical health to stay chipper this winter. Registration opened last month, but there are lots of awesome drop-in activities and groups waiting for you. For more info, and to register, go to ActiveNet at kitchener.ca/programregistration. As I chat with folks around the city about their lives, I learn that most of us are doing alright. Most of us have a roof over our head, and food on our plate. However, affordability for many has become an issue as people find their bills going up, but their income staying the same. If you're someone who has enough, see if there's something you can give. Please go donate to our local food bank or any organization (ie. The Working Centre, a Better Tent City) that is ensuring in these times that no one goes hungry or unsheltered. If you need any support, we have outreach workers from the House of Friendship in many of our community centres. Ask at the front desk for a meeting and get the support you need. Why? Because kindness matters. If you have any questions, concerns, or ideas you'd like to share, please email me at Aislinn.Clancy@kitchener.ca.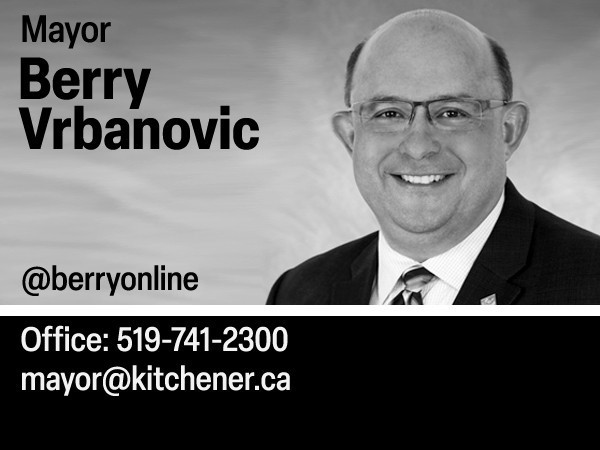 Mayor Berry Vrbanovic's column will return.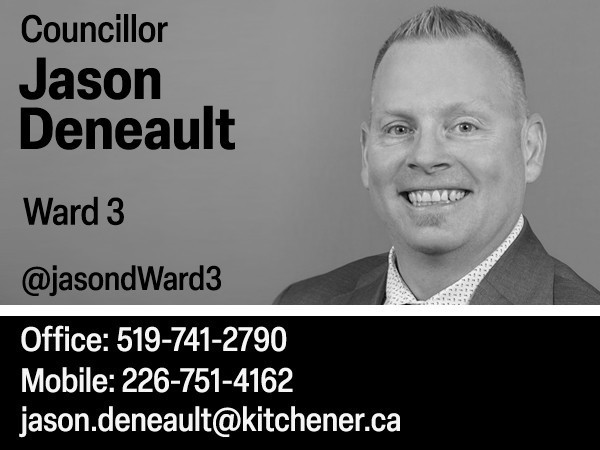 Hello Fall and Greetings to Ward 3 Residents,
​My favourite season is upon us and with that, so many opportunities to explore beautiful colours and scenery amongst our awesome trails in the City. Huron Natural Area is a great place for a hike, bike ride or a run. One of the gems of Ward 3 is Homer Watson Park, located at the end of Wilson Ave. This area probably boasts the bests picturesque fall colours lookout in the Region. Early October is the best time to see Fall in all its beauty at this location. If you've seen, then you know what I'm talking about. If you haven't, put it on your to do list. The little ones are back in school and just a friendly reminder to be on the lookout for them on the sidewalks, crossing the street or playing at the park. Please obey the reduced speed limit in school zones and take your time to be courteous to other drives and pedestrians. Last month, the city hosted Nic Hague of the Vegas Golden Knights and the Stanley Cup for a few hours at the Activa Sports Complex. It was a tremendous turnout by our community to honour one of our own and his Stanley Cup win. Hopefully in the near future, the city will be able to also honour the NBA champion team, Denver Nuggets and Kitchener's very own Jamal Murray on his team win. Oktoberfest is around the corner and so is Council's Grillefest on October 6. More info can be found at kitchener.ca/grillefest or kwoktoberfest.ca for other great family Oktoberfest events. I wish you and your family a happy Thanksgiving. Please contact me about any city or ward matters at jason.deneault@kitchener.ca