For News Tips & Advertising call...
Kitchener East - 519-578-8228
Kitchener West - 519-394-0335
City Council Columns - May 2023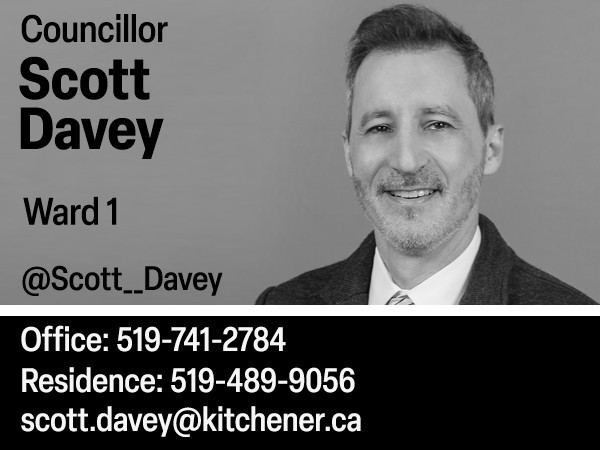 Hi Ward 1, hope you're well! I have some good news to report, following up on last month's column. You might recall my concern about the potential closing of the Lancaster Street ramps to the Expressway. The Regional government's proposal was to close them, largely to make cycling and pedestrian crossing safer. The argument supporting this approach was the ramps weren't (comparatively) well used and that they had a higher incidence of accidents. This is all true, however, my concern was primarily the impact on the already difficult Lancaster and Bridgeport intersection as traffic from those closed ramps would have to travel through that intersection to get to and from the Bridgeport ramps. My other concern was how our rapidly growing and intensifying city would exacerbate the problem over time. The Lancaster ramps may only service just under 5,000 cars today, but that will rise significantly. To my surprise, Regional Council (who makes this decision) ultimately decided not to close the ramps, reversing the 10 to 5 vote prior to my last column. I do want to thank my City of Kitchener Council, even though it wasn't our decision, and specifically our Mayor, who also sits on Regional Council, for their support. There were also members of the Bridgeport community and small business owners that reached out to help ensure the right decision was made. When Lancaster St. is reconstructed, all of the active transportation infrastructure will still be built, but it's important we keep the ramps too.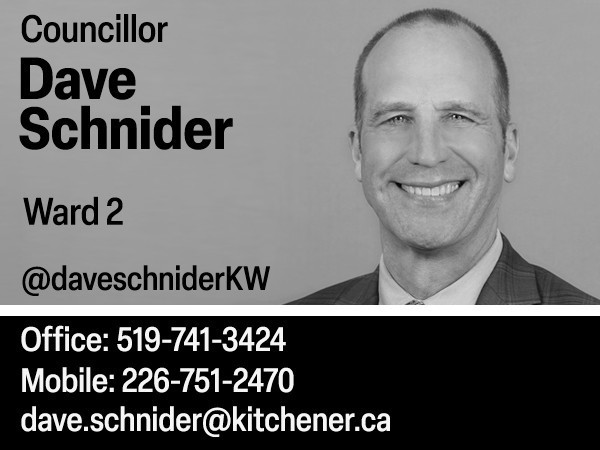 Neighbours Day is coming Saturday June 17. Porch Party Performances where local musicians perform for neighbours is a great way to bring neighbours together and for local artists to perform. If you'd like to be a music ambassador and offer your porch, lawn or driveway for one of these performances, visit kitchener.ca and search Neighbours Day. Our Ward 2 Community Centres, Stanley Park and Centreville Chicopee will have activities on Neighbours Day too. Visit their websites at spcakitchener.ca and cccakitchener.ca. They have information on their regular programs there too. Kitchener's Senior of the Year Award ceremony is on Tuesday, May 30 at 7pm. There were over 70 seniors nominated for this award. You're invited to celebrate the many contributions seniors make in our community. Mayor Vrbanovic will recognize all the nominees and present them with a certificate. Kitchener's Vision Zero strategy is a plan created to reduce serious injuries and death due to traffic collisions to zero. There are some speeding hot spots that will be addressed on roads across the city including on Old Zeller Drive. There will be 3 speed humps installed on Old Zeller Drive. One between Fairway Rd. N. and Grand Flats Trail, another between Watervale Dr. and Eden Oak Trail, and the third between Eden Oak Trail and Valebrook St. I'm happy to assist you. Contact me directly or call our contact centre at 519-741-2345 or email info@kitchener.ca. Follow me on Twitter and Instagram @DaveSchniderKW or "friend" me on Facebook. Visit my website daveschnider.com for lots of Ward 2 and city info.
Let's talk trash. Spring and summer bring greener grass, trees, flowers in full bloom, and sadly, more garbage. Many residents across the city were out doing their part to clean up their neighbourhoods on Earth Day and the Provincial Day of Action on Litter. On Earth Day, Doon Pioneer Park Community Centre staff supplied 345 participants with bags and gloves. A group of Conestoga College Students also did their part to clean up—a huge thank you to everyone who participated! Every Spring city staff place garbage containers strategically, at park entrances and near play areas, and yet, there's still garbage lying around. Litter pollutes our roads and communities, and despite all the information that's out there about the harmful effects of waste and pollution on the environment, there are still people that continue to drop or dump their trash and furniture in parks and along our trails. Here are just a few tips to prevent litter: Take food wrappings, drink containers, newspapers and other potential litter home, or use one of the bins provided in the city's streets and parks; Keep your yard clean and free of things that can blow into the street and become litter; When visiting a park, take out what you bring in; Properly dispose of bulky items by taking them to the Waterloo Region waste drop-off site at 925 Erb St. W. Gate 2 in Waterloo. For more information, visit regionofwaterloo.ca/waste. The best way to handle the problem of littering is to prevent it in the first place. So, let's all take responsibility, properly dispose of waste, and keep Kitchener Clean for all to enjoy!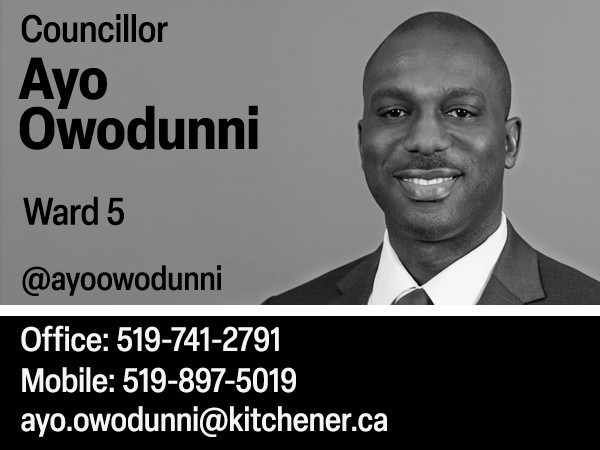 Hello Ward, 5! Help inform our Parks and Open Space Strategy through Places and Spaces. Kitchener Parks would like your input and feedback on natural areas and the environment, community gardens, parks maintenance, and social spaces through skateparks. What alternative sports and recreation do you want to do in Kitchener? Parks-related surveys are available now on Engage Kitchener until June 30. I encourage you to visit engagewr.ca/placesandspaces and provide your input to help make Kitchener's places and spaces vibrant and sustainable. The Kitchener in Bloom program has begun as of May 1! Kitchener in Bloom is a garden recognition program where Kitchener residents can submit the address of a garden, they feel helps make Kitchener a more vibrant, greener, and sustainable place to live. The nominated garden will receive a recognition sign that they can display in their garden and a letter letting them know someone recognized their gardening efforts. This a great time to go on a walk in your neighbourhood and see if you come across any gardens that inspire or impress. Residents can start to recognize gardens now until September 15. To nominate, visit www.kitchener.ca, keyword search: 'Kitchener in Bloom' Neighbours Day will be happening on June 17. There will be many people hosting porch parties with musicians throughout Kitchener and in the Williamsburg and Huron area. Keep an eye out on the City of Kitchener website for the map showing all concert locations and more details. It is another great way to build community and meet your neighbours!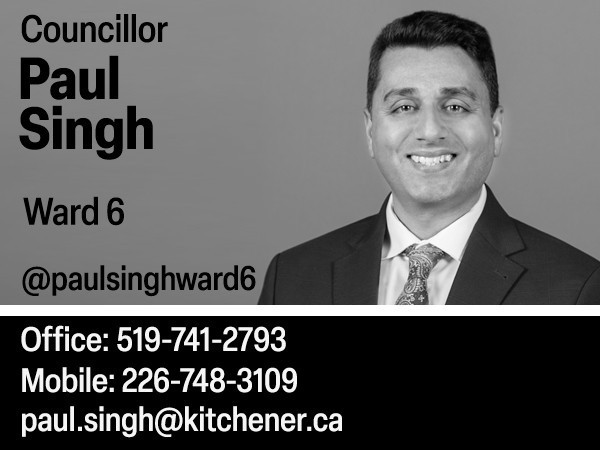 Dear Residents of Ward 6, As the spring and better weather approaches, I wish you well. I want to take the opportunity to share some information about the Love My Hood Grants that are available from the City of Kitchener. These grants are offered to help you make improvements to your neighbourhood and create a more vibrant and livable community. The Love My Hood Grants provide funding to residents, community groups, and organizations who have ideas for projects or events. The grants are available for a variety of proposals, including community gardens, street murals, public art installations, and more. These projects are a great way to bring people together, build community spirit, and create a sense of pride in your neighbourhood. I encourage all Ward 6 residents to consider applying for a Love My Hood Grant. Whether you have an idea for a project or are looking for inspiration, the www.LoveyMyHood.ca website has a wealth of resources and information to help you get started. You can find information on how to apply for a grant, as well as tips and ideas for projects that will make a positive impact in your neighbourhood. By applying for a Love My Hood Grant, you can make a difference in your community and create a more vibrant and connected neighbourhood. I encourage you to take advantage of this wonderful opportunity and bring your community together through a Love My Hood project or event. Please feel free to attend my regular community meetings to share or explore ideas on how we can work together to help bring improvements to our neighbourhoods and streets.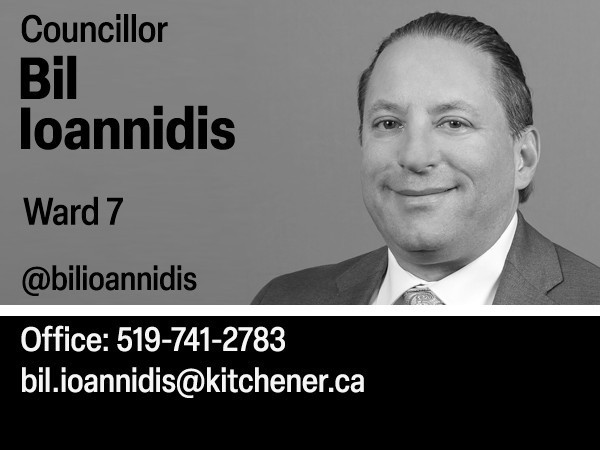 Do you depend on Grand River Transit's Route 2 bus line? I have recently heard from many residents that the Region of Waterloo is planning to cancel service for this route. I understand that there are many students, seniors, and families who depend on this service to get to school, work, appointments and more! Please know that City of Kitchener council were not made aware of this service level change, and I understand that residents were also not consulted about the impact of this change. This service level change will affect Ward 7, and Ward 8 residents. Please know I have spoken with the Mayor and the Ward 8 Councillor. As a result, the Region was contacted in April to share your concerns, and it was suggested that the Region provide an opportunity for residents to provide their feedback on this proposed service level change. At that time, the Region cited low ridership numbers as the reason for discontinuing service for route 2. They did, however, commit to holding some public info sessions to provide you with an opportunity to share your concerns. We have not yet been advised of the dates, and locations for these meetings, so please keep an eye out for this future update. I wanted to thank all those who chose a favourite trail, park, or natural area to clean up recently. You have made these spaces more enjoyable for all to use this summer season. Want to stay in the know about upcoming city-run events? Visit kitchener.ca/events. And, if you're looking for some new trails to discover across the city, visit kitchener.ca/trails for some new adventures.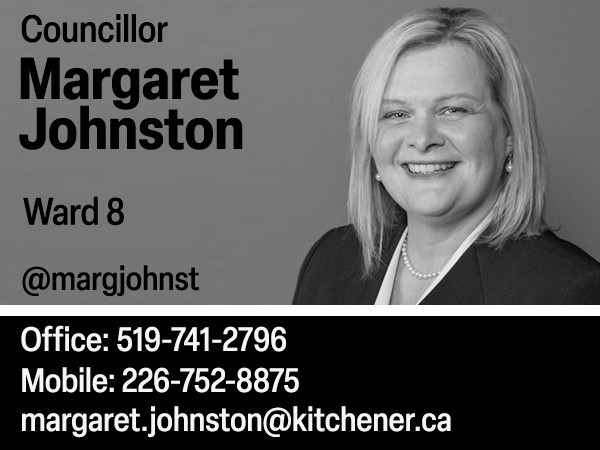 Hello, Ward 8! I've heard from many upset ward residents when they discovered the Region of Waterloo's plans to cancel Grand River Transit's Route 2 bus line. Residents depend on this route to get to and from school, work, groceries, and appointments. The reason given by the Region of Waterloo to cancel the route was due to low ridership. What is concerning is this decision was being made without communication with City of Kitchener and the very residents that this decision would affect. Considering that many people, when they decide to move, base this important life decision on things like transportation and for many, this includes whether they are close to a bus route. This decision appears to not take into account the needs of the neighbourhood both now and in the future including new developments, people coming to live in this ward or the other wards and their needs along this bus route. I reached out to the Region on this matter back in April to share the concerns of my ward residents and suggested the Region provide an opportunity for residents to be heard. At that time, the Region decided they would hold public information sessions to discuss the bus route situation. We are still awaiting an announcement from the Region as to when they will host these public meetings and allow residents to be heard. Stay tuned… Neighbours Day A friendly reminder that applications are still open until May 15 to become a music ambassador or to host your own activity for Neighbours Day on June 17. For more information and to apply online, visit www.kitchener.ca, keyword search: 'neighbours day.'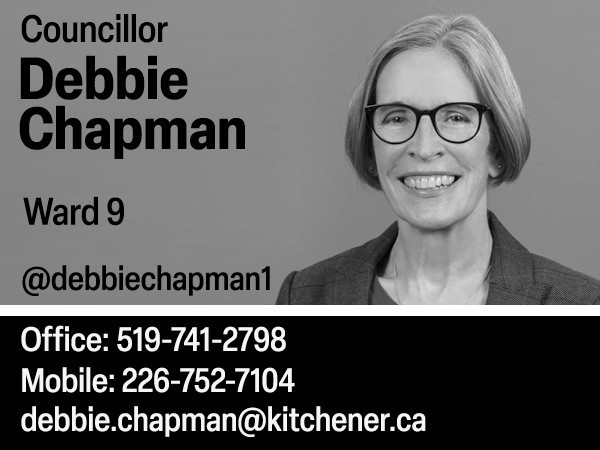 May brings new beginnings as buds turn to leaves on the trees, rain washes away the remnants of winter and spring gardeners emerge from hiding. Yet, we continue to grapple with the same old challenges of affordable housing, sustainable development, and adequate green space. The idea of equity is now built into most hiring decisions, but I want to examine it in terms of development planning. From the perspective of housing-as-a-human-right, everyone has the right to adequate (affordable, accessible) housing. If those on low income cannot access housing of suitable size and affordable cost in a desirable location, then it is not equitable. As more and more people are driven out of downtown areas because they cannot afford rents or are evicted or renovicted because the property owner decides to demolish or renovate, this is not equitable. When single mothers, seniors on a fixed income, full-time minimum wage earners or Indigenous people cannot afford housing, this is not equitable. When those with accessibility needs cannot access housing that meets those needs in terms of infrastructure and cost, this is not equitable. When affordable is defined as 80% of market value, for most people this is not equitable. We have to do much better than this. Think equity! We hear developers tell us repeatedly it is not feasible to build affordable housing as it's not their responsibility, but I argue that the responsibility for upholding human rights falls on all of us. When developers demolish deeply affordable units, they should see the replacement of those units as their civic duty.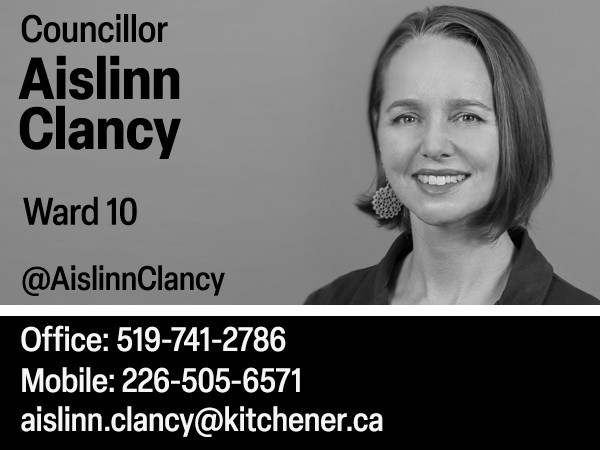 Hello Kitchener! I hope you're enjoying the warmer weather, getting your hands dirty, in the garden, and emerging from your cocoon to enjoy the outdoors by walking, biking, rolling, or scootering. Kitchener is buzzing with activity. We are excited to see the new neuron e-bikes and e-scooters around town. I see lots of smiles when folks are taking a ride. Just download the app on the Apple App Store or Google Play and off you go! Hopefully this will support people to get out of their cars to move around so we can reduce our carbon emissions. In Canada we have two seasons – winter and construction. While construction can be inconvenient, I'm excited to see some of our roads updated to become 'Complete Streets' - streets designed to make you feel safe and comfortable no matter your age or your ability, for all modes of travel, including walking, biking, taking transit or driving. For more information on road safety, check out our Vision Zero Strategy on engagewr.ca/visionzero. When we plan in a way that encourages rolling, biking, and walking, our community is healthier and happier, meaning we save money on health care. Who knew that how we plan our buildings, land use and roads, it would have such a big impact on our wellbeing? Consider trying out a new shop or café when you're moving around the DTK and support small businesses on Gaukel Street and at the Kitchener Market. I'm always happy to hear from you at: aislinn.clancy@kitchener.ca, If you'd like to meet in-person, feel free to join me at my next meet and greet at Rockway Seniors Centre on May 23 from 6:30-8pm.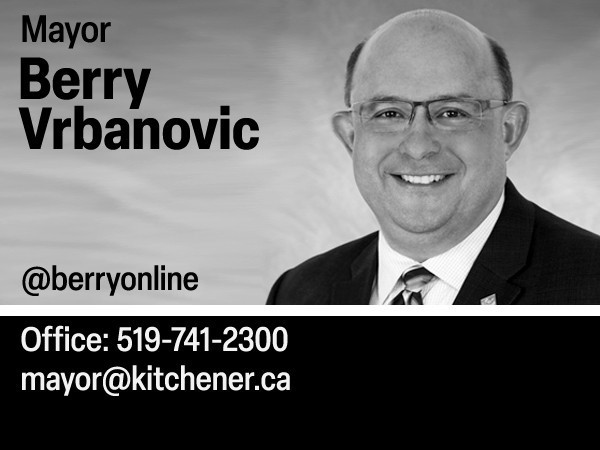 Mayor Berry Vrbanovic's column will return.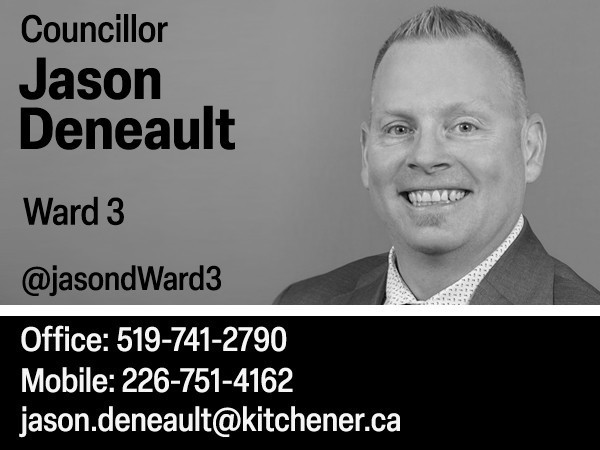 Thanks to all who came out to the April "Meet and Greet" to share your concerns and questions. It was a pleasure meeting each of you, and I appreciated the conversation which was lively and informative. The biggest concerns mentioned were about traffic and speeding on our local streets. I am sharing a great amount of information and concern provided by Ward 3 residents to the City and Region's Traffic departments for their consideration and follow-up where appropriate. With the city continuing to grow, causing our streets to be busier, we must continue to ensure our streets are safe for all. Council recently passed a new bylaw for Fireworks. Going forward, the following three celebratory days will be the only time fireworks may be used: Queen Victoria Day, Canada Day, and Diwali. Please be kind, respectful about time, and safe when using Fireworks. You can find information about where you can light fireworks, and more at kitchener.ca, key word search, "bylaws at home." A new community garden is in the works for Fourth Ave. near Wilson. If you're interested in volunteering or getting more information, please reach out to Neighbourhood Liaison, Laura McBride at laura.mcbride@kitchener.ca or call 519-741-2200 ext. 2501. She is also a great contact to reach out to if you're looking to organize a Ward 3 community event. LoveMyHood is a great way to bring the residents together for a day of "meets and greets." Please go to Lovemyhood.ca to learn more about this great Community lead initiative—the options are endless!