For News Tips & Advertising call...
Kitchener East - 519-578-8228
Kitchener West - 519-394-0335
City Council Columns - June 2022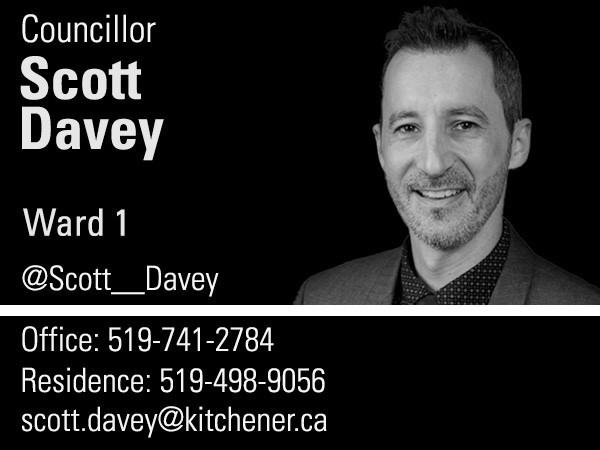 Hi Ward 1! As spring wraps and we approach the summer months, I'd like to highlight some news and services that might be of interest. On the news front, we're hosting our popular 'Neighbours Day' on Saturday, June 18th. There will be roughly 50 different artists performing across our city for Porch Parties, events at our Community Centres, and a free evening concert in Victoria Park. For more details, search for 'Neighbours Day' at www.kitchener.ca. You might see more e-scooters on the road this summer. The Regional Gov't recently approved the use of the electric devices on any regional road with a speed limit of 50km/h or less beginning July 1st. The Region owns many major roads in our city (e.g. Ottawa, Victoria, Bridge, Lancaster etc.) so Kitchener staff intend to bring forward a report allowing e-scooters on our roads as well, in line with the Region's July 1st timing. Please note, owns some roads only, no sidewalks! You may have heard that we're finally bringing an aquatics facility to the south-west area of Kitchener. It will be constructed in the coming years. We're quite fortunate to already have two great pool facilities in Ward 1 to either cool off or get a little aquatic exercise. We have Lyle Hallman Pool at the corner of Ottawa & Heritage Dr. and in the north, we have the recently renovated pool in the amazing Kiwanis Park. If you've never been, it's an enormous outdoor pool with a gentle grade into the water, the next best thing to being at the beach!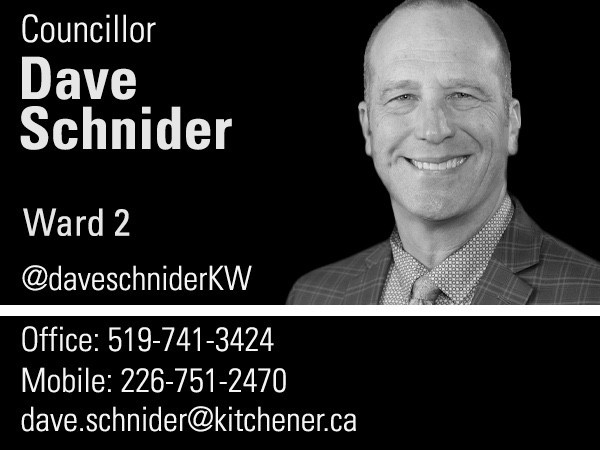 The severe storm on Saturday, May 21 caused a lot of property damage and a massive amount of fallen trees and branches. Our forestry team members responded immediately and worked with KW Hydro crews, the Kitchener Fire Department, and Regional Police to unblock roads and address dangerous situations. The additional cleanup will take several months. There was also extensive damage to our parks, trails, cemeteries, and golf courses. Some trails have been temporarily closed due to dangerous conditions, please obey the signs.
Unfortunately, there will be some areas where multiple trees will need to be removed and where entire streets may lose their existing trees due to the damage they received. Some of our current programs like the emerald ash borer tree replacement are temporarily paused so staff can focus on storm clean up. For your own clean up, you can put your storm debris out for your collection day, but please separate storm debris from regular waste collection
Many of our staff have been redeployed from their regular roles to temporarily assist with the storm issues. I appreciate the excellent work our crews continue to do. It's wonderful seeing many positive comments of appreciation about our staff's storm response on social media. I thank you for your ongoing patience and understanding.
I can help with issues or questions you have. Contact me directly or call our contact centre at 519-741-2345 or email info@kitchener.ca. Follow me on Twitter and Instagram @DaveSchniderKW or "friend" me on Facebook. Visit my website, daveschnider.com for lots of Ward 2 and city info.
Stay tuned for details! Doon Pioneer Park Community Centre will be celebrating its completed expansion on July 16. It's a great opportunity to come together and celebrate community with food, fun and games.
Speeding on our city streets remains the number one concern reported to me by residents. I encourage you to be mindful of your speed on our neighbourhood streets this summer. Please help keep our roads safe for all users and keep an eye out for children playing outside and cycling.
According to the results of a recent Environics survey, affordable housing, homelessness, roads, and climate change top the list of important issues to Kitchener residents. This survey is conducted every four years and is a valuable tool for council and staff in planning and making decisions for the future of our city. Your input is vital to developing our strategic plan. We will have more opportunities for you to provide feedback through pop-up and event engagement, outreach to community groups, and an online public survey at engagewr.ca/kitchener.
Exciting news that will impact Ward 4! The federal government is investing almost $10 million towards building a new, accessible RBJ Schlegel Aquatic Centre and recreation facility to meet the expanding recreational needs of our community. The facility, to be built at RBJ Schlegel Park, is expected to be completed by 2025 and is recommended to include a 25 metre, 8-lane pool, warm water leisure pool, and indoor rec facility with artificial turf.
Contact me with your questions, concerns, and ideas at christine.michaud@kitchener.ca.
Hey Ward 5, I'm happy to report that Council recently endorsed the staff recommendation to design and move forward with construction of the Aquatic Centre and Indoor Turf facility at RBJ Schlegel Park! The Aquatics Centre will include a 25m, 8 lane pool and a warm water leisure pool. The Indoor Athletic Facility includes approximately 40,000 sq. ft. of artificial turf playing surface.
The Indoor Athletic facility will provide Kitchener Soccer Club with the much-needed office space to administer their indoor and outdoor programs at RBJ Schlegel Park. Other organized sports will also benefit like lacrosse, cricket, field hockey and ultimate frisbee as they are in need of spaces to train when outdoor fields are not available due to availability or weather.
Our City's current four indoor pools are operating at capacity, with wait lists for swimming lessons and programs. The new Aquatics facility should help alleviate this as it is anticipated that residents across Kitchener will travel to use this facility. With the City successfully obtaining Federal and Provincial grant funding for the Aquatics Centre under the ICIP cost-sharing grant program in 2021, the construction will commence in 2024 and will need to be completed by the end of 2025 to fulfil the terms of the grant.
With Aquatic and turf program space in such high demand, this is a very welcomed news, not only for Ward 5 but for the entire City of Kitchener community! Visit www.kitchener.ca/RBJSchlegelPark to learn more.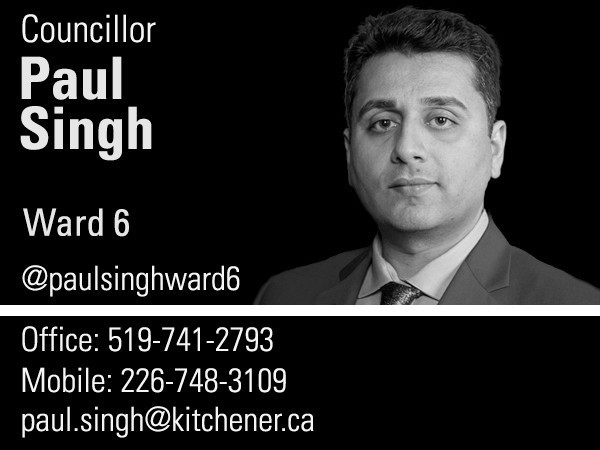 Allow me to direct your attention to an existing neighbourhood park in Ward 6—Alpine Park. Not unlike other parks in our city, this park, with its older and simple play equipment, has been in need of an update.
Over the past few years, I've worked alongside the Alpine Neighbourhood Association to advocate for an accelerated timeline for this park's redesign and improvement.
Funding was allocated as part of the 2021 city budget, which I happily directed and supported. Through the summer of 2021, park staff and a selected design team sought input from the public about how Alpine Park was being used, and what it needed for the park to support the community into the future.
Based on the input many of you provided, two preliminary conceptual designs were developed for Alpine Park. These can be viewed at engagewr.ca/alpinepark. Once the final design is chosen, and the necessary site assessments are completed, I'm hopeful that the work can begin this fall or the latest by early spring next year.
This soon to be improved park, will be an example of collaboration and inclusion, that created community spirit through the process. Because of the important role local parks play in helping to build and sustain a healthy community, I feel we need to do more to support and fund their continued improvement.
You're invited to Cinema Under the Stars! This free, outdoor family event returns to the Country Hills Community Centre on June 25 at 830p. Movie begins at dusk. Come early for prizes and popcorn and bring your own lawn chairs and blankets. Movie will be in the gym if it rains.
Hey Ward 7! We recently announced the return of in-person events and festivals across the City this summer and I couldn't be more thrilled! This will be an exciting season ahead, giving us the long-awaited opportunity to reconnect with friends and neighbours. I encourage you to check out some of these major events: Neighbours Night on June 17 at Victoria Park, enjoy a free concert headlined by national recording artists Virginia to Vegas and Delaney Jane with special guest Reve. Neighbours Day on June 18, happening in neighbourhoods all over Kitchener from porches to driveways, front lawns to boulevards, local musicians will be staging pop-up concerts. KW Multicultural Festival in Victoria Park on June 25-26, community groups, ethnic associations, artisans, and both professional and amateur performers from our community will be featured. Cruising on King is back in Downtown Kitchener on July 9, showcasing classic cars on King Street with live entertainment and open patios. Canada Day Celebration Downtown Kitchener on July 1, with family activities, a free concert and fireworks! Downtown Kitchener Ribfest and Craft Beer Show in Victoria Park from July 15-17, offering barbequed ribs and chicken, Ontario craft-brewed beer, live entertainment, and a Kids Fun Zone. Wayback Festival on July 23, classic-rock concert headlined by legendary Canadian artists. TD Kitchener Blues Festival Downtown Kitchener, August 4-7 featuring outstanding international blues acts and local talent. There's many more upcoming local events and festivals, for more details visit: www.kitchenerevents.ca.
Hello Ward, 8, Let's talk parks!
Places and Spaces Not all green spaces are created equal. There can be a variety of different needs in different areas which is why, we need to be responsible when creating spaces. We are in the midst of updating our existing Parks Strategic Plan with Places and Spaces. The idea is to develop a plan that better reflects the current demand of our park spaces. 'Places' and 'Spaces' are the two main focuses with 'Places' being all about the quality of our parks and 'Spaces' being all about the quantity of our parks. After staff received feedback from residents, and community groups through EngageWR, the draft 'Spaces" strategy will go before Council for final approval June 20. See the plan discussed at the June 8 Community and Infrastructure Services Committee meeting on the Council and Citizen Committees calendar page at www.kitchener.ca.The 'Places' part of the plan is still being developed. More opportunities to help shape the future of our Kitchener parks can be found on engagewr.ca/placesandspaces.
Westwood Park Improvements Westwood Park was awarded at the May 30 Council meeting. We will see updated trails, new tree planting, a new loop path and a scrub cricket area for informal cricket and is also able to be used as a gathering space. The Park will contain biodiversity planting and additional play equipment and will also see a new basketball court and hard surface multi-use area. New seating and shade as well as new garbage bins will be added. We hope work to be completed in 2022. For more information, visit: www.engagewr.ca/westwoodpark.
June is Pride Month. Watch for events and activities around the Region in the coming weeks. Spectrum describes Pride month as a time to "promote equal rights and visibility". Diversity of sexual orientation is to be celebrated. Let's show our support.
There is still a lot of debris caused by the recent windstorm. Please be patient as crews work their way around the city cleaning-up.
What does it mean to refer to a 'liveable' city? It is a concept often used to describe the attractive and positive features of an ideal city. I particularly like the idea of a 15-minute neighbourhood or community, where there is a diverse mix of land-uses and housing types, shops, services, schools, day cares, jobs, and parkland. It is a community that is supported by active transportation options including public transportation, trails, and bike lanes.
For me a liveable city requires an all-encompassing plan. A plan that gives residents reassurance and predictability. A plan that has been carefully crafted through planning policies and public consultation. A plan that gets updated every few years through the same rigorous process. A plan that ensures a liveable city where all residents are adequately housed. Planning is a central part of what municipalities do. It is very important to get it right from the beginning.
The Downtown Working Group is tasked with crafting a 10-year vision for creating a 'downtown for all'. A final report from the committee will be submitted to council in 2023. I'd love to hear what your vision is for the downtown area. I can be reached at debbie.chapman@kitchener.ca.
June Events in Downtown Kitchener (DTK)

– Mark your calendars: the DTK Summer Kick-off Party Friday, June 10 will be a patio crawl at downtown restaurants and bars, followed by a full day of family-focused activities Saturday, June 11. Our community's beloved K-W Multicultural Festival is back in person on June 25-26 in Victoria Park, offering markets, food vendors and many great performances. I hope to see you there. The annual Canada Day Celebration will be at our newly renovated Carl Zehr Square at Kitchener City Hall on July 1 from 6-11pm with activities, a free concert and fireworks in the evening! Check-out more upcoming events and festivals at: www.kitchenerevents.ca.
Encampments

– On a more serious note, our community's most difficult challenge is the unprecedented number of residents currently homeless. While the Region of Waterloo has the lead responsibility for homelessness and housing, we can all agree that this complex issue requires a collaborative approach involving social services, advocates, all municipalities, and provincial and federal partners.
As the weather heats up, we see an increase in encampments – people sleeping rough. Encampments on City property are treated with care, on a case-by-case basis, and with the wellbeing and safety of the individuals living there in mind. Outreach workers and staff work to connect unsheltered individuals to the shelter system and provide resources and connections (outreach, transportation, etc.) as needed. In addition, we continue to advocate for more affordable housing initiatives to be built as soon as possible.
On behalf of the City of Kitchener, I would like to congratulate Premier Doug Ford on his party's re-election victory. The past few years have required an unprecedented level of collaboration amongst different orders of government as we collectively worked to respond to the COVID-19 pandemic and numerous other issues. By working together, we ensured that cities like Kitchener would have the resources necessary to continue to serve the residents of our community during this challenging period. That level of collaboration will remain equally important in the years ahead, as we strive to ensure a strong recovery for Kitchener, our region and the Province of Ontario. Our community has proven to punch above its weight in terms of its role in the provincial economy in recent years, and I remain committed to work with the Premier and his government to ensure that this continues to be the case and that the issues important to the residents of our community remain at the forefront. In addition to getting the job done with our Make It Kitchener 2.0 economic strategy, we also look forward to working together with the Province and the other orders of government on our other major challenges including housing affordability, investing in mental health and substance use issues, and community safety and wellbeing. These issues which are critical to Kitchener's and Ontario's success, will require an earnest commitment on the part of both our provincial and federal government partners in order to successfully bring about the needed results. Cities like Kitchener cannot tackle these issues on our own and we remain ready and committed to rolling up our sleeves and tackling these challenges, together, and with a renewed vigour. Locally, I would like to extend my congratulations to the elected MPP's from all parties. Congratulations to Mike Harris Jr, Catherine Fife and Laura-Mae Lindo on your re-election. I look forward to continuing to work with each of you. I also would like to congratulate and welcome newly elected MPP, Jess Dixon. Finally, a thank you to candidates from all parties who put their names forward and were part of last week's election, as well as the volunteers in all campaigns. Your participation is an integral part of our democratic system. Thank you as well to everyone in our community who took the time to get informed and vote.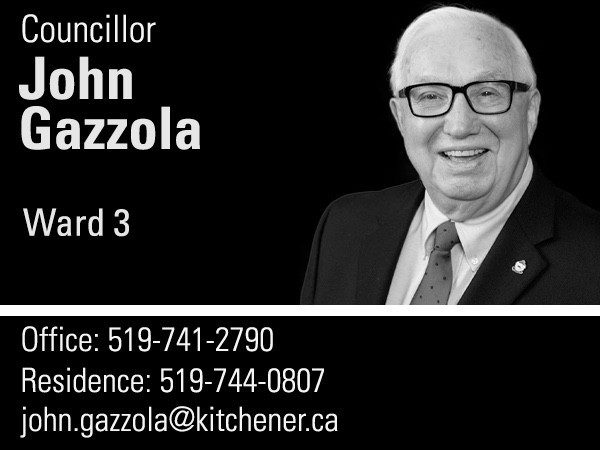 There are several events occurring in June relevant to Ward 3.
Neighbourhood Planning Meeting (4220 King St. E.) -

A virtual meeting was held on June 7th. If you did not attend and /or would like additional information please contact me or Craig Dumart ( Sr. Planner) at 519-741-2200x 7073 or craig.dumart@kitchener.ca or visit the city's website (https://www.kitchener.ca) and https://www.kitchener.ca/planningapplications
Queen Victoria Statue -

The vandalism on the city's public property was discussed at a meeting on June 8th. Again, I would urge you to familiarize yourselves with the discussions from that meeting. There will be a great deal of deliberation concerning the Statue and similar discussions relative to Indian Road. As we move forward on these topics it is essential that we hear from as many residents as possible. To date discussions have been one-sided. It is important to hear from ALL SIDES concerning these issues.
Pioneer Tower Road Traffic Calming Review

– Staff Recommendations These will be discussed at The Community Services Committee virtual meeting on June 13th.The report can be viewed on the City's website. Presentations by delegations are welcome.
Condominium Draft Plan Application (55 Franklin St. S.

) - A staff recommendation will be discussed at the Planning Committee virtual meeting on June 13th.The report can be viewed on the City's website. Presentations by delegations are welcome.
To discuss any of these or any Ward/City issues ;Please feel free to contact me, at your convenience, john.gazzola@kitchener.ca 519-744-0807 (Home/Office) jgazzola@rogers.ca 519-498-2389 (Cell)