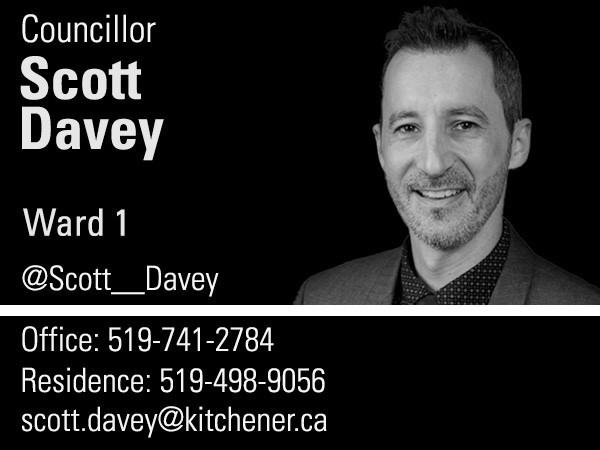 Hi Ward 1. I'd like to use some space here to explain the homeless situation in our city. Homelessness has been top-of-mind as of late for obvious reasons, but it's critical for residents to understand the "what and who" when it comes to input and feedback to elected representatives. I'll begin by relating who is actually responsible for ensuring everyone has a safe, sheltered, place to sleep because there's significant confusion. The primary jurisdiction is that of the Waterloo Regional Government but it's also the responsibility of the Provincial Government, who provides much of their funding. While the City is supposed to play more of a minor role (e.g. inclusionary zoning), the Region is squarely responsible for many social services, including the sheltering of those experiencing homelessness.
Kitchener has been punching above its weight, even crossing jurisdictional boundaries where we have donated city lands for affordable housing (e.g. land across from St. Mary's High School) and our push to support A-Better-Tent-City (formerly on our lands, now partially, as-shared with the Public School Board.) I'm proud of my Council for supporting these initiatives but it's critical to remember that the more we spend on another level of government's responsibilities, the less we have for our own. I believe it's critical that governments respect jurisdiction to be accountable to their citizens. If you care about this, as my Council clearly does, please engage your MPP's and Regional Councillors and help us put an end to homelessness in our Region.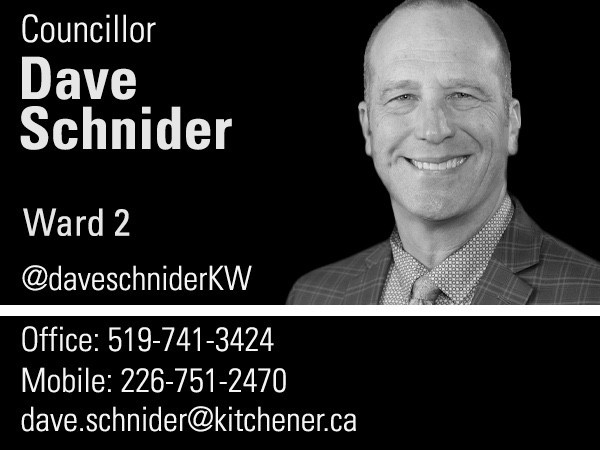 I want to thank residents who hosted Neighbours Day porch party performances, and thank Hope Lutheran, Grandview and Stanley Park Community Church for hosting events and Acts of Kindness at their Centreville-Chicopee Community Centre event. I spent the day visiting these events and saw so many people enjoying them.
City Hall's Carl Zehr Square has been renovated to enhance your enjoyment of our downtown events like Cruising on King, July 9: the new Wayback Festival on July 23; and the TD Kitchener Blues Festival, August 4 to 7.
Victoria Park has the Downtown Kitchener Ribfest & Craft Beer Show, July 15-17 and Kidspark, August 21. Music At the Kitchener Market happens Thursday Nights in July from 5-9pm with great food, beverages, shopping and live music on the piazza. Visit kitchenerevents.ca for all the events you can enjoy.
Recognize a beautiful garden through Kitchener In Bloom at kitchener.ca/kitchenerinbloom.
Council welcomed some amazing young students to City Hall for My Ideal City. They shared their ideas to make Kitchener even better. Read their stories in this edition of your Kitchener Citizen
Thanks for your patience and to our incredible staff who continue the clean-up efforts of the massive damage the May 21 storm caused. It will take most of the summer to fully complete it.
I can help with issues or questions you have. Contact me directly or call our contact centre at 519-741-2345 or email info@kitchener.ca. Follow me on Twitter and Instagram @DaveSchniderKW or "friend" me on Facebook. Visit my website, daveschnider.com for lots of Ward 2 and city info.
I want to thank all Ward 4 residents who hosted and participated in the 2022 Neighbours Day last month. It was well attended and enjoyed by many.
Council had the honour of hosting students aged 10 to 12 years old who participated in the My Ideal City contest. Winners had their submissions printed in the Kitchener Citizen and appeared on Rogers TV for a live event in council chambers on June 20th. Submissions were filled with wonderfully creative ideas on how to make our city better. You can read the winning essays in this issue of the Citizen or watch the video at https://bit.ly/3n4RaSB.
Biehn Dr. Traffic calming
The Biehn Dr traffic calming review was completed May 2021 in response to resident concerns. The resident survey results showed that 86% supported the proposed traffic calming plan. Council approved the plan, which will be installed summer or fall 2022. For details go to www.engagewr.ca/biehndrive.
Lower Doon Secondary Plan
Staff will undertake background research and develop draft materials to form the new Secondary Plan. Future community engagement is expected to start early 2023, at which the draft Secondary Plan materials will be presented for the community to review and provide feedback.
When you're out this summer, if a home or business has a garden that makes the area a more beautiful place, why not nominate them for the Kitchener In Bloom award? You can call in the address at 519-741-2200 ext 7537 or fill out the short online form at kitchener.ca/KitchenerInBloom.
Wishing everyone a safe, exciting, and happy Summer!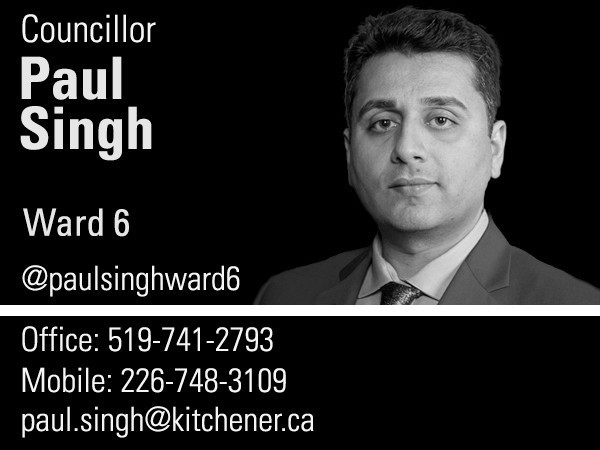 Cinema Under the Stars was a huge success this year, with over 500 people attending. My thanks to city staff, Fire, and the neighbourhood associations for your participation in making this event happen for the community. I was so happy to see the many families, young people, and other residents of all ages enjoying the outdoor movie night.
I work with the three ward 6 neighbourhood associations to provide the Cinema Under the Stars event each year to foster a collaborative approach to community building. People resources are what makes this event possible each year, so I am thankful that the neighbourhood associations are happy to come together to provide a free, fun, and family friendly outdoor experience.
One of the Committees I sit on as a councillor, is Kitchener in Bloom. I enjoy supporting this committee as it is a garden recognition program that allows for residents and businesses to be nominated for making the most of their green space. Last year we received over 1000 nominations.
If you walk by an address with a front garden that you find appealing, why not nominate them to be recognized by Kitchener in Bloom. I will personally be nominating several addresses that are deserving of recognition in our ward. All you need is an address to nominate. You can call or fill out the short form found here: kitchener.ca/kitchenerinbloom
I'm hoping that like the stellar turn out at Cinema Under the Stars, that Kitchener residents are equally as enthusiastic about attending some of the City's favourite summertime events returning this year: Check Kitchenerevents.ca for details.
Hello Ward 7! We've seen red paint splashed on the statue of Queen Victoria on many occasions. The statue has been the subject of criticism by Indigenous, Black and other racialized communities and allies over the past year. We've heard differing opinions from residents as to whether the statue should or shouldn't remain in Victoria Park. This is why staff brought a report to committee on June 8 and to Council on June 20, recommending we launch an equity-driven, community engagement strategy to gather ideas and feedback from residents related to the Queen Victoria Statue in Victoria Park and was endorsed by Council. An important part of the strategy will include education about the historical legacy of Queen Victoria, the statue, as well as the continuing influences of colonialism on generations of Indigenous, Black and racialized people. The engagement process will provide opportunities for residents to share their feedback and ideas while also prioritizing the voices of Indigenous, Black and racialized members of the community. Working in collaboration with multiple stakeholders and with the ongoing projects taking place at the city, the proposed strategy will happen over an 8 to 12-month period. Council also endorsed an amendment to the staff report to commission a new temporary public artwork that recognizes Indigenous Peoples on the site during the engagement process. Watch for upcoming community engagement and education opportunities between October 2022 – February 2023 and we would love to receive your feedback!
Residents often criticize the public engagement process when they feel they have been ignored. But where are they left when there isn't one at all?
One of the most common public engagement exercises realized in Ward 9 involves new development proposals. When they require official plan and bylaw amendments the process is: notify residents with 240 metres and post on City website, then hold a neighbourhood information meeting, discuss, and vote on a staff report to the Planning and Strategic Initiatives Committee, and finally to ratify the decision at a full meeting of Council. Community members are invited to participate at each step of the process.
I recently learned about a proposal to build a 44-storey building at the corner of Queen and Charles containing 566 residential units. It did not require official plan or bylaw amendments, and so did not require any of these steps. It went to the Heritage Committee for comments (but no vote), and then directly to Site Plan Review. The community and Council were otherwise left out of the entire process.
Some of the questions I still have about the proposal relate to the number of family sized units, whether units are condos or rental apartments, what LEED standard features will be in the new building, how many units will be affordable, how many accessible, how bonusing was calculated (permitting increased height) and how the 'public space' will be used.
It seems to me that we have an obligation to inform residents and give them the opportunity to provide feedback on developments of this magnitude, no matter where they are located.
Recently I was humbled to sit down with some of our community's outreach workers. Thank you Lee Morgenson for allowing me to re-share your powerful words here:
Tonight, our hearts are tent shaped.
on the Eve / of the Eviction / of the encampment
on the corner previously marked by England's dominion and German immigration
Victoria and Weber, when cities were groomed with sidewalks
A corner now engaged by a group who seek no dominion
Seek only to have their feet in the earth
their wordless statement as strong as a bora wind dislodging the common landscape
making tenuous walls strong, and solid structures quiver
Placing their triangle homes on a square of land with nothing but the circle in the sky watching over
Waiting not so much on a home, but a change / in the direction /of the wind.
a sea of tents on a patch of desert / a barren plot of dust and scorching sun
like nomadic 4th century people purposely leaving cities because of decadent leadership, social conventions, class systems,
carrying only a songbird in their hearts. These folks are in good company
I feel brought to my knees by this encampment
and their courageous message of no words, only actions
their courage to stand their ground, the courage to be afraid, for it is tangled and uncertain,
but the truth is that uncertainty is a gift
we are deluded with thoughts of permanence;
permanence that has served no one well. False, deceitful permanence, just ask the wind
We talk too much, while the earth quietly tilts its axis, and the solstice sun bears down into the night of the garden of planted tents
Our hearts are tent shaped
Happy Canada Day Week, Kitchener! It's hard to believe we are already a couple of weeks into summer and beyond the mid-point of 2022! The energy and enthusiasm felt around the community last Friday as we all celebrated our first in-person, large-scale Canada Day since 2019 was energizing and awesome! From neighbourhood events to Glass Tiger who played numerous encores as they fed off the energy of the 7-10,000 people approximately in Downtown Kitchener, it reminded all of us that while we have challenges, Canada is by far still the best country in the world to live.
​
CANADA DAY 2022
​
Last Friday, Canada Day reminded all of us about the importance of coming together to reflect on what it means to be Canadian and to celebrate all our country has to offer. It was a time to celebrate the values we aspire to as a country, while remembering the past and committing to working for a brighter future for all.
​
There is no question that the last couple of years have been challenging for all of us – some more than others. But in a world filled at times with conflict and strife, let us never forget who we are as Canadians and the values that Canada and our flag represent for all of us. There are many things that make Canada a great country and a destination of choice for people from all over the world: the natural beauty of our landscape, our cultural diversity, our reputation for the good we have done around the world, and so much more.
​
While Canada Day is one day in the year, let our collective passion to be a caring nation, and a diverse and inclusive community for everyone, help drive our resolve to ensure the Canada we all love, always remains true north, strong and free.
2022 – KITCHENER, LET'S GO - THE SUMMER OF EVENTS
​
After two years of collectively fighting the battle against COVID-19, Kitchener Events, together with community partners, has planned a summer like no other as we look forward to re-connecting with others, enjoying the outdoors and celebrating all the great things that make Kitchener a great community to live, work and play in.
After a very successful launch to the 2022 festival scene with Neighbours Night, Neighbours Day, the Greek Food Festival, the Multicultural Festival and Canada Day last weekend, there is an endless stream of great activities planned in the weeks ahead throughout July and August.
Upcoming activities include….
CRUISING ON KING – JULY 8TH
This beloved annual event returns to Downtown Kitchener this Friday, exclusively as a display of vintage vehicles, with live entertainment, on King Street between Francis and Frrederick Streets from 6-10pm. Hope to see you there!
DTK RIBFEST & CRAFT BEER SHOW – July 15-17
This annual favourite returns to Victoria Park next weekend with many of your favourite ribbers and local craft beer companies back in 2022 to the kind of awesome event we enjoyed with family and friends for many years in the past. You better eat light for the next week, so you can try out all the great food that will be on offer.
WAYBACK FESTIVAL – July 23
This first-time event replaces the former Rock 'N Rumble festival. The good news is that it's all about taking us back in time with some classic rock! Running from 6pm to 10:30pm, it promises to be an amazing evening rocking to the sounds of Helix, Lee Aaron and Trooper! Going to be an incredible night
TD KITCHENER BLUES FESTIVAL – August 4-7
Finally, the highlight of the summer is back with the biggest Blues festival yet! From The Kramdens to Davd Wilcox and JJ Wilde to the Sam Roberts Band – this promises to be an unforgettable weekend. And the best part, it's all free except for the Thursday night fundraiser concert! Incredible Talent. Killer Tunes. Great Times. See you there!
KITCHENER CONTINUES TO ADVANCE THE UN SUSTAINABLE DEVELOPMENT GOALS
Earlier this week, I met with Karina Gould, Canada's Minister for Families, Children and Social Development. She is also Canada's minister responsible for the implementation of the Sustainable Development Goals (SDG's).
Kitchener has done a significant body of work to localize the SDG's in our work as a City, including incorporating them into our 2019-2023 strategic plan, using them as the foundation for building our new 20-year strategic plan which is underway right now, and also creating a SDG incubator for social enterprises and sustainability focused businesses in the former BMO building in Downtown Kitchener.
I will share more on this in subsequent columns, including my work on the SDG's as part of the leadership of United Cities and Local Governments (UCLG) – representing Kitchener and Canada on this global association of local and regional governments. Stay tuned!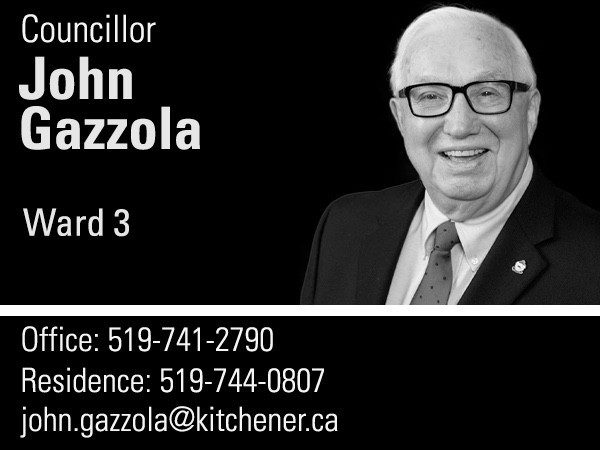 Queen Victoria Statue & Indian Rd

- Over the next 8 – 12-month period the Public will have limited opportunity to join in discussions concerning these two significant issues. All the discussions will be managed and driven entirely by the staff of the newly established Department of Equity, Diversity, and Inclusion. I have been advised that discussions on Indian Rd are limited to residents or businesses on the street, students, and staff from Grand River Collegiate or members of local indigenous communities. I gather that is what is meant by the term "equity-driven community engagement." Priority will be given to those affected by colonialism, specifically Indigenous, Black, and Racialized persons.
The goal in this process appears to be to remove the Statue of Queen Victoria and to change the names of any street, park or building containing a name that has any reference to colonialism or early Canadian settlers.
I urge all those who are allowed to participate in the process to take an active role in it. I also encourage you to call and write all members of Council to express your opinions. I believe that everyone should have an equal say in the process.
I understand and fully sympathize with the fact that, as a nation, as a community and as individuals, we must accept the reality that our ancestors were imperfect and with flaws. We need to learn from history and from their mistakes. We need to reconcile our future with our past. However, reconciliation is not a one-way street. To maintain and create a more respectful, liveable, peaceful, and safe city, we must denounce tearing down our history either moral or immoral. It is a fact.