For News Tips & Advertising call...
Kitchener East - 519-578-8228
Kitchener West - 519-394-0335
City Council Columns - December 2021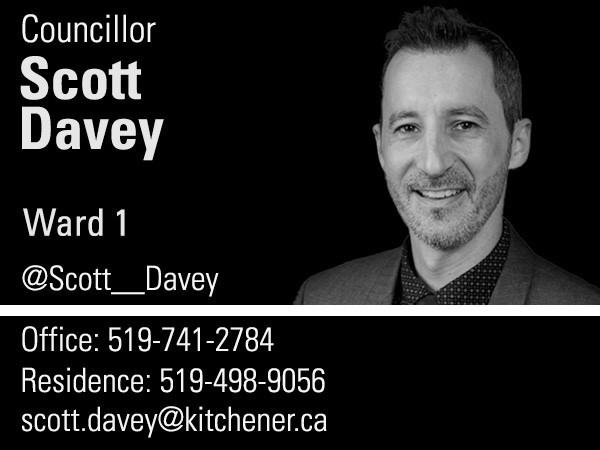 Hi Ward 1, hope you're well! As winter and Christmas approach, so does the City of Kitchener's 2022 budget. I'm happy to report the recommended budget is once again well below the rate of inflation, 1.9%, which marks 10 straight years of hitting a target that few municipalities reach. I would note that we can achieve this target while maintaining our strong financial position and enhancing services. You might recall that we modified our tax-target to the average of the current and previous year's Consumer Price Index (CPI) inflation rather than just the current year to shave off the peaks and valleys off the potentially volatile CPI. What this means is that while we might be slightly over or under inflation in any one year, in the fullness of time, taxes shouldn't exceed CPI in Kitchener. It turns out this was a timely change, as otherwise, our target for this year would likely have been well above 3%. I'd like to clarify what, exactly, a 1.9% tax increase translates to on your tax bill. Of your total property tax, Kitchener keeps just 31% with the balance going to the Region of Waterloo and the School Board. In other words, should our 1.9% increase be approved, your total tax bill would increase by just 0.59%. (i.e. 1.9% of 31%). Any further increases would be a result of what's added by the Region, and School Board. I hope that helps. It's complicated in a two-tier municipal structure! For questions, contact me anytime using the above information.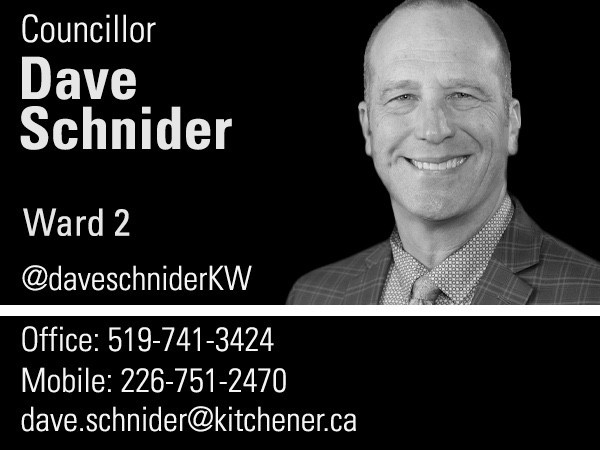 December 16 is final budget day Please do our budget survey before December 6. One of the questions asks how you would invest $1 million between affordable housing, renovating city facilities and new community trails. I have lots of Budget information and the link to the survey on my website daveschnider.com. Just click Budget 2022. Tis the season. The 25th Annual Christkindl Market is on till Sunday December 5 on Gaukel St. Enjoy the 22 huts in the outdoor market and musical performances on the video wall. There are online events too. Get all the details at christkindl.ca. Christmas Fantasy In The Park brightens the bridges, trees and buildings in Victoria Park with festive lights and displays, Stroll through the park and enjoy. The lights turn on every night at 6. For unique Christmas gifts visit the Winter Artisan Market at the Kitchener Farmer's Market December 11 and 12 and again on the 18th and 19th. Share some warmth this winter by donating to the Hat and Mitten Tree at the Stanley Park Community Centre. Donations go to ROOF and Out Of The Cold. A former co-worker of mine would share this every year: "Getting is good, Giving is better. Once you know this, it's always Christmas". My family and I wish you a Merry Christmas and a Happy and Healthy 2022. Living through a pandemic has brought challenges. It's shown we can't always control what happens to us but we can choose to be kind. If I can assist you, contact me directly or call our contact centre at 519-741-2345. Follow me on Twitter and Instagram at @DaveSchniderKW; friend me on Facebook; and visit my website daveschnider.com for lots of Ward 2 and city info.
As December brings us closer to a new year, things seem somewhat normal again. We are starting to enjoy dining out, shopping and sporting events, to name a few; however, some small independent retailers and restaurants need support, and this is the perfect season to give them ours. In Ward 4, the spirit of giving is strong. Some incredible groups are fundraising to ensure everyone enjoys the season. The Doon Pioneer Park Community Centre (DPPCC) is the drop-off location for two charitable works this year. The Christmas Miracle Food Hamper Project: When you donate cash, new mitts, hats and books for children by Dec. 9, you are supporting your Ward 4 neighbours in need. You can also give by volunteering to put Christmas Miracle food hampers together on Dec. 18. Call 519-741-2641 to sign up. Doon South Holiday Toy Mountain Toy Drive: Toys are a big part of the holiday season, and some children are at risk of going without. Thanks to a group of Ward 4 residents, led by Mukul Verma, many children receive a toy collected by these residents. You can drop off new, unwrapped toys 'til Dec. 15 at Doon Village Pharmacy, Crispy Slice Pizza, and the DPPCC. November flurries mean winter challenges are on the way. Starting Dec. 1, there's no overnight parking from 2:30 - 6:00 am on city streets; however, boulevard parking is allowed, but subject to some limitations. For details, visit kitchener.ca, search "snow removal." I wish you the best for the holiday season and a Happy and Healthy 2022! Contact me at 519-741-2779 City Hall; 226-752-9541 Home Office; by email christine.michaud@kitchener.ca.
Hello Ward 5, it's budget time again! We are working on the 2022 budget and final budget day is taking place on Thursday December 16. If you would like to see what's in this year's proposed budget, visit: www.kitchener.ca, keyword search: 2022 budget. If you have any priorities or thoughts on the budget, please feel free to contact me using my information above. Parks and open spaces are essential to our community. They can significantly improve the physical and mental health of residents of all ages, making them a cornerstone for improved quality of life. Parks and open spaces help clear the air of pollution, provide a space to connect, encourage activity, improve property values, conserve natural areas, create social equality as they are free to use and open to all. The City of Kitchener wants to hear what a great park means to you. The first phase of community engagement for Places and Spaces, our park and open space strategy, is open to receive your feedback! Your input will help develop guidelines for what makes a park exceptional, and the City will use this information to make decisions on how we should invest in our parks and open spaces for the next 10+ years. I encourage you to share your ideas and personal park stories by visiting www.engagewr.ca/placesandspaces and completing the online survey before January 7, 2022. Wishing you and yours a safe and joyful holiday season, Merry Christmas and Happy New Year!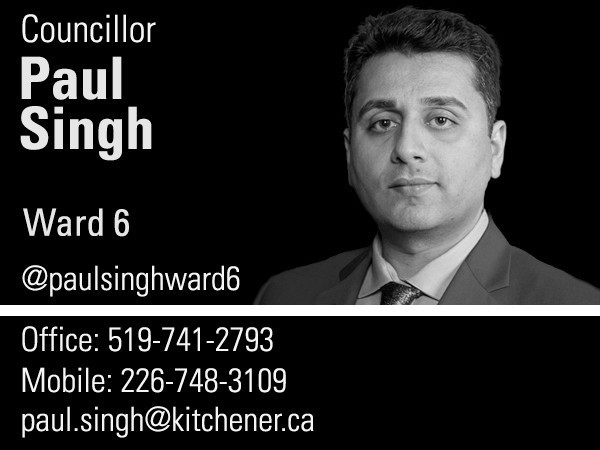 Recently, I put forth a motion to council requesting that a Parking Management Plan become a requirement of the city's site plan approval process to ensure tenants are provided with an acceptable parking alternative when displaced, and that parking for trades can be adequately provided for. This came about after being contacted by numerous residents without tenant parking during a major construction project. At the time of writing this, council has considered the operating budget which covers the ongoing costs of programs and services for the community. The proposed tax rate increase is 1.9%. I have since put forward various options that both help to broaden City services towards affordable housing and better celebrate our neighbourhoods. My contribution of identifying additional revenue sources has also helped to reduce the budget impact. This budget was particularly challenging, as many residents and business owners are working towards recovery from past shutdowns and job losses, while the municipality is facing the challenge of providing rising costs for capital projects and services. I want to assure you that balancing the interests and needs of our citizens, and the municipality in this season of recovery, has been at the forefront of my mind during this budget process. I want to thank those who provided feedback through the budget survey, as this information was helpful when making these difficult budget decisions. From my family to yours, I wish you a happy holiday season, and a safe and prosperous New Year! Contact me at paul.singh@kitchener.ca or call me at 226-748-3109.
Hello Ward 7, budget time is upon us! At our Council meeting on November 22, we endorsed a new user fee schedule for 2022 as part of our annual budget process, with most fees increasing between only 1.5 and 2 per cent. The 2022 proposed budget really focuses on our economic recovery, responding to community needs, supporting a growing city and maintaining our core services and infrastructure. Make It Kitchener 2.0 Economic Development Strategy set aside $5 million to support our economic recovery. Funding is included to support more firefighters, park spaces and trails as well as a new community centre in Kitchener's south end. The City plans to create a central service counter at City Hall to better meet your needs. The proposed budget shows investments that support our equity, anti-racism and Indigenous initiatives team to help better reflect our community's diversity and address needs. Housing For All Strategy remains a priority as well as our long-term plan for sustainably funding the maintenance of our roads, bridges, and transportation infrastructure. You can tell the City how you would distribute $1 million between creating an affordable housing reserve, addressing our facilities infrastructure gap or investing in community trails. Visit: www.engagewr.ca/kitchenerbudget2022 and take the survey before December 6 to make sure your voice is included in a presentation to council on final budget day, December 16. Wishing you a Happy Holiday Season and a Prosperous New Year!
A fire broke out in a multi-unit dwelling earlier this year causing injury and extensive property damage. Our Fire Chief, Bob Gilmore and I discussed what could be done to prevent these types of fires. Chief Gilmore mentioned the Provincial Government had begun to amend the Ontario Fire Code in 1983 to include retrofit provisions for existing buildings built before 1975. They were to include self-closing devices on suite doors and positive latching systems on exit stairwell doors. These systems prevented injuries, deaths, and displacement of residents. This inspired me to put a motion together with the help Chief Gilmore and Fire Prevention Officer Jim Hodge. I'm pleased to share the following Motion passed unanimously by Council on November 22nd: THEREFORE IT BE RESOLVED that the City of Kitchener urges the Government of Ontario to direct the Ontario Fire Marshal's Office – Technical Services, to undertake an immediate review of that portion of the Ontario Fire Code known as Retrofit Section 9.5; THEREFORE IT FURTHER BE RESOLVED that the City of Kitchener urges the Government of Ontario to, as expeditiously as possible, amend the Ontario Fire Code Sentence 9.5.2.8.(1) to require self-closing devices on all suite closures (doors) within low rise residential buildings; and, THEREFORE IT FURTHER BE RESOLVED that the City of Kitchener urges the Government of Ontario to, as expeditiously as possible, amend the Ontario Fire Code Sentence 9.5.3.3.(3) to require that closures (doors) entering exit stairwells be equipped with both self-closing devices and positive latching.
Budget time is intense; there are many details to think about and consider. This year's budget has been coined "Moving Forward," reflecting the transition out of COVID restrictions and layoffs, and the reinstatement of postponed services and projects. The proposed budget has increases of 1.9% in property taxes, 2.2 % in water utilities and 12.7% in gas. Final changes will be voted on at the Thurs., Dec. 16 meeting. Your suggestions are still welcome. We recently learned of a new condo development at the northwest corner of Victoria St S and Park St. The proposal calls for 3 towers sitting atop a mid-rise podium of 4 to 6 stories. The towers are proposed to be 25, 36 and 38 storeys with an overall floor space ratio of 11.6. The site would house 1,150 residential units with two thirds planned as one-bedroom units, and the rest as two bedrooms. Parking for 667 cars and 592 bicycles are proposed. Additionally, 50 one-bedroom "affordable" units (4.5% of the total units) at a per unit price of no more than $368000, are also proposed, along with a ground floor space of 1750 square metres in one of the towers for commercial and community space for public functions. The proposal requires a number of by-law and official plan amendments. I have already received a flurry of messages about the proposal. Please don't hesitate to contact me with your comments. I wish you all the best over the holidays. Take a stroll downtown to eat and shop #DTK and enjoy the seasonal window decorations. As always, I can be reached at debbie.chapman@kitchener.ca or 226-752-7104. Stay healthy!
SKATING DOWNTOWN!

Last month, we learned of some unavoidable delays in the completion of Carl Zehr Square. We had hoped the work would be finished by skating season, but alas it will not be open until spring next year. The good news however is that we will have skating this season downtown in two new locations. So, dust off your skates and stay tuned for exciting details soon!

HOMELESS IN WR:

Recently we learned that the homeless population in our region has grown to over 1085 individuals, based on a point-in-time count coordinated by the Region of Waterloo. This deeply concerning number did not surprise service providers who have recognized the need increasing throughout COVID. Now that the wider community has this statistic before us, it is vital and urgent to do what we can to counter the trend. The medium-term solution involves increasing the supply of affordable rental units, which the city has started partnering on. In the meantime, several groups and organizations are doing their best to respond to the needs in innovative ways. If you are seeking assistance with shelter or food, reach out to have help connecting with appropriate services. If you are in a position to volunteer or donate, please give generously.

SHOPPING DOWNTOWN:

Check out downtownkitchener.ca to download your newly updated shopping and dining guide. You can also find the third iteration of our very popular, award-winning outdoor Art Gallery! Download the updated DTK Art Walk and enjoy a walk at your leisure.

HAPPY HOLIDAYS

to you and yours. May this season bring you peace, love, and joy.
Wow! It's hard to believe that December is upon us, and before you know it, we will be saying goodbye to 2021 and welcoming the new year 2022! It goes without saying that the past year, and in fact the past 20+ months have been challenging for all of us as we have adjusted our lives in response to the realities of the COVID-19 global pandemic. But despite these challenges, 2021 saw the arrival of the vaccine and as we look forward to putting aspects of this year behind us, we do so knowing that almost 90% of us in Waterloo region are vaccinated, and vaccinations started this past weekend for those between 5 and 11 years of age. As we look forward to the end of the year, I do want to thank Carrie and Helen and their small Kitchener Citizen team for providing the mechanism to stay in contact with you over the past year with community focused updates from myself and members of Council. I also want to take this opportunity to thank each of you for your continued support and guidance over the past year as our community navigated the new realities that the pandemic brought upon us. On behalf of myself, Kitchener City Council and our staff – I wish each of you and your families all the best during the upcoming holiday season. May 2022 bring health, happiness, success and a continued return to normal for all of us. Season's Greetings and Happy New Year 2022!
​
​

HOLIDAY SEASON COMES ALIVE IN DOWNTOWN KITCHENER

This coming weekend, Downtown Kitchener will welcome the 25th anniversary of the Christkindl Market. While COVID-19, coupled with the ongoing construction of Carl Zehr Square doesn't allow things to return quite to normal yet – the festival committee has organized the 25th celebrations in a hybrid manner with some online activities, as well as an outdoor street presence with some of your favourite retailers on Gaukel Street at the entrance to Victoria Park. Please join us as we celebrate the 25th anniversary of this beloved Christmas tradition, and look forward to returning to a more traditional festival back in Carl Zehr Square for Christmas 2022. This Saturday, December 4th, Christmas Fantasy also returns to Victoria Park in Downtown Kitchener and runs through until Orthodox Christmas in January. View a spectacular display of festive lights that adorn the trees, buildings, and bridges of Victoria Park. It's free to enjoy nightly throughout the holiday season. For the first time ever, we are also planning some Christmas Artisan Markets at the Kitchener Market. Running the weekends of December 11/12 and 18/19 from 10-4 each day, please join us for a curated selection of some of the best artisan vendors in Waterloo Region, along with delicious food and drinks from local vendors and restaurants. Holiday entertainment, visits from Santa and Mrs. Claus, and a synthetic ice surface are there for all to enjoy. And check out www.kitchener.ca/events, closer to New Year's Eve, to find out details about this year's City of Kitchener's New Year's Eve celebrations.
​


​NEW YEAR'S LEVEE 2022

This year, the City of Kitchener will once again be hosting a New Year's Levee, but due to COVID-19, it will be primarily outdoors, with some indoor components and it will be located at the Kitchener Market. Food, entertainment and activities will take place. Planned for Sunday January 23rd, please check out www.kitchener.ca/events for details.
​


​FCM RELEASES "PARTNERS FOR CANADA'S RECOVERY" – PROPOSALS FOR THE FIRST 100 DAYS OF CANADA'S NEW PARLIAMENT

Last week, the Federation of Canadian Municipalities (FCM) board met in person for the first time since March 2020 and presented a vision for Canada's recovery to the federal government and opposition parties. As the 44th Parliament begins its work and looking forward to a potential Federal Fall Economic Statement and the 2022 Federal Budget, municipal leaders are putting forward local solutions to pressing national challenges. The last 20 months have showed what is possible when governments work together and as we come out of the pandemic, all orders of government need to continue working together as we focus on driving the kind of inclusive, sustainable recovery Kitchener residents and all Canadians need and deserve. The City of Kitchener stands ready to work with the federal government and all political parties by providing local solutions to national challenges because we know that many of Canada's biggest challenges can be addressed first, fastest and most effectively at the local government level. From affordable housing to climate change, and economic renewal to transit and so much more, our solutions can deliver results directly in the communities from coast to coast to coast where people live, work and raise their families. The document, titled Partners for Canada's Recovery, puts forward nonpartisan local solutions that create jobs and tackle some of Canada's biggest recovery challenges. They include: · Secure, affordable housing · Accelerating climate action · Transit · Safe and healthy communities In the New Year, FCM board and committee members, together with some members of the Big City Mayors' Caucus will be meeting with MP's and Ministers to advocate for the priorities important to Canada's cities and communities like Kitchener and all the municipalities within our region.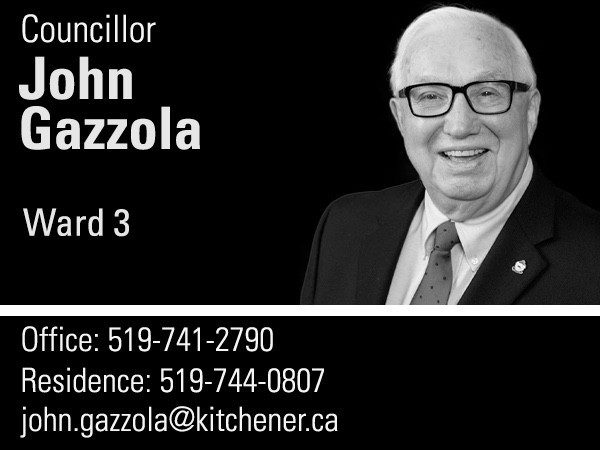 Council recently reviewed the 2022 Budget prepared by staff. No changes were made. The staff recommended Budget results in a 1.9 % increase in the city portion of taxes and a 2.2% increase in utilities. Natural gas rates increase by 12.7%. Regional and police budgets as well as that of the local school boards must also be taken into account. If you happen to live in a home assessed at $326,000 the annual impact on you will be $137.00. The Region's increase is estimated at $63.00, resulting in an increase well over $200.00 after School tax increases. The school board increase is currently unknown. I was hoping for a zero increase for 2022 as we start to recover from the impact of COVID-19. I will not support the recommended increases. A zero increase can be accomplished without any reductions or changes in our service levels. Although a zero increase may not have an overwhelming impact on a homeowner with an average assessment of $326,000; I believe it would send a strong message to our customers and rate payers that we are deeply concerned with the current increase in the price of all goods and services and that we would do our part in helping them. Bolstered by special grants from the senior governments of $8.4 million in 2020 and $4.1 million in 2021 we were able to come through the severity of a pandemic in a positive condition. We were even able to add to our reserves during that period. Little if any payroll loss was suffered by most of our employees. They will be receiving a 2.67% pay increase in 2022. I am sure that most of our constituents will not enjoy the same benefits. Vision Zero needs to be our goal for 2022 rate changes.