For News Tips & Advertising call...
Kitchener East - 519-578-8228
Kitchener West - 519-394-0335
City Council Columns - November 2023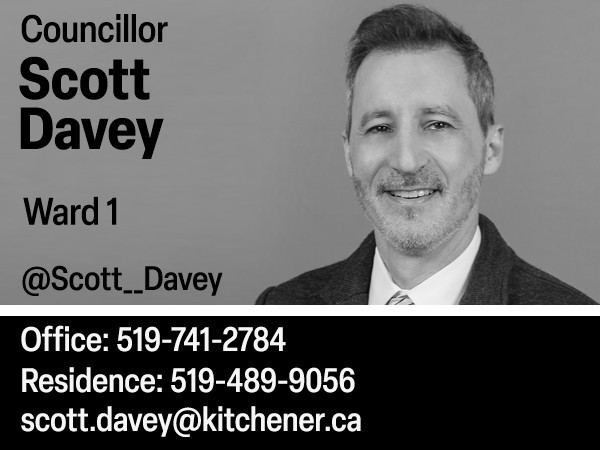 Hi Ward 1, hope you're well. If you've been paying attention to the news of late you may have noticed I've ruffled some feathers down at City Hall when it comes to our planning process. It's pretty clear that the biggest challenges residents are facing today are all tied to affordability. Affordability of homes, of vehicles, of food, pretty much everything... and it is making life really difficult for those trying to make ends meet. City Council doesn't have much say, sway, or jurisdiction over many of these costs, but we can certainly help solve housing affordability over time. The biggest issue, as I've noted here in the past, is our lack of a general supply of homes per person versus the rest of the developed world. My feather-ruffling has been my (largely successful) attempts to be responsive to this crisis by adding more homes (many affordable) late in the planning process of development applications near the LRT (ION) stations in our city. Why there? Well, because it's *really* expensive to own and operate a vehicle today, on average more than $1000/month all-in according to the data. Those most in need of shelter can make their limited dollars go a lot further if public transit can meet their needs. People are coming here, and no one wants them to be homeless, so I and my colleagues are doing our very best to answer the call. If you have any questions on this or anything else related to our municipal work, please do not hesitate to contact me anytime using the above contact information.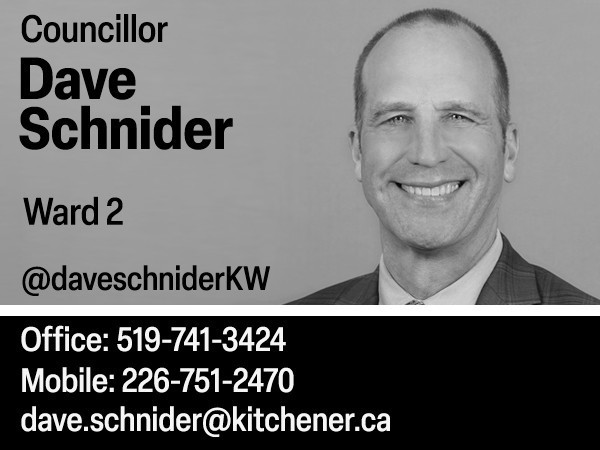 Santa Claus is coming to town on November 18! Thanks to the Lions Club, his parade will start at 10am on Weber at Frederick St. and go to Erb St. in Waterloo. The Christkindl Market returns to downtown Kitchener December 7-10 and, if you love hockey, THEMUSEUM has their Hockey Faster Than Ever exhibit on at The Glovebox until January 14. Check for upcoming events, festivals, and things to do at daveschnider.com. It's leaf collection season and your collection or drop-off options depend on where you live. Most homes will rake and bag their leaves for curbside pickup or take them to a leaf drop off location. In Ward 2 our "Leaf Drop Off" locations are: The Kitchener Memorial Auditorium (Ottawa Street Side) and Hofstetter Park at 40 Hofstetter Ave near King St. I have lots of info on leaf collection, composting, mulching ideas, the leaf collection schedule, and Region of Waterloo waste collection info on my website. Look for Leaf Collection at daveschnider.com. Our Stanley Park and Centreville Chicopee Neighbourhood Associations recently had their AGM, and new board members are in place. Both centres will have an awesome variety of winter programs, activities, and events. Winter program registration opens on December 5. Both associations welcome you to volunteer with them. Visit cccakitchener.ca or spcakitchener.ca to learn more. I'm happy to assist you directly, or you can email or call our contact centre at info@kitchener.ca or 519-741-2345. Follow me on Twitter and Instagram @DaveSchniderKW or "friend" me on Facebook. Visit my website daveschnider.com for lots of Ward 2 and city info.
Feedback from the community about the Lower Doon Secondary Plan Land Use Implementation (LDSP) Project is now closed. Staff held a virtual open house on October 23 to share the proposed Official Plan and Zoning By-law Amendments that were presented to council at Committee on October 30. The presentation from that meeting will be posted on engagewr.ca/kitchener—scroll down to the LDSP. You can also subscribe to receive updates. Just a heads up that the 2023 LoveMyHood Matching Grant application deadline is November 16. If you'd like to make a positive change in your neighbourhood, this grant supports projects that bring neighbours together, build connections and create programs and spaces. Visit www.lovemyhood.ca. Final budget will be held on December 14, with Operating and Capital budgets held on November 20 and 27 respectively. Please contact me with your thoughts and visit kitchener.ca/budget for more info. Doon Pioneer Park Community Centre (DPPCC) will be running their Christmas Miracle program again. Each hamper contains food, children's hats, mitts, and books for up to 50 families in need. Monetary donations can be made at the DPPCC, along with donations of NEW winter hats, mitts, yarn and books for children. Call the Centre for info at 519-741-2641. You can also make unwrapped toy donations to the Doon South Community Toy Drive on Sunday, December 3 from 2-4pm at the DPPCC. My next "Coffee and Chat" drop-in is November 18, 10-11:30am at the DPPCC. Wishing you and your family a Merry Christmas and a happy holiday season to those celebrating other important religious and cultural dates.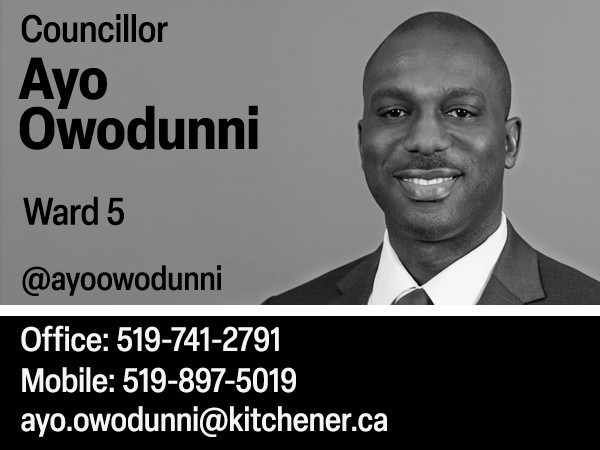 Hello Ward 5! I hope you are having a great fall season so far, keeping busy and staying healthy! This is the season for all sorts of colds and flus, so make sure you take your vitamins, wash hands and dress warm! It has been pleasant temperatures so far, but winter will be upon us shortly, so I want to remind you of a few things. Starting on December 1st, you will have to request an overnight parking exemption if you want to park in a legal parking spot overnight. This will be in effect until March 31st. You can get the overnight parking exemption on our website www.kitchener.ca/parking When the snow starts, keep in mind that you cannot park on city streets when more than 8 cms of snow is forecast, or a Snow Event is declared. This is to help our crew get those snow-covered streets cleaned up as soon as possible, so we appreciate your assistance with this. I hope you can find some time to relax and have fun as well, and one great way to do that is to plan some activities and attend some events. A great event to come out to is our Christkindl Market, our annual holiday market at City Hall. It will be open from December 7-10, full of entertainment, vendors, and lots of food and drinks! Whether you celebrate Christmas or not, it is a fun day to spend with your family. You can also check out your local community centre for events that will interest you. If you are so inclined, you can also sign up to volunteer. They are very busy this time of year and will appreciate your help. I hope to see you around town and don't ever hesitate to stop and say hello if you see me!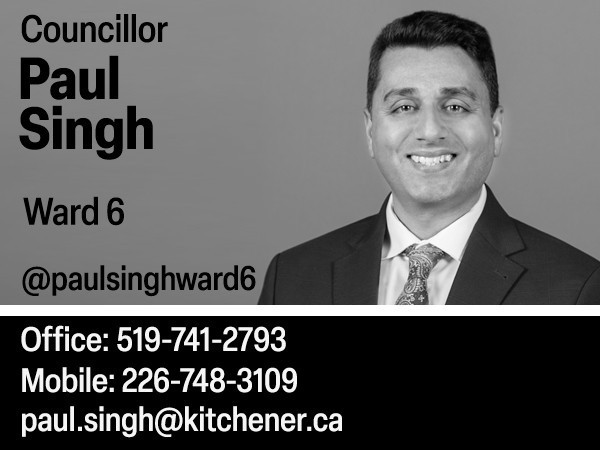 Small steps can lead to great gain. This was my thought when I chose to bring forward a motion before council to improve and streamline the current park dedication program that allows citizens, organizations, and businesses to dedicate trees, benches, and other amenities in our city's parks, trails, and public spaces. This program has been on hold, pending a staff review and community engagement. You'll be happy to know that the motion I put forward was approved at the last council meeting. I know from listening to residents and my colleagues, some who have been on the receiving end of these dedications, that the commemorative act was very impactful. As the program is reviewed, staff have been directed to make it a more streamlined, transparent, and accessible process to maximize citizen participation and satisfaction. The administration of the program and best practices from other cities will be evaluated, as well as the exploration and recommendation of tech solutions, such as an online or mobile application. A report with staff recommendations will come back to council in the spring. By taking some simple small steps, I feel this will have a huge impact for individuals and families, as well as neighbourhoods, Register for the Country Hills Park Open House on November 22, 5-8pm at Country Hills Public School in the gym. You'll view possible designs and provide your feedback. Staff and consultants will be available that evening to answer your questions. More info and registration can be found at engagewr.ca/kitchener, scroll down to "Help shape the future of Country Hills Park."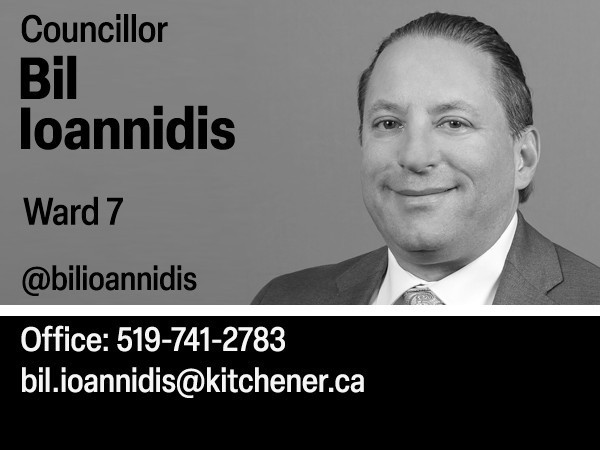 Hello Ward 7! I hope you are all doing well and enjoying the fall weather. Fall seems to be the usual busy time for everyone, including ourselves. We have been working hard to come up with solutions to the concerns of our constituents, and I specifically would like to tell you of the Missing Middle Housing Motion put forward recently. As some of you may know, the City of Kitchener currently permits "as-of-right" building permits for up to three residential units on a lot. With the current housing crisis, the City would like to provide more affordable housing options. Therefore, taking advantage of the federal government's Housing Accelerator Fund, the staff proposed a zoning by-law amendment that would permit up to four residential units on a property (wherever zoning permits). I believe this should enable an increased supply of housing options and alleviate some (obviously not all) pressure on the real estate market that we are experiencing currently. Fourplexes – buildings where there are four residential units in one building – can easily be fitted into existing neighbourhoods. They have a similar form to a larger house but can still sit under the tree canopy, thus create a homey atmosphere that is ideal for moderate income family households. At this time, where prices and interest rates are high, creative solutions are needed. Watch out for more information regarding this proposal, and yes, the process will include a chance for people to offer their input. I will keep you updated shortly. As always, you can get in contact with me anytime: bil.ioannidis@kitchener.ca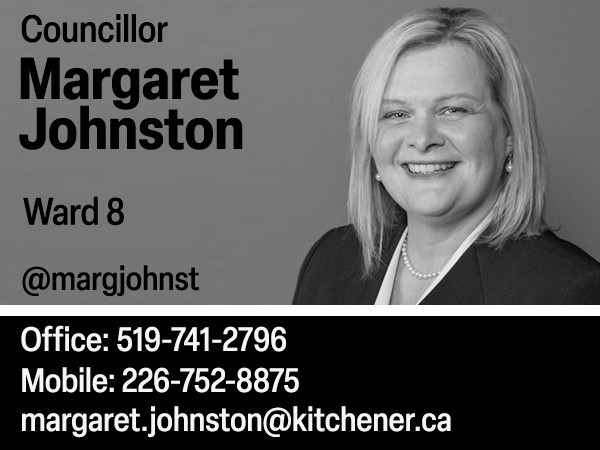 Hello Ward 8! Hope you are enjoying the season so far! It's been a beautiful sight of changing of the leaves, crisp autumn weather, and sugar and spice and everything nice! Of course, the days have been getting shorter too, so please take extra care when driving at night. The sudden change with the clocks moving back can feel a bit disorienting, so please use caution. We have been working recently on the City's 2024 budget, our annual financial plan that allows us to prioritize the programs and services we deliver. If you are interested to know what goes on in meetings, you can watch a live meeting, or watch a past one on our website. We also value you input, so if you would like to attend a meeting (virtually or in-person), you can register as a delegation. You will be able to speak to Council or Committee members during a meeting about an issue on the agenda. You can find the information on how to register on www.kitchener.ca/delegation. Look out for more about the budget on the Engage Kitchener webpage, it will be updated shortly! Another way to bring up your concerns or ideas regarding the upcoming budget is to email your City Councillors at council@kitchener.ca. We will make sure that they are put into consideration as it is imperative for us to know what is important to you. As always, you can reach out to me personally anytime to share your thoughts. You can reach me at margaret.johnston@kitchener.ca. I'm looking forward to connecting with you!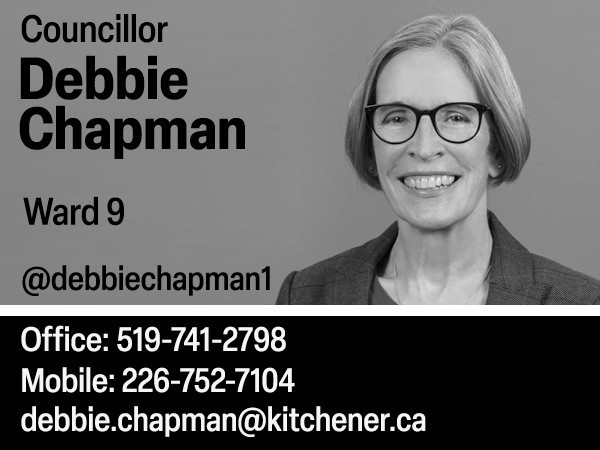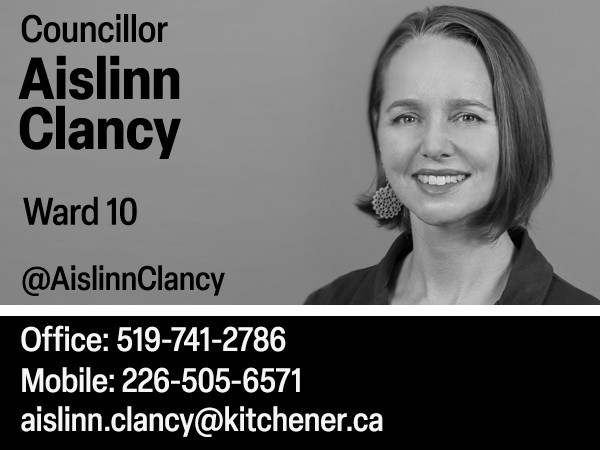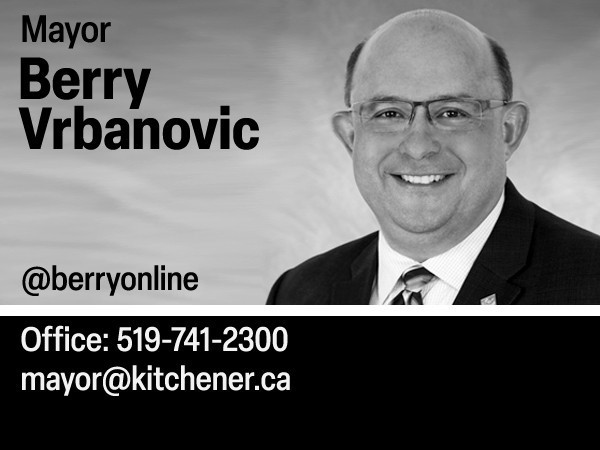 Mayor Berry Vrbanovic's column will return.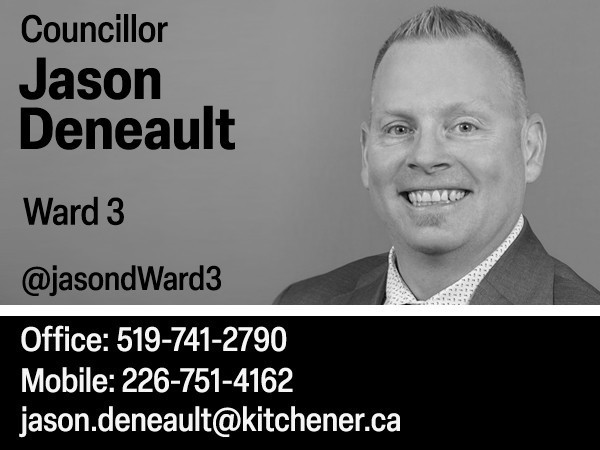 Greetings Ward 3, Council is about to embark on the 2024 budget. We are aware of the rising costs of everyday goods and services and the impact that this may have on your households. My promise to you during this process is to work as hard as I can with council to keep the tax increase as low as possible. My other promise to you is that I won't jeopardize the health and security of our city to save a few dollars. Water, sewer, roads, and parks are just a few of the necessary and important infrastructure that keep our city safe and thriving. City council continue to approve developments at unprecedented levels. We recognize the immediate need for housing of all types. Affordable, 3 bedrooms units are among the asks of developers when they present their plans to the city. We continue to ask for more deeply affordable housing and to look for unique ways to provide everyone a place to call home. Just a quick reminder that as of December 1, no overnight parking is permitted on any city street; however, you can park on the apron of your driveway (between the sidewalk and road) if you meet the required bylaw guidelines. Visit kitchener.ca/parking. Also, December 8 is the last day that leaf drop off sites are open. On December 13 from 6:30-8:30pm, I invite you to my next "Meet and Greet" at the Kingsdale Community Center. I look forward to hearing about your questions and concerns. Lastly, I want to thank our veterans on Remembrance Day for the sacrifices they have made. From yesteryear until present and beyond, people from across our great Nation continue to make the ultimate sacrifice.