For News Tips & Advertising call...
Kitchener East - 519-578-8228
Kitchener West - 519-394-0335
City Council Columns - January 2023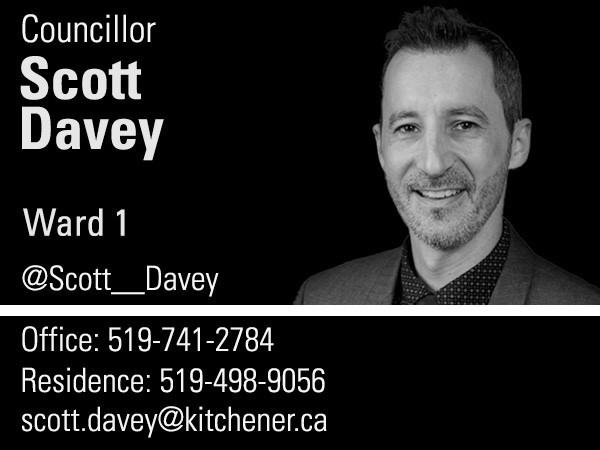 Happy New Year Ward 1! I hope you enjoyed the holidays. Kitchener Council is back to the budget process this month, with expected final approval on Feb 2nd. Despite sky high inflation of nearly 7%, the proposed budget increase is 4.8% which not only maintains our services, but makes new investments in Parks, Community & Rec Facilities, and some requested items like more Outdoor Rinks. 4.8% equates to about $4.67 per month for the average home. If the dollar amount sounds low in relation to the percentage, remember that Kitchener only keeps 31% of your property taxes (the Region of Waterloo gets 55% and the School Boards take 14%.) Built within the budget is $1.5M of funding that has not yet been allocated. Council could choose to lower the tax increase with those funds, which would save you about $1 per month on average, but there are suggested strategic actions proposed. These options are: 1) Affordable housing; 2) Lowering Green House Gas emissions of our fleet; 3) Paving more trails; 4) Reduce recreation costs; 5) Support/subsidize local artists and creators; 6) Initiatives to reduce speeding in key areas; 7) Enhance neighbourhood parks/amenities. We cannot afford to fund all of these initiatives within budget, so we are asking you to weigh in with your preferences. Please visit kitchener.ca/budget and follow the link to the survey there or go to engagewr.ca/kitchener-budget-2023. Knowing your preferences helps us make better decisions. If you have any personal thoughts you'd like to share, please contact me anytime at scott.davey@kitchener.ca.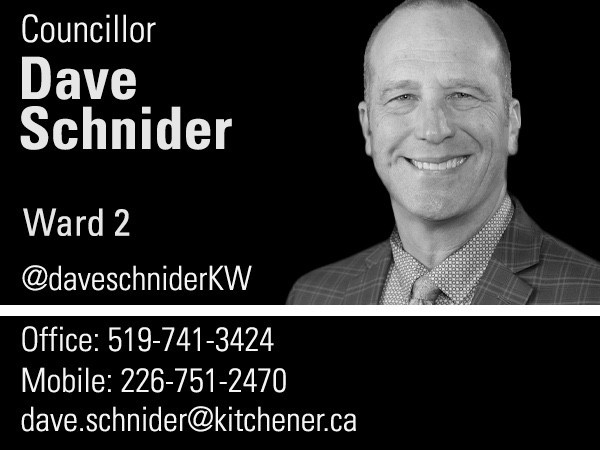 Happy 2023! I wish you a happy, healthy, and prosperous year. Our 2023 Budget process is underway. The proposed budget would have property taxes increase by 4.8% or $56.00 for the year. Water Utilities would increase 4.8% or $42.00. Combined, it would be an increase of $98.00 for the year. No decisions have been made yet. I'd love your input. See the 2023 Budget page on my website, daveschnider.com. There are links to the proposed budget, and the budget survey to provide your input and how to contact myself and council with your comments and more. Improvements are coming to Idlewood, Kinzie and Oaten parks. Using your input, our staff created final concepts for each park. You can go to my website to see the concepts and provide input. If you miss the survey deadline, you can email me at dave.schnider@kitchener.ca There's a new website showing the many services Kitchener delivers to you and your family. Services like water, roads and infrastructure, parks and trails, community centres, arenas, pools, arts and culture, fire protection and more. Visit wearekitchener.ca Josslin Insurance sponsors some free public skating sessions at Kitchener arenas. Our outdoor rinks will be available when weather permits. Find out more at kitchener.ca/skating. If you need an overnight parking exemption between now and March 31, visit kitchener.ca/parkingbylaws for more info. If I can assist you, contact me or call our contact centre at 519-741-2345. Follow me on Twitter and Instagram @DaveSchniderKW; friend me on Facebook. Visit my website daveschnider.com for lots of Ward 2 and city info.
I hope everyone had a wonderful holiday season. The spirit of giving is alive and well in Ward 4 thanks to the generosity of citizens and a dedicated group of volunteers led by Mukul Verma and sponsors, Total Aire Care, Doon Village Pharmacy and Crispy Slice Pizza. The team worked tirelessly to help make sure no child goes without at Christmas and, for the fifth year, collected over 1300 toys for the Toy Mountain Toy Drive. The Biehn Drive Extension Project will come to Community and Infrastructure Services Committee on February 13th. Planning on this project began in 1989 as part of the Brigadoon Community Plan and was adopted by Kitchener City Council in 1990 and approved by Regional Council in 1991. For more information on the project, go to Kitchener.ca Infrastructure Projects. A winter reminder there is no overnight parking on roads until after March 31st, and sidewalks must be shoveled within 24 hours after a snowfall or snow event. Assisted sidewalk and windrow clearing for seniors and those who physically can't shovel is available for those who qualify. For more information, go to kitchener.ca/snowremoval. There are lots of winter activity opportunities in Ward 4. Some trails are maintained, and those that aren't are perfect for snowshoeing or cross-country skiing. If winter skating is your thing, go to kitchener.ca/skating for skating rink locations. The Pioneer Park West Rink team is getting things ready for another great season. If you want to volunteer, you can connect through Facebook on the Pioneer Park West Winter Rinks page. Wishing everyone an excellent 2023!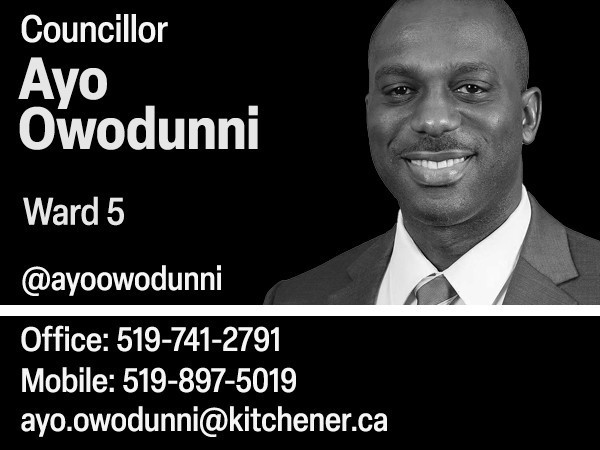 Happy New Year Ward 5! I hope you enjoyed the holidays with your family and friends. I'm hosting an informal meet and greet at the Huron Community Centre, Jan. 19 and another at the Williamsburg Community Centre, Feb. 2 from 6:30-8pm. Please pop in to say hi and share your concerns or suggestions for Ward 5 or our city. I hope to see you there! Kitchener's proposed 2023 budget can now be viewed at kitchener.ca/2023budget. Based on the average home in Kitchener, the proposed rate increase is 4.8% or $56 annually for property taxes, and 4.5% or $42 annually for water utilities. Council will direct a portion of this budget to strategic investments that fall under the themes: Housing for All; Creating a Green City; and Wellbeing and Belonging. We need your input on the budget and to determine where we allocate these funds. Visit engagewr.ca/kitchener-budget-2023 to share your feedback on investment options and the budget before the survey closes on Jan. 17. The final budget meeting will take place on Feb. 2. You can attend live at City Hall or virtually at kitchener.ca/watchnow. Visit our website to register, if you'd like to be part of those contributing to the conversation at kitchener.ca/register. Let's all work together to keep making Kitchener a great place to live! As we enter 2023, I can't help but reflect on the words of a powerful song by Lee Ann Womack, "I Hope You Dance." I hope you enter 2023 in the spirit of these lyrics. Feel free to connect with me about these or other city matters at 519-741-2791 or ayo.owodunni@kitchener.ca. Follow me on Twitter @ayoowodunni.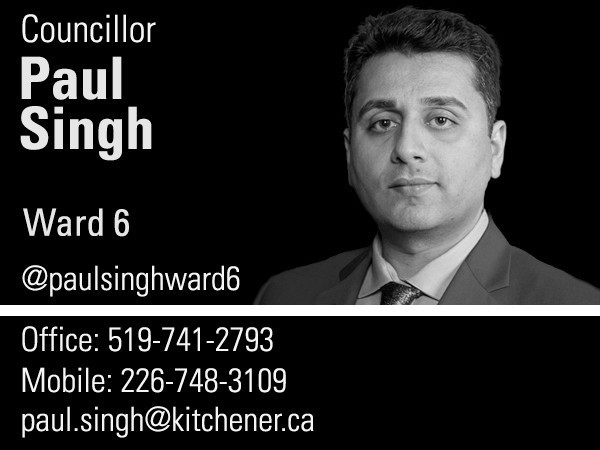 Dear Ward 6 Friends and Neighbours, As we begin 2023, I want to thank you for your support and friendship throughout the past year. I've enjoyed representing our community and being your voice on Kitchener Council. I'm sure that the new year will bring many exciting opportunities and challenges, but I'm confident that our community is up to the task. My efforts will only increase, alongside my passion to help our community in any way I can. Because I value the importance of creating safe and vibrant neighbourhoods, I'm committed to doing my best to create an environment of support and inclusion, by working collaboratively with community members, stakeholders, and city staff to keep our ward maintained, and offer the services and infrastructure needed to meet these needs. I'm excited to continue our work on making Kitchener a vibrant, prosperous, and inclusive community. We have big plans for the year ahead within the 2023 Budget, including the support of local businesses; creation of partnerships to accelerate the provision of more affordable housing; investment in our green spaces, neighbourhood parks and, most importantly, in our infrastructure. To make these initiatives successful, and to ensure they're in keeping with the priorities and asks from the community, your input is needed. So, I strongly encourage you to take part in local initiatives and public meetings, as these are important ways to impact city decisions. As your Councillor, I'm committed to building a Kitchener where everyone can thrive. I hope that you all have a prosperous and successful year ahead.
Happy New Year Ward 7! I'm hearing a growing number of concerns regarding coyotes from all over the Ward, especially in the Forest Heights area and would like to share the following information with you. Our city staff are aware of coyotes living in this area and throughout Kitchener. We are told that coyote sightings are normal and should not be misconstrued with something dangerous. The coyote is considered a natural inhabitant of the City of Kitchener and has adapted well to urban life. The city recognizes that coyotes play an important ecological role in urban areas by eating other animals and controlling pest populations. Generally, coyotes can live near people without causing problems but there are some important tips you can follow to reduce issues. Always keep your cat(s) indoors and dog(s) on a leash. The dog off a leash is a trigger to the coyote and major cause of most coyote incidents that have occurred historically. Coyotes will not approach or chase dogs that are leashed and close to their owners. Never run when you see a coyote, it brings out their "chase" instinct. Instead, stand still, wave your arms and make loud noises to scare them away. For more tips and information, visit: kitchener.ca/coyotesandwildlife. That said, in specific cases where an animal is behaving oddly like frequenting yards, approaching people, behaving aggressively, or feeding on human food scraps, residents are encouraged to report these to our Corporate Contact Centre at 519-741-2345 and staff will inspect these concerns to determine if any further intervention is required.
Happy 2023! Wishing you all a healthy, safe and prosperous year ahead. A friendly reminder about our anti-idling bylaw. You may recall, I brought forward a motion about anti-idling to Council which passed on February 22, 2021. The bylaw requires motorists to turn off their engines after 3 consecutive minutes of idling, unless in traffic. As anti-idling was a new initiative for our city, research was done on what other municipalities were already doing and three minutes was the most common idle time. For the first while, the city focused only on educating and informing the community, an adjustment period to the bylaw. Staff can now have a conversation with residents, and the bylaw provides a consequence if people are not complying, a fine of $75.00. The bylaw is one of the many actions our city is taking as part of our Community Climate Action Plan - to achieve our goal of 80 per cent reduction in community level greenhouse gas emissions by 2050. I'm pleased to say, we already have an anti-idling policy in place, internally, for our city vehicles and greening work of Kitchener fleet such as idle-reduction kits (electric batteries to plug into so engines can turn off), expansion of electric vehicles, integration of biofuel. With our anti-idling bylaw, we continue to build on our vision to create a healthy, livable community. Please remember, excessive idling creates unnecessary air pollution, especially in high traffic volume areas such as school zones. Do your part to help make Kitchener healthy and idle free. For more information, visit kitchener.ca, keyword search: 'bylaw guide'.
In 2022 Council returned to the Chambers with a hybrid set-up allowing people to delegate in person or through Zoom. It was a much welcome return. Other highlights of 2022 included the creation of a Downtown Vision committee, the opening of the Sustainable Development Goals Lab, the City's partnership with Leilani Farha to understand better the affordable housing crisis and housing as a human right, and the completion of Zoning bylaw CRoZBy Stage 2b and the Spaces portion of Places and Spaces. On the flip side, we have more homeless people, more families on the affordable housing waiting list and a real estate market that is inaccessible to most people. We need to do better. If possible, here's what I'd like to see in 2023: 1) work with other levels of government to get every homeless person into proper housing, 2) decisive action items to reduce greenhouse gases at community and corporate levels, 3) new sidewalk clearing measures ensuring people of all abilities can navigate the city all year, 4) to clearly define 'affordable' rent for the working poor, 5) implement an inclusionary zoning bylaw, 6) build more parks in the downtown Wards to accommodate growth, 7) use equity as a filter for all decisions, 8) keep all new developments within the current zoning bylaws and density ratio goals, 9) expedite the updating of zoning bylaws in the Urban Growth Centre and the Major Transit Station Areas. I would love to hear your list of suggestions for the City. I wish you all the best in 2023 and I look forward to working with you. Contact me at Debbie.Chapman@Kitchener.ca.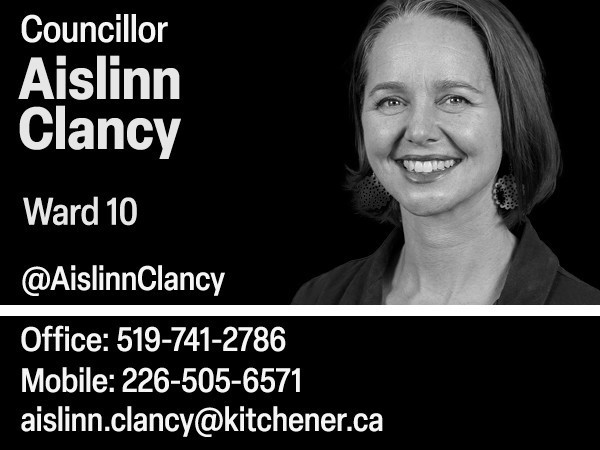 Hello Kitchener! What an exciting first month as city councillor for Ward 10. Our Council has been productive. We had our first meetings for this term of council where we discussed challenging events, processed important concerns, and made tough choices to keep our city functioning well. I know this year has been challenging for folks feeling the impact of inflation on their living expenses. I'm looking into more ways in which we can ensure all Kitchener residents can enjoy a good quality of life. For this reason, I invite you to provide your input into the 2023 budget at engagewr.ca/kitchener-budget-2023. Fill out the survey to help guide council in their decision making for this budget. To view the proposed 2023 budget prior to public budget night on the 9th, visit kitchener.ca/2023budget. We also brought important motions forward to respond to the province's overreaching bill 23 which interferes with the City's ability to protect our farmland and wetland, and to fund our infrastructure. I'm optimistic that we are a Council that will work together to get things done. Also, with the help of staff, I've been happy to support constituents with questions and concerns they may have. I hope all of you had a very healthy and safe holiday season. I hope you had the time to do things that brought you joy, connect with someone you care for and renew your body and spirit for this year. Don't forget to join me for tea and snacks on the 3rd Tuesday of the month, January 17th at 6:30 at the Breithaupt Community Centre located at 350 Margaret Ave. Happy New Year!
Mayor Berry Vrbanovic's column will return next month.
Happy New Year Ward 3. I hope everyone had a great Holiday Season. Council will be discussing the 2023 Budget this month. I want to know what you think, what's important to you, what direction you would like to see the city take in relation to growth and improvements. You will have an opportunity to provide feedback on Jan. 9 on Public Input Night. You can help shape our future by registering to speak at www.kitchener.ca/delegation Kitchener Council was busy in December approving new and exciting developments in many areas of the city. In total, over 2000 condominiums and rental apartments were approved. This also includes the creation of 100 units, including 40 deeply affordable homes. The project, proposed by Knossos Housing Corp.of Waterloo Region will positively impact the lives of many living in our city. Kitchener Council also provided final lease approval to allow for the redevelopment of the Boathouse in the heart of Victoria Park. Walkinshaw Holdings will transform the Boathouse into an iconic venue for live music, food, and indoor and outdoor entertainment. Kitchener Council approved a new policy aimed at supporting the well-being of residents with undetermined immigration status, or no immigration status, in Kitchener. The policy is designed to clarify and affirm the City's commitment to providing access to City services for these residents. On Jan. 18 from 6:30 to 8:00 pm, I'll be hosting an informal meet and greet at Kingsdale Community Center, 72 Wilson Ave. Let's chat about how we can improve our City and Ward. I look forward to meeting you there.