For News Tips & Advertising call...
Kitchener East - 519-578-8228
Kitchener West - 519-394-0335
City Council Columns - November 2021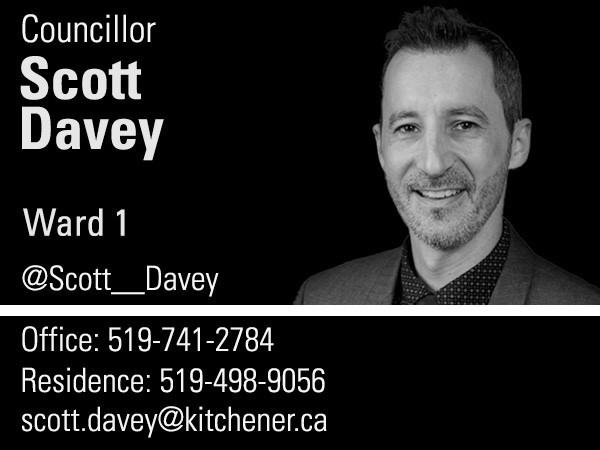 Hi Ward 1, hope you're well! Well, the days are getting shorter and it's a pretty cold evening as I write this, so it's time to start thinking about things like leaf collection and snow. For leaf collection, please visit the City's website at kitchener.ca and keyword search: "leaf collection." Click on "leaf collection schedule" and there you'll find a field where you can enter your address to discover if/when leaves will be collected at the curb in your neighbourhood. Please do not rake your leaves to the curb any earlier than the weekend before your scheduled collection. All that really accomplishes is the blowing of your leaves onto nearby properties which isn't very neighbourly. It can also clog catch basins which could cause flooding, so please keep those clear if you can. Some will say "Yay" to the inevitable snow, but I suspect many will say "Nay" because as much fun as tobogganing, skiing, and skating is, shoveling snow isn't so much fun. A reminder that, should you be fortunate enough in life to have a home with a sidewalk, it is your duty as a Kitchener homeowner to clear that walkway for everyone else in your neighbourhood. Aside from paying your taxes, it really is the only task we ask of you, and it helps keep our city walkable. Some folks can't get around as easy as they'd like, so please make an effort but use salt sparingly as it ultimately ends up in our groundwater. If you have any questions, please do not hesitate to contact me any time using the above contact information.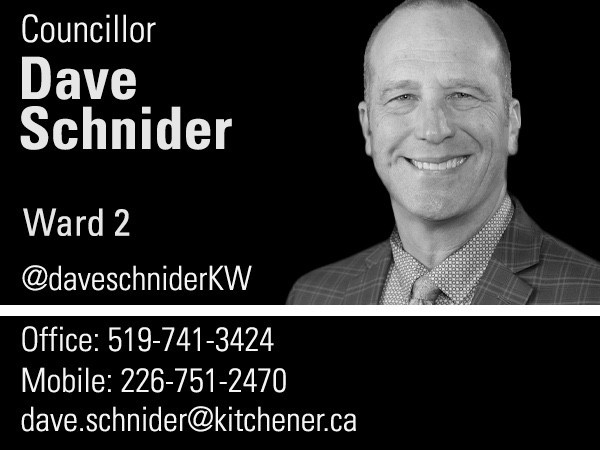 I love the crisp air and beautiful colours the change of season brings. The leaves are falling and the raking, bagging, and collecting are going strong. Most of us will bag our leaves for waste collection day or take them to a leaf drop off site. Ward 2 drop-off sites are at the Auditorium and Hofstetter Park. Some of you who live on heavily treed streets receive curbside pickup. Search "Leaf Collection" at kitchener.ca to check your address and for more information. Work on the 2022 Budget has begun. I value your input and comments. The first public input session is Nov.15 at 7pm as part of our Finance and Corporate Services Committee meeting. Reports and agendas for council meetings can be found at https://calendar.kitchener.ca/council. To increase safety in our neighbourhoods, council approved a 40 km/h speed limit on residential streets. We're also developing a Vision Zero strategy to further improve safety on our streets, sidewalks, and trails. Our Places and Spaces strategy is about how you want to enjoy our parks. I value our park spaces, which should reflect what you want in them and how you like to use them. You can provide feedback on this and Vision Zero at www.engagewr.ca. With winter on the way, you can get a refresh on winter bylaws, parking, and snow events by visiting my website daveschnider.com, choose "More," All Things Winter. If I can assist you, contact me directly or call our contact centre at 519-741-2345. Follow me on Twitter and Instagram at @DaveSchniderKW; friend me on Facebook; and visit my website daveschnider.com for lots of Ward 2 and city info.
The recent Provincial announce-ment of increased capacity limits comes as good news to the Doon Pioneer Park Community Association and community centre. As a result, residents can expect increases in capacity and program choices this winter. For more info on programs for children, youth, and adults and how to register, go to dppca.ca. Traffic calming continues to be a hot topic. Another tool added to make our streets safer is the speed limit reduction to 40km across most city streets, approved by council last month. Reducing speeds on our roads is important, but alone, it will not help to reach our goal of reducing traffic fatalities and severe injuries to zero. Hence, council directed staff in March of 2020 to develop the Vision Zero strategy. Read more on this strategy at kitchener.ca/visionzero Winter is just around the corner! Clearing our sidewalks helps everyone get around safely. Snow and ice must be removed within 24 hours of a snowfall. Find more info on all things related to snow and its removal at kitchener.ca/snowremoval. A second public meeting for the Biehn Dr Extension will be held on Nov. 17 at 6:30-8 pm. Residents living in the study area, including Caryndale, will get an update on where things are in the planning process and have an opportunity to ask questions and share opinions. For more info on this project go to https://bit.ly/31bjuuV. The LoveMyHood Matching Grant supports new resident-led projects and neighbourhood initiatives across the city. Applications for the Fall review period must be in by Nov. 18. For more info, go to lovemyhood.ca.
Tartan Ave Community Centre

In response to Huron South's rapidly growing community, Council approved the development of a joint school and community centre in partnership with the WRDSB and YMCA EarlyON in 2018.The Community Centre will include a lobby and reception, staff offices, two multipurpose rooms, gym and other shared amenities. We are out of the planning and design stage and now in the construction stages. The project schedule could have us assuming occupancy by fall/winter of 2022!

Huron Natural Area

We have a very special, and valuable natural space right here in our City. The Huron Natural Area (HNA) is Kitchener's largest natural space offering an incredible 107-hectares of preserved wetlands, forest, meadows, cold water stream and significant species. Thanks to our partnership with both the Waterloo Catholic District School Board and Waterloo Region District School Board we have a destination for residents to surround themselves in nature without having to leave the city! You will find scenic hiking trails, boardwalks and lookout areas, a natural playscape for children, an education/recreation centre and an amazing cultural history. HNA has historical connections to Indigenous peoples. Did you know at the South end and along the Strasburg Creek, archeologists uncovered a 500-year-old aboriginal village with 10 longhouses and many artifacts. Murals by local Indigenous artists at the entrance to HNA highlight the ways we are connected to the land. I encourage you to visit HNA and explore all that it has to offer!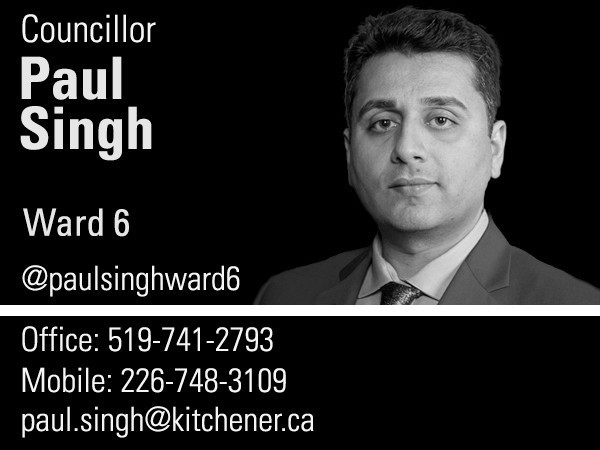 REVISED public input date for 2022 Budget. Please update your calendar with the new date for the public input session on the evening of Mon., Nov. 15. You can connect to meeting agendas and reports at calendar.kitchener.ca/council. Operating budget will be presented on Nov.15 during the day and Capital budget on Nov. 29 with final budget approval to be held Dec. 16. With the budget in mind, I want you to know that I look for the best ways possible to provide the services and needs of our community efficiently. As your ward 6 councillor for the past 10 years, I have and will continue to advocate for effective public services, but more importantly, for long term investment in our community trails and parks and local economy. Parks and trails are an integral part of a community's health and function. I continue to focus on locations in our ward that could benefit from upgrades, improved amenities, and connectivity. This past year, I was involved with city staff or the Region related to McLennan Park works, Alpine Park consultation and redesign, Country Hills Park community garden, the Ottawa St. improvements, and our recovery and growth strategy for Kitchener's businesses and economy. In each case, I was vocal about the needs of the community. Please contact me with your questions and concerns and connect with me to pass on your feedback about the budget, so that I may effectively represent your collective voice during the budget process. I can be reached at paul.singh@kitchener.ca
Hello Ward 7! Speeding in neighbourhoods is one of the most common concerns we as Councillors hear about from residents. On average there are 1,231 collisions per year on City streets, including 206 injury-related collisions and on average, 1 death. This is why I couldn't be happier to share with you that on Monday, October 18, Council endorsed a plan to reduce the speed limit in residential neighbourhoods from 50km/hr to 40km/hr over the next two to three years. To make streets safer, signs will be placed at the entrances and exits of identified neighbourhoods. School zones and bikeways located in these neighbourhoods will also have speed limits reduced from 40km/hr to 30km/hr. The new speed limits will come into effect as the signs are installed. Major roadways connecting neighbourhoods will remain at their current speed. This decision came about following a pilot project which reduced speed limits in three Kitchener neighbourhoods. The results of the pilot project showed the number of accidents had reduced after the implementation of the new speed limits. Reducing the speed limit in residential neighbourhoods is just one part of our larger Vision Zero strategy, a new way of thinking about creating safer roads with the goal to reduce collisions involving serious injury to zero for any type of road users. Vision Zero will offer guidance on building and designing roads, supporting law enforcement, educating the public and finding solutions to specific concerns in our neighbourhoods. Final report on the Vision Zero strategy will be presented to Council by the end of 2021.
Hello Ward 8! Our Planning Division has launched a new engagement tool (a map-based website) for development applications that has all the information on all current subdivision, Official Plan Amendment, and Zoning By-law Amendment applications – see www.kitchener.ca/planningapplications. For new applications, the City has implemented a new way to provide information on applications with easy-to-read postcards. A postcard is mailed to all people living within 240 metres of the property (including occupants and property owners) when a new application is received. Comments and questions can be directed to the Planner assigned to the application via their contact information listed on the postcard. A Neighbourhood Information Meeting is often scheduled (digital during the pandemic) where attendees can get additional information, ask questions, and provide feedback. The Planner will send a second postcard with all the meeting details. The Planner will consider all comments from the community, internal departments, and commenting agencies, as well as applicable legislation, and Planning policies, when preparing their recommendation on the application (staff report). The staff report will be presented to the Planning and Strategic Initiatives Committee (required statutory public meeting). When it is scheduled, the Planner will send a third postcard with the meeting details. Members of the community can attend and speak at the meeting (as a delegation) before any final decision is made on the application at the next Council meeting. For more information, see: www.kitchener.ca/planning.
The leaves are falling, and the days are getting shorter. It's encouraging to hear about committees and neighbourhood associations thinking forward to next summer and imagining what public events might look like. At this time last year events were being cancelled or reconfigured. It is good to feel the optimism in the air. At the November 22nd council meeting, I will bring a motion forward calling on the City of Kitchener to formally denounce conversion therapy practices. This is a very antiquated practice that attempts to change an individual's sexual orientation from homosexual or bisexual to heterosexual. This practice is done through psychological, physical and/or spiritual interventions. According to Wikipedia "there is no reliable evidence that sexual orientation can be changed, and medical institutions warn that conversion therapy practices are ineffective and potentially harmful." Conversion therapy has existed for more than a century and I find it hard to believe that it is still being practiced. The World Health Organization released a statement in 2012 saying that this type of therapy poses a "severe threat to the health and human rights of the affected persons." In Ontario the practice is considered illegal for minors, but it is still being practiced on adults. All levels of government have a role to play in eliminating this practice and educating people about the harmful consequences it has. Vancouver and St. Albert, Alberta have a complete ban on conversion therapy. Let's add Kitchener to that list. I can be contacted at Debbie.chapman@kitchener.ca
More Than Just Road Signs

One of Council's key decisions last month was to approve a plan to lower speed limits to 40 km/hr on neighbourhood streets, and to 30 km/hr in school zones, to be implemented over the next few years. This move was warmly received by many because traffic calming is one of the most common resident concerns. For anyone who may wonder if we hope new signage will change driving patterns, let me be clear: no one at the City expects the problem of speeding to be resolved by simply changing the signs. We all know the vast majority of drivers are guilty of speeding from time to time, but it is an important first step toward safe streets. Here are three points to consider: 1. Reduced speed limits will kickstart a shift in how we design roads in the future because when roads are reconstructed, engineering rules require the design to be comfortable for drivers travelling up to 10 km/hr faster than the posted speeds. So, over the long term, our streets will become safer through road engineering. 2. The lower speed limits are just the first part of a proposed more comprehensive plan called the Vision Zero strategy, a world-wide recognized safety framework that aims to eliminate serious injuries and deaths caused by traffic collisions. Council will consider the Vision Zero strategy in December. 3. Changing local driving habits requires Region-wide collaboration. The Vision Zero strategy is being developed with the Region of Waterloo and other area municipalities supporting road users travelling across the region. Let's all aim for zero traffic injuries and deaths.
Mayor Berry Vrbanovic's column will return in December.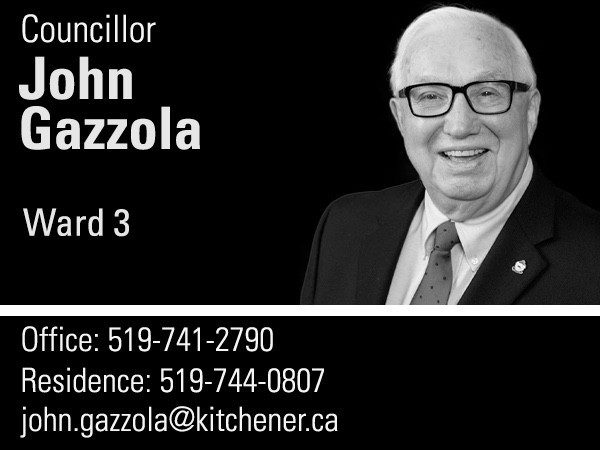 There are several up-coming events affecting many residents of Ward 3. I want to draw these to your attention as you may want to participate in on-going discussions relating to them.

117-133 Vanier Dr.

- A staff recommendation regarding this application will be discussed at the Planning Committee virtual meeting of November 8th. The staff report should be available on the City's website by November 4th. Residents wishing to appear as delegations should contact the City Clerk. The decision of Council on the eighth will be ratified at the virtual Council Meeting of November 22nd. Both meeting dates will be in the evening.

Sportsworld Dr Application

- As many are aware a zone change application has been filed for a high rise building in this area. No decisions have been made on this application. It is now in the process of being reviewed by staff. A Neighbourhood Information Meeting is planned for January 2022. Residents will have an opportunity to provide their viewpoint at that meeting. Sometime after that meeting, staff will prepare a report dealing with the application. The report will then go to the Planning Committee followed by ratification at a Council Meeting usually 1-2 weeks after the Committee Meeting. The public will be able to make presentations at both these meetings. I will endeavor to keep everyone informed as to the exact timings of these meetings.

Upper Hidden Valley Pumping Station

- A Virtual Public Meeting will be held on November 4th starting at 5:00 PM. Please contact me if greater details are desired about this meeting Please feel free to contact me, at your convenience, to discuss these or any Ward/City issues. john.gazzola@kitchener.ca 519-744-0807 (Home/Office) jgazzola@rogers.ca 519-498-2389 (Cell)