Five individuals and one organization honoured with 2016 City Builder Awards
For News Tips & Advertising call...
Kitchener East - 519-578-8228
Kitchener West - 519-394-0335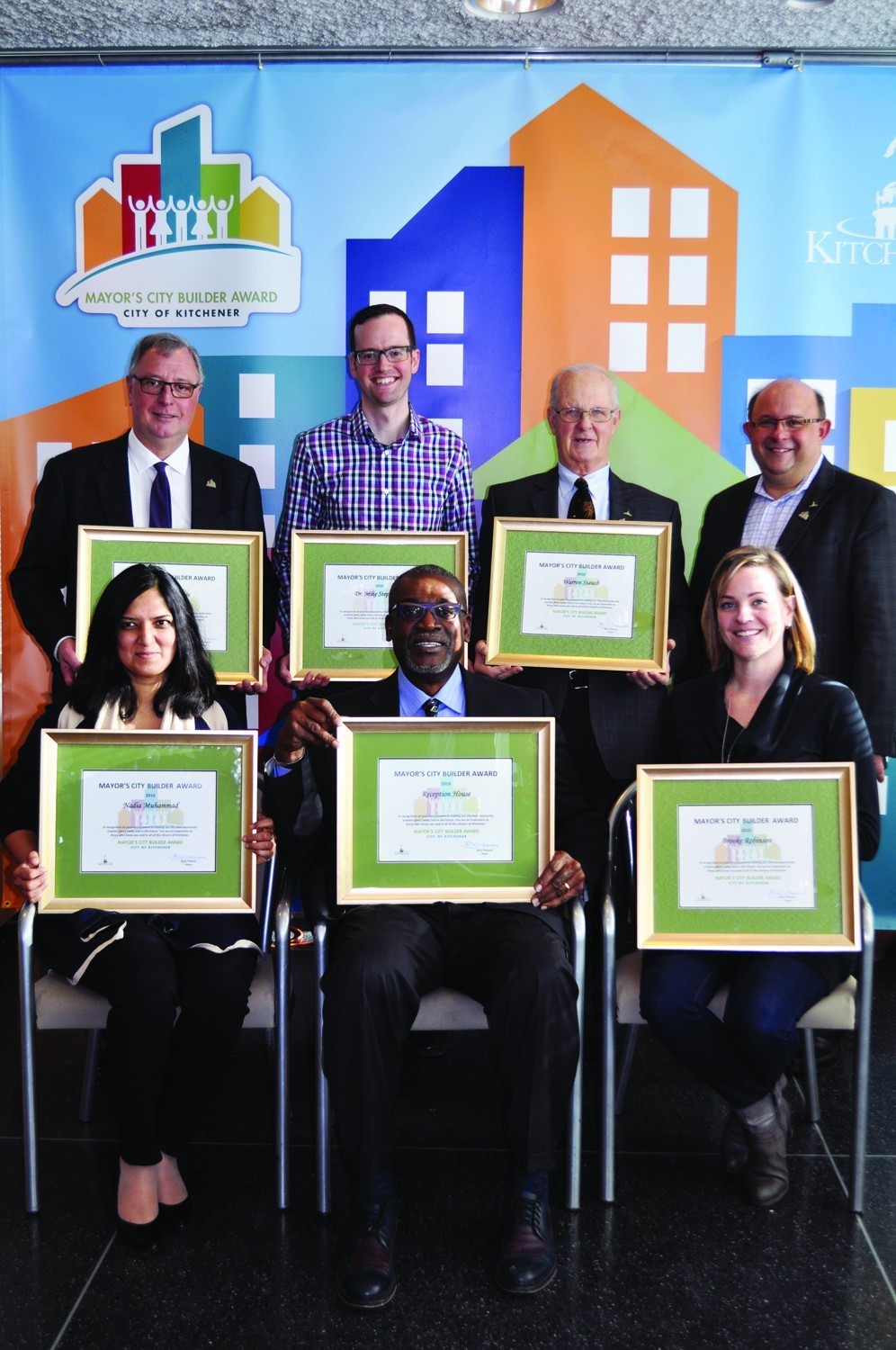 Kitchener Citizen


January 12, 2017



​​​Five individuals and one community organization are the recipients of the City of Kitchener's 2016 Mayor's City Builder Awards for their volunteerism and service to the community. The 2016 City Builder Award winners are:
​


Don Bourgeois


Don Bourgeois has been active in municipal strategic planning, arts and culture, and economic development in Waterloo Region for 40 years. He volunteers countless hours to local organizations and civic committees such as the KW Art Gallery, KW Symphony and Compass Kitchener. A retired Barrister & Solicitor, a prolific writer and a former editor of The Philanthropist/Le Philanthropie, a free online journal for practitioners, academics, supporters and others engaged in the non-profit sector in Canada. He is a Principal of Gaming & Regulation Group Inc. and has a private practice of law. As president of JM Drama Alumni he has guided the organization though many successful years of community theatre and in 2000 spearheaded a project that resulted in the creation of The Registry Theatre, a 166- seat theatre in the heart of downtown Kitchener that was formerly the Land Registry Office. An active arts hub, The Registry has supported and encouraged the development of countless artists in the region, and is a model for a successful small-scale rental venue as well as for mutually beneficial partnership with the municipality. In addition to volunteering his time to charitable organizations across Kitchener, he is the recipient of several awards and honours, including The Amethyst Award for Outstanding Achievement by Ontario Public Servants, AMS/John Hodgson Award in recognition of his leadership, development of the law and service in the charitable arena, and the Queen Elizabeth II Diamond Jubilee Medal. Don's work to establish the Registry Theatre not only created a vibrant small venue arts hub, it established a model for partnership between the city and small non-profit arts organizations that can be of tremendous use to this community as progress is made on plans for arts and cultural development. Behind the scenes, Don is the go-to guy for advice on governance, strategic planning, and matters pertaining to policy, having quite literally written the book on non-profit law in Canada (The Law of Charitable and Not-for-Profit Organizations, currently in its 5th edition).
Through Createscape Waterloo Region, a charity Don founded, he supports education of the public for visual arts and for music, along with promoting efficiency and effectiveness of charities involved with the arts through programs relating to audience development, networking and similar activities.
​


Nadia Muhammad


Nadia Muhammad arrived in Kitchener from Pakistan in 2013, and has been heavily involved in the community ever since. In the fall of 2013 at the AGM she volunteered to be a member at large of the Victoria Hills Neighbourhood Association and quickly took on multiple responsibilities including helping with the banking and much of the programming. She was elected vice president of VHNA and took the role of acting president when the president took a leave of absence. In her broad capacity with the VHNA, Nadia is a respected leader. She has taken on progressively challenging leadership roles where her spirit of joyfulness, openness and inclusivity has shone through. She has led in organizing and ensuring successful cultural celebrations at the community centre including the annual Diwali celebration, Eid and Christmas parties. She has also taken a leadership role in connecting with the "Our Stories – Let's Connect" program being held at the centre, and has represented the association at the Lemonade Stand Neighbourhood Strategy session.
Nadia's spirit of volunteerism and community building followed her from her native Pakistan where she was born in the small village of Madina Syedan in Gujrat. She has always been driven to bring people together by creating support systems to deal with local issues. Her entry into social services began early as a grade 7 student. Seeing a need, Nadia started teaching children in her village who could not afford to go to school or who needed some extra support in their studies. Her educational and professional career took her to different cities in Pakistan, but wherever she went she continued teaching children from less privileged families. After earning her Masters Degree in Psychology from the Government College, Lahore, University of the Punjab, Nadia started her career as a school teacher. Simultaneously, she worked with different not-for-profit organizations as an independent facilitator in parenting skills. She is always keen to connect with people and the barriers of language and cultural backgrounds do not prevent her from it. She speaks four languages and smiles in all of them. When she cannot speak a language, she is happy to speak with gestures or signs. She always finds a way to connect. After arriving in Kitchener in 2013 and settling in, the first thing Nadia did was to look for the local community center to see how she could be of assistance.
​


Dr. Mike Stephenson


Dr. Mike Stephenson is passionate about refugee medicine. Opening Sanctuary Refugee Health Centre (SRHC) in 2013 he has become the "go to" person among service providers and organizations supporting refugee newcomers, Dr. Stephenson also works closely with Public Health and the Canadian Mental Health Association. Dr. Stephenson moved to the Region of Waterloo in 2012 when his wife took an academic appointment at the University of Waterloo. As a young doctor with a passion for refugee medicine, he immediately recognized a gap in services for refugee newcomers. In April 2013, he opened Sanctuary Refugee Health Centre one afternoon each week with 6 patients and quickly moved to offering primary health care two evenings a week from the library in St. Mark's Lutheran Church on King Street in Kitchener. A few months later SRHC moved to premises at 687 King Street West and welcomed patients two days each week. As of October 2016, the clinic roster lists more than 1500 patients and is open four days each week to any refugee newcomer or refugee claimant. It is the only primary health care clinic specializing in the needs of refugee newcomers in Kitchener, which has welcomed more than 1200 refugee newcomers since January 2016. "Dr. Mike" is well-known and recognized throughout the community by patients and other service providers alike. Sanctuary Refugee Health Centre, under his direction and leadership, has been at the forefront of the welcome given to the large number of refugee newcomers arriving from Syria and elsewhere in 2016. SRHC staff provided nursing assessment and advice to government sponsored refugees at the temporary housing site established at Howard Johnsons; privately sponsored refugees were offered two initial assessment appointments at SRHC. Many of the refugee newcomers with the most complex and chronic health care needs are now on the clinic roster.
Dr. Stephenson is intimately involved in Immigration Partnership and collaborates, in partnership with Reception House, the Mennonite Coalition for Refugee Support, the Welcome Home program of Ray of Hope, the Canadian Mental Health Association and the Kitchener-Waterloo Multi-Cultural Centre, in seeking to afford refugee newcomers the sort of care and support that will set them on the path to prosperity.
Dr. Stephenson is a resource to other Family Practitioners in the City and the region and offers support to many individual and group sponsors who have committed to supporting refugee newcomers. Raised in Ottawa, Stephenson graduated with a BSc in biology from University of Guelph He took his medical education at Queens and developed a passion for refugee medicine during his residency in Montreal. While working with the Access Alliance Multi-Cultural Health and Community Services in Toronto, he recognized a gap in services for refugee newcomers in Waterloo Region and took the initiative to fill that gap. At SRHC patients are assured of culturally sensitive and knowledgeable treatment and may converse in their own language; they find patient assistance with accessing systems, filling out forms and advocacy where appropriate.
Dr. Stephenson leads a team of health care professionals and others, mostly volunteers, including students from both local universities where he teaches occasionally. He truly "cares" for his patients and goes the second mile in the tradition of the best family doctors. At the same time, he works closely with Public Health, the Canadian Mental Health Association and local hospitals to provide evidence that early and comprehensive interventions limit visits to Emergency Rooms as well as reduce distress and long term disability for refugee newcomers.
Kitchener-Waterloo is considered a show piece in the welcome given to the recent influx of refugee newcomers. Many agree that Dr. Stephenson is at the centre of that picture for without his commitment and the services of Sanctuary Refugee Health Centre, the region would not be heralded in this way.
Dr. Stephenson and his wife live in Waterloo with their young children.
​


Brooke Robinson


Brooke Robinson is an advocate for the community and passionate about creating stronger neighbourhoods. Ten years ago when the neighbourhood was new, Robinson reached out to neighbours to gather ideas and plan events in Tremaine Park. This was the start of connecting neighbours and having great neighbourhood events. She has led the planning for Easter Egg Hunts, Summer Family Barbecues and Earth Day Clean Ups. This summer's BBQ raised $2066 for the Grand River Hospital Foundation. This was made possible by Brooke getting sponsors from neighbourhood businesses like RBC, PharmaSave, Subway, Lackner Woods Dental, and a food sponsor in Piller's. Her family donated the first outdoor ping pong table in Kitchener to Tremaine Park and it has become a source of neighbourhood fun and gets lots of use. She and her husband, Scott, worked with city councillors and staff to make sure all safety concerns were met and the right location was chosen. Brooke created a Facebook page to communicate with neighbours. Her home is the gathering place for planning events. She also serves on the city's Neighbourhood Strategy committee. What she has already done in her neighbourhood has given the Neighbourhood Strategy some great ideas to share. Her insight and experience have been a huge benefit to the Committee. Brooke has also led the neighbourhood group in advocating for the building of the new Chicopee Hills School. She presented the ideas and concerns of the neighbourhood and has attended council and committee meetings pertaining to the building and design of the school and the site plan. She also serves on the parent council at Lackner Woods Public school where she helps plan school activities, and has communicated concerns the school has to local councillor Dave Schnider about school crossing safety issues. She also created a new teacher's award in the city to recognize outstanding teachers. Her son Colin created Colin's Toy Drive to collect toys for the Women's Crisis Centre. She has supported his efforts by driving him to sponsors and to pick up and deliver the toys. It has grown so well that this year the Salvation Army will share the toys collected with the Women's Crisis Centre.
​
Warren Stauch
Warren Stauch is a member of the Christkindl Market organizing committee; chair of the Waterloo Region Heritage Foundation, and executive of the Auditorium Neighbourhood Association. He was also project co-leader in the implementation of the pavilion project in Knollwood Park, and volunteers as director of business for the St. Mary's Hospital volunteer association and with Joke Junction at Grand River Hospital. Building our city at a grass routes level and creating a sense of belonging is what Warren Stauch has been doing his entire life. His may well be the first face to greet many visitors when they are investigating moving to our community as a doctor, an academic or high tech entrepreneur. Warren conducts familiarization tours for the Chamber, the local universities and both hospitals. According to Dr. Ken Shonk, Warren "....has really been the driving force in organizing meetings, training the volunteers and in manning the actual services of the project. 'Joke Junction' would not have existed without his help and enthusiasm." In 2016, when Rockway Mennonite Church congregation was preparing to move, Martina C. Steiger states that Warren's outreach to their congregation helped connect them to their new community by bringing local history and architecture to life. A natural leader since his high school days as a student and later as faculty member at ECI, Warren has a talent for involving others and inspiring them. He was an active member of the organizing committee for the school's 40th, 50th, and 60th reunions. John Ryrie, former President of OSSTF, remembers that "Warren always exhibited an infectious enthusiasm along with his pragmatic thoughtfulness, both of which did much to strengthen a sense of community among the educators in our high schools in Kitchener and beyond."
People are what fascinate Warren. Local heritage and geography are his passions. Warren is a long standing member of the GRCA's Heritage Working Group which was instrumental in securing the designation of the Grand River as a Heritage River in 1994. Not only is the variety of his involvement noteworthy but many of these volunteer activities span a period of decades.
​


Reception House


Reception House welcomes government-assisted refugees through a number of programs and services to make their new life in Canada a success. Since the federal government announced a commitment to resettle 25,000 Syrian refugees within Canada just over a year ago, Reception House has settled more than 1,000 government-assisted refugees in the region. In addition to providing temporary housing, and home placement services, it also provides additional programs and services throughout the first year of the refugee's arrival including:
• Client Support Services that connect the refugees to resources and services within our community that they need to settle into their new life
• A Life Skills Program that assists clients arriving from rural communities and refugee camps to learn to use modern amenities and live independently
• The Refugee Health Clinic provides their clients with the opportunity to see a physician within one week of their arrival
• A Youth Program that helps young refugees face a number of challenges such as learning a new language and education system, making new friends and creating a balance between the cultural expectations of their parents and competing expectations of their new Canadian friends.
This organization has helped to create a more diverse community that offers the opportunity to learn about many different cultures, while also offering a better life for the newcomers to the City of Kitchener. They have access to services such as Health Care that were very limited or non-existent to them because they were living in refugee camps. The services and programs provided by Reception House ensure that newcomers have a better opportunity for integrating into the community. The Life Skills Program also teaches refugees how to use kitchen appliances safely, and how to use plumbing and sanitation systems. While Reception House has always provided these services and programs to newcomers, it has never had to provide these services to so many refugees all at once within a short time frame. In November 2015, the federal government announced a commitment to resettle 25,000 Syrian refugees in Canada through government sponsorship. With only six resettlement sites in Ontario, Kitchener was predicted to receive 850 refugees within a few months. This exceeded the yearly intake of refugees by over 250 per cent. In addition to dealing with an increase in numbers for finding temporary housing and permanent housing, the organization was also dealing with larger-sized famllies and major language barriers, which made providing services more difficult. Between December 2015 and April 2016 Reception House assisted about 824 government assisted refugees (819 of whom have found permanent housing in Kitchener) and 78 partially government assisted refugees and anticipated a further 300 to 400 refugees to arrive before the end of 2016. While the nomination recognized all Reception House staff, it was noted in the nomination forms that "we should not overlook the contributions by Bert Lobe, the Executive Director of Reception House. When the Waterloo Region Syrian Refugee Resettlement Preparedness Plan was developed he also co-chaired the Refugee Resettlement Steering Committee. As co-chair he gave the much needed sense of confidence to all the other participants, he reminded that the function that Reception House provides was not new and it was what it does every day. it was only the magnitude that was new. He was confident in the fact that it could continue to provide the services even with the amount of anticipated arrivals, to ensure that this community could successfully integrate the newcomers and provide a more diverse community for the City of Kitchener and its residents."
​
Recipients were recognized at the mayor and council's New Year's Levee on January 8 at Kitchener City Hall.

CITY BUILDERS
Five individuals and one organization were presented with 2016 City Builder Awards during the City of Kitchener New Year's Levee held January 8 at City Hall. From left: front, Nadia Muhammed, Carl Cardogan (representing Reception House), Brooke Robinson, back, Don Bourgeois, Dr. Mike Stephenson, Warren Stauch and Kitchener Mayor Berry Vrbanovic. See the full story about the award winners on pages 8 and 9. Photo by Carrie Debrone