ALERT WATERLOO REGION
Region and local police to launch new emergency notification system
St. Peter's Lutheran Church youth group member Cameron McGee will be one of the youth from his church that will ring its bell 100 times at sunset on November 11 to mark 100 years since the end of World War I.
Photo by Helen Hall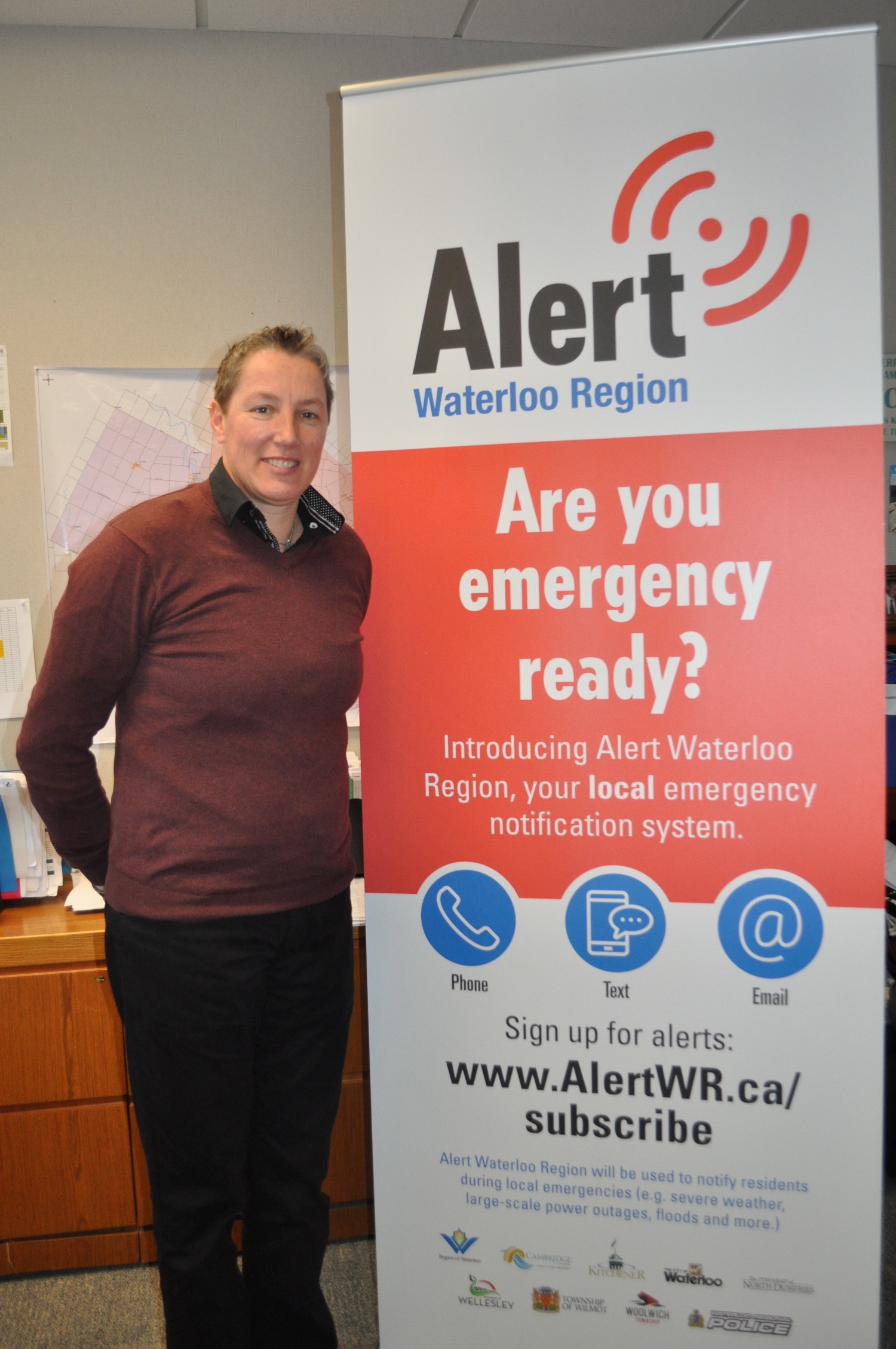 by Helen Hall
Kitchener Citizen
February 13, 2019​​
​
On March 4, Waterloo Regional Police and the Region of Waterloo and its member municipalities will launch an impressive tool to spread information in an emergency situation to help keep the community safe.
​
Alert Waterloo Region is a new emergency notification system that the region and the police have been working on implementing since 2017.
"It's been a collaborative effort, and we're pleased with the results," said Sandy van Solm, Manager of Emergency Management for the Region of Waterloo.
​
The alert system can spread information with phone calls (to cell or landlines), texts and emails. Residents and business owners can register to be alerted through the website alertwr.ca, which is already up and running.
​
The alerts are tied to the home or business location of the individual who registers. The region or the police can select a section of the map of Waterloo region and alert everyone who registered in that area about any type of emergency, including weather warnings, flood warnings, and boil water advisories, to more immediate dangers such as explosions or a police hold and secure (in case of a shooting in a neighbourhood).
​
"We want to have a safer community and it's
​one of the tools to get there," van Solm said.
​
Alert Waterloo Region is different than Alert
Ready, the national emergency alerting system.
​Alert Ready delivers emergency notifications
​to Canadians through television, radio and
​LTE-connected and compatible wireless devices.
​
Alert Waterloo Region does not rely on cell phone towers to transmit its information, but rather on the geographical location of the people who register. Administrators can highlight a section of the map and send notifications to everyone living or working in that area. No matter where registered individuals physically are at the time of the emergency, they will receive notification of it through the method they requested when they signed up - email, automated phone call or text.
​
In the event that an emergency occurs in Waterloo Region that is also being monitored by Alert Ready, a person could receive a message from both Alert Ready and Alert Waterloo Region.
​
The region is currently running a test of the system in Woolwich Township. It chose Woolwich because it already has its own alert system called the Community Alert System in place, and is able to use its list of registrants. Woolwich residents will receive their first test message from Alert Waterloo Region by the end of February.
​
The system is scheduled to cost $168,100 in the first year when it is being set up, and $125,900 per year in years two and three.
​
The Region of Waterloo and the Waterloo Regional Police will fund 45 percent of the cost, and the remainder will be divided among the cities and townships. Kitchener will pay $26,900 (16 per cent) in the first year and $20,100 per year in the following two years.
​
"It's quite amazing what it can do," van Solm said, adding that it is something she hopes the region does not have to use often.
​
To register to receive alerts, visit alertwr.ca.

Region of Waterloo Manager of Emergency Management Sandy van Solm with a poster for Alert Waterloo Region, a new local emergency notification system that will kick off in March.
Photo by Carrie Debrone
For News Tips & Advertising call...
Kitchener East - 519-578-8228
Kitchener West - 519-394-0335