​
Neil Aitchison - a smash hit on and off the stage
For News Tips & Advertising call...
Kitchener East - 519-578-8228
Kitchener West - 519-394-0335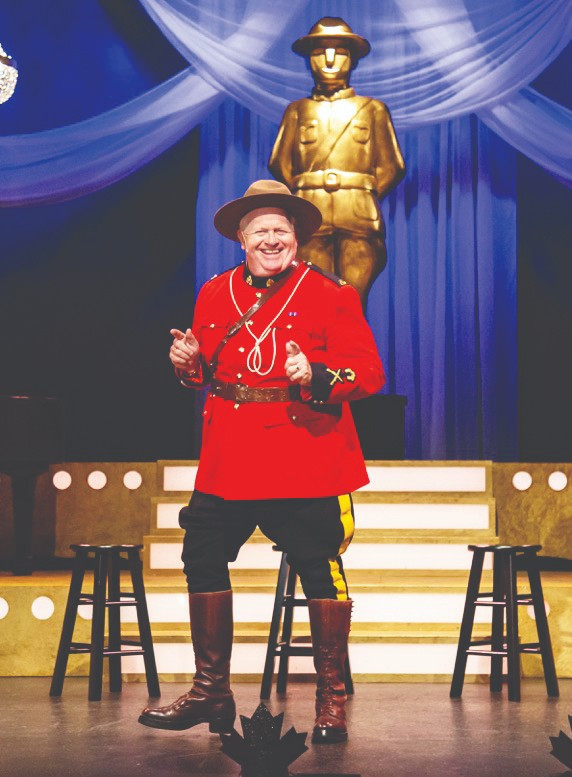 By Al Anderson
Kitchener Citizen
August 20, 2020

​​​​The irony of the title of the early March Drayton Entertainment production I attended;

A Few Good Men

, wasn't lost on me.

​​During a subsequent visit with D. Neil Aitchison, better known to many Drayton theatre goers as Archibald F. Inkster in the

Canada 151: Better Late than Sorry

production, our conversation centered on several good men that he and I have known.

​​In cold light of the pandemic, the importance of good people in our lives and in our community has come into sharper focus.

​​Even though Aitchison is somewhat younger than me, he and I go back to high school days. I knew his brother Fred and sister Lynn even better than I knew him in those days.

​​We both had the good fortune to grow up in the Harriston/Palmerston/Moorefield/Drayton area. Back then, it seemed that everyone either knew everyone, or were related to someone you knew. The actions of these good people's public and private roles contributed to the fabric of our lives, even though we often didn't realize it at the time.

​​To anyone who has seen Aitchison perform as Inkster, it won't be surprising to learn that back in high school, he was a class clown. In fact, as long as I've known him, Neil has thoroughly
​enjoyed a good laugh.

​​He is open about the fact that even though he spent five or six years in high school, he never managed to graduate. Nonetheless, he had the attention of classmates and of our principal, Ephriham Gray.

​​After the final failed attempt at high school, Aitchison started working at a local slaughterhouse. When he later crossed paths with Gray, he asked Aitchison where he was working and when he was told, the principal's response was "that just won't do for you."

​​"There is a brand new college starting up in Kitchener (Conestoga College) – you would be a natural for their marketing/radio program," Gray suggested.

​​Aitchison reminded him of his dismal academic record. The principal said. "I'll write you a recommendation."

​​Based at least in part on that recommendation, not only did Aitchison get into the program, he graduated with honors—the first student to graduate from the college.

​​While at Conestoga, he was student president and after graduation, he was appointed to the college board of governors. Aitchison also managed to land a job with a Kitchener radio station, selling airtime.

​​He spent 24 ½ years working at CKKW/CFCA/CKCO (CAP Communications) selling airtime. For 14 of those years he was General Sales Manager of both radio stations.

​​Selling came easy to him. His demeanor and sense of humour made him a natural salesman. His work eventually morphed into hosting an on-air talk show for nearly three years.

​​​A well-known segment of the talk show was called "Joe, the Barber." In that segment, Aitchison chatted, on air, with his barber. Their conversation, much like Aitchison's life, was sprinkled with up-country, corny knee slappers that listeners identified with.

​​As life motored on, Aitchison married Helen. They had children, his income increased, he loved his job.

​​A few years later Aitchison was acting as emcee when Dominic Cardillo retired from his position as mayor of Kitchener. Like Aitchison, Cardillo enjoyed a good laugh and a good cigar.

​​During the retirement dinner, Aitchison gazed out at Dominic and said, "You know, when I look out there and see Dominic sitting there with his cigar, I am reminded of Churchill."

​​Aitchison recalled that Dominic straightened in his chair, smiling broadly. Then Aitchison added, "Now, just so there is no confusion, I'm not referring to Churchill the politician. I'm thinking of that stinky, smoky town on James Bay." ​​The room and Dominic erupted in laughter.

​​Aitchison also shared with me that, early in his career he met with my father-in-law, Bill Young. My father-in-law owned the Harriston drive-in-theatre, an indoor theatre and often acted as emcee at local events. Impressed by my father-in-laws' ability to connect with his audience, Aitchison told me that, for many years, he referred to the notes of that meeting.

​​His on-air format was to include weather and traffic reports, the rest of the time was up to him to fill. When ownership of the station changed, the new owners wanted a change of format. The short version was he was out of a job. "Problematic . . . for a time," ​​​Aitchison admitted.

​​As he proceeded with reinventing himself, Aitchison met Alex Mustakas, founder of Drayton Entertainment.

​​From the outset, Aitchison said, Mustakas was clear that he was in the theatre business (with an emphasis on business). For six years, Aitchison served as Director of Marketing and Development at Drayton Entertainment. During that time, he also spoke at or acted as an emcee at numerous events.

​​At one of those events, he spoke at the annual meeting of Melloul-Blamey Construction and thoroughly enjoyed himself. A few days later, Aitchison received a call asking him to join the company. The caller said they considered his 'speech' at their annual meeting as a resume and employment interview rolled into one.

​​Before taking the position with Melloul-Blamey, Aitchison negotiated time to continue performing at Drayton Theatre. During his association with the theatre he has held roles as marketing manager by day and simultaneously exercising his alter ego as Archibald F. Inkster on the stage.

​​Aitchison has played roles in many other Drayton productions over the years.

​​Once again, Aitchison has managed to fall in with good people who really care about their employees and who share the company's financial success with those who help the company achieve its goals.

​​For the past 14 years, Aitchison has been Senior Manager of Market Development with Melloul-Blamey. Although he is past 'normal' retirement age, the big concession he has made is reducing his work 'week' to three days a week at Melloul-Blamey. The balance of his time is spent with his beloved wife, Helen, at their cottage and in his larger than life role with Drayton Theatre.

​​Aitchison cracked a big grin during our interview and recalled how he sold advertising for many years, was an on-air personality, got involved with Drayton Theatre and then marketing for Melloul-Blamey over the last 14 years.

​ "Basically," he laughed, "I couldn't hold a job."

​​Aitchison has used his enthusiasm and gregarious approach to all that life has to offer to hold the attention of his audiences, on or off the stage. He is, and continues to be, a smash hit on the biggest stage there is – the stage of living well and enjoying life.

​​The old adage that All the World's A Stage, attributed to William Shakespeare from his play As You Like it, couldn't be more appropriate for describing Aitchison's vibrant and varied career. To that end, all of us, not just good men and women, all of us, regardless of background, ethnicity or education have a role to play.
Neil Aitchison portraying Archibald F. Inkster in the Drayton Entertainment production Canada 151: Better Late than Sorry. Photo courtesy of Drayton Entertainment