To read a copy of our East or West Edition,
click on the front page.​​

Next issue: March 9, 2017
More Kitchener community news...
COMMUNITY CALENDAR
ZONTA FILM FESTIVAL - The 6th annual Zonta Film Festival (ZFF) is being held on November 8th, 9th and 10th at the Princess Theatre on King St in Waterloo. This year, the ZFF showcases 9 courageous, powerful and thought-provoking films, made by women that highlight human rights. One option is to purchase a theatre pass for $65 to see all films, or you can purchase individual tickets for $15 each. All funds raised by this film festival are given back to local organizations in our Kitchener Waterloo area. For tickets or more information visit www.zontakw.org
​
ANNUAL CHRISTMAS BAZAAR NOV. 5 - St Luke's Lutheran Church, 317 Franklin St N, Kitchener, is holding its annual Christmas Bazaar on Saturday, November 5 from 8am to 1pm. The bazaar features gently used Christmas items, knitting, baking, candy, preserves, jams, meat pies and lunch (sandwiches, desserts & beverages). Numerous guest presenters also! Admission is free. Please come & bring a guest. Contact: Gay Anderson 519 893-6827.
​
GENEALOGY FAIR - KPL presents the 5th annual Genealogy Fair. Beginners and experts alike are invited to the 5th annual Genealogy Fair. Attend workshops and lectures, speak with experts, browse exhibits and connect with vendors. No registration. Just drop in. Saturday, Nov. 5 from 9am to 3:30pm at the Kitchener Public Library Main branch, 85 Queen St. N. Kitchener.
​
A TASTE OF CHRISTMAS CONCERT – The Forest Heights Community Association Mixed Choir, under the direction of Alfred Kunz presents A Taste of Christmas Sunday, Nov. 27 from 7 -9pm at Calvin Presbyterian Church, 248 Westmount Road E, in Kitchener. Free admission (donations accepted).
​
TOASTY TOES – Can you or your business collect socks for donation? A pair of new socks makes a big difference to residents of shelters, individuals experiencing homelessness and those served by our local soup kitchen and self-help food bank. Last year, Toasty Toes collected 1001 pairs of new socks and distributed them to One Roof, St. John's Soup Kitchen, House of Friendship, Bridges Shelter, Kaljas Homes of Supportive Living, Marillac Place and the Cambridge Self Help Food Bank. Collection will run until Nov. 10 with pickup before Nov. 20. To donate contact Sharon Gilroy-Dreher @ToastyToes_WR
​
FINANCIAL AND HEALTH CARE PLANNING – a free educational session by Conversations Worth Having. If your parents or loved one had a stroke and were incapable of managing their finances or their own health, do you know where their legal documents are? What if they don't have a will or have not named Power of Attorney. Explore these questions and more on Monday, Nov. 7 from 6 – 8:30pm at Heritage Hall, Sunnyside Seniors' Services, 247 Franklin St. N. Kitchener. Please register by calling 519-893-8494 ext. 6377 or online at sunnysidefinancehealth.eventbrite.ca
​
FEAST FOR THE SENSES – An evening of art, food and drink on Thurs. Nov. 17 from 7 – 10pm at the KW Art Gallery. Chef Jonathan Gushue of The Berlin will create an evening of extraordinarily delectable dishes, complemented by perfectly chosen libations, all inspired by the photographs in KWAG's current exhibition, Infinite Change, by internationally renowned photographer Edward Burtynsky. Tickets are $50 KWAG members, $60 non-members + HST. Must be 19 or older. For tickets visit www.kwag.ca/en/programs/FeastfortheSenses
​
LINCOLN CONCERT SERIES - Leith Quartet Melodic Mozart & More. The Leith Quartet - Bruce Skelton, violin, Cathy Anderson, cello, Martha Kalyniak, viola and Rick Bond, violin, will present a program featuring Mozart, Haydn and other masters of quartet music on Saturday, November 19 at the Church of St. Columba, 250 Lincoln Road, Waterloo. Single event tickets are $30 Adult, $15 Student. Tickets can be purchased by going to www.saintcolumbachurch.com and downloading the order form, by calling 519 886 6395 or by emailing phoroe@uwaterloo.ca. For more information, go to www.saintcolumbachurch.com and click on Lincoln Concerts.
​
THE TREWS AT MAXWELL'S – As part of a 20-stop tour to promote its newly released album Time Capsule, The Trews, one of Canada's most successful rock bands of the past decade will perform December 8 at Maxwell's Concerts and Events, 35 University Ave. E. in Waterloo. Doors open at 7:30pm, 19+. The Trews have earned 16 Top 10 Rock radio singles (including two #1's) and two Gold-certified albums (House of III Fame; Den of Thieves). The band also received multiple East Coast Music Awards, an Independent Music Award (US) in 2009 for Best Rock / Metal Song, and numerous JUNO Award nominations. Comprised of lead vocalist/guitarist Colin MacDonald, lead guitarist John-Angus MacDonald, bassist Jack Syperek and drummer Gavin Maguire, the Canadian rockers have played over 1,000 shows worldwide, on their own as well as supporting the Rolling Stones, KISS, Robert Plant, Guns 'n Roses, Kid Rock and Bruce Springsteen.
​
ANNUAL GALA FUNDRAISER FOR SEXUAL ASSAULT SUPPORT CENTRE - The Sexual Assault Support Centre of Waterloo Region presents Cirque Du Sasc at The Tannery Event Centre, Kitchener on Sat. Nov. 12. The show will feature a magician, illusionist and mind reader, a contortionist and a hoop artist. Doors open at 6pm, dinner at 7pm Tickets are $110 each. Tickets will be on sale until Nov. 5 at sascwr.org
​
BEECHWOOD MANOR'S FESTIVE CRAFT MARKET - Saturday November 12 from 9am-2pm at 305 Erb Street W, Waterloo. Knitting, handmade crafts, stocking stuffers, decorations, gifts, barn board and woodcrafts and more. Plus a variety of vendors and artisans on two levels for Christmas shopping enjoyment. Coffee Cafe will be open and admission is free. Everyone is welcome. Bring some friends! www.beechwoodmanor.ca
​
FOLK NIGHT AT THE REGISTRY -- Saturday, Nov. 19 featuring Laura Smith and Naming the Twins. Tickets $20 / $25. Smith made her debut at London's iconic Smale's Place coffee house where she worked as a server. Ontario born, and maritime based, Laura is a winner of the East Coast Music Awards. Robbie Smith and Kathleen Glauser are "The Twins". Their 2nd CD Drifters and Dreamers features original folk songs with a Canadiana/Americana theme, beautiful, distinctive harmonies, and an array of acoustic instruments that take the listener from the wild seas on a whaling vessel off the coast of Newfoundland, to a river journey down the Old Missouri. For tickets call 578-1570 or visit www.registrytheatre.com
​
"A WORLD OF LEADING LADIES" - Wilfrid Laurier University's free film series presents "A World of Leading Ladies." The six-part film series is open to the community at 7pm in the Bricker Academic Building, room 102, on Laurier's Waterloo campus. This series offers strong and interesting women in leading roles in films from different genres and different countries. Each film corresponds to one of the programs offered in Laurier's Department of Languages. They include: Nov. 10: Bread and Tulips (Italy 2000, Silvio Soldini), Nov. 17: Rust and Bone (France-Belgium 2012.
​
HOMER WATSON HOUSE & GALLERY LUNCHTIME LOUNGE - Please join us at Homer Watson House & Gallery on Thurs. Nov. 10, from 12 noon to 1pm, for our 2016 educational Lunchtime Lounge Series talk. Join us as Karen Richardson, Curator of the Haldimand Country Museum, talks about the customs and traditions of Victorian and Edwardian Christmas, from decorating to preparing the festival meal. Many of our modern-day Christmas customs have their roots in Victorian Christmas traditions including Christmas cards, the Christmas cracker and the exchange of presents. Call the gallery at 519-748-4377 or go online to reserve your seat.
​
RADIANT LADIES NIGHT - The Coalition of Muslim Women of KW will hold its annual fundraising event Sat. November 19th from 5 – 10pm at The Family Centre, 65 Hanson Ave. Kitchener. Wear a gown of your choice or dress up in your cultural dress. Radiant Ladies Night features multicultural food, dancing with a DJ, multicultural fashion show, silent auction, games and prizes. Tickets $30. Funds raised through sponsorships, silent auction and ticket sales support the coalition's programs and activities. Tickets are available online at https://radiantladiesnight.eventbrite.ca/ or by emailing cmw.kw.info@gmail.com
​
WILFRID LAURIER MUSIC CONCERT SERIES - Following the Wilfrid Laurier University Faculty of Music's successful 40th anniversary season, the faculty will present its 2016-2017 concert schedule. The Music at Noon series will feature local and national artists every Thursday free of charge at the Maureen Forrester Recital Hall on Laurier's Waterloo campus. As in previous years, Laurier students, faculty, alumni and guest artists will make their way to the stage to share their talents with the community. Laurier's wind and symphony orchestras, student composers, choral choirs and small ensembles will introduce concertgoers to the best of young Canadian performers and composers. The Music at Noon series will feature local and national artists every Thursday free of charge. Up-to-date concert information is available online at wlu.ca/music. To order a concert calendar, email concerts@wlu.ca
​
DIVERSECITY TOASTMASTERS CLUB - Do you have trouble finding the right words when speaking to a group? Need a career boost? Want to polish your presentation skills? Toastmasters is the place for you. Learn communication, leadership and presentation strategies in a friendly, supportive atmosphere.
​ DiverseCity is a new club and is open to all. Runs Mondays, 7 - 8:30 pm at Kitchener City Hall, Conestoga Room. For more info contact Georgina Green, 519-743-7655 or gggreen@rogers.com.
​
ADULT DAY PROGRAM - Did you know Trinity Village has an Adult Day Program for seniors wishing to socialize with other seniors? The cost is just $8 per day and the program runs Mondays, Wednesdays and Fridays from 9 am to 1 pm, at Trinity Village Care Centre, on Kingsway Drive, near Fairview Park Mall. Self-referrals welcome or contact CCAC, 519-748-2222. For more information call the Day Program Coordinator at 519-893-6320 ext. 235.
​
ALZHEIMER SOCIETY WATER-LOO WELLINGTON EVENTS - Coffee Break - You can support the Alzheimer Society Waterloo Wellington by hosting a Coffee Break, or by hosting your own event of any kind. Community partners have supported the society in many creative ways, such as dress-down days, game nights, garage and bake sales, and many other kinds of events.
​
MAKE NEW FRIENDS WITH BETA SIGMA PHI - Are you a woman looking for new friends and fun things to do? Do you enjoy a social, community service-oriented group? If so, you might be interested in our Beta Sigma Phi chapter. Beta Sigma Phi is an international women's friendship network. For more information about Beta Sigma Phi visit the www.betasigmaphi.org. There are 200 members in KW alone. Our chapter of 8 women has members in our mid 30s and early 40s, mostly married, with small children. We meet twice a month May – Sept. and plan socials throughout the year too. Email betasigmaphiKW@gmail.com for more information.

REEP OFFERS HOME RETROFIT COACH - REEP Green Solutions has a Home Energy Catalyst program. Homeowners now have access to the free services of its knowledgeable Retrofit Coach to guide them through the process of making their home more energy efficient. The coach will provide expertise and advice where it's needed along the way, from prioritizing renovations and hiring contractors, to evaluating completed work and considering next steps. Want to upgrade your drafty home? Want to avoid rising energy costs? We want to hear from you! Please contact coach@reepgreen.ca for more details. REEP is pleased to be working on this project with its partners Mindscape Innovations and Scaled Purpose.

DANCE CLASSES FOR PEOPLE WITH MS - The local chapter of the MS Society is holding weekly dance classes for people living with MS. Classes can be done from a seated or standing position and will combine music with movement to stimulate cognitive function and memory. Participants will perform a choreographed piece at the year-end Holiday Party. Classes run Thursdays at Village of Winston Park in Kitchener. Other programs available are yoga classes and a social peer support group. For more information contact Sandra.clarke@mssociety.ca

East Edition - 519-578-8228
West Edition - 519-394-0335​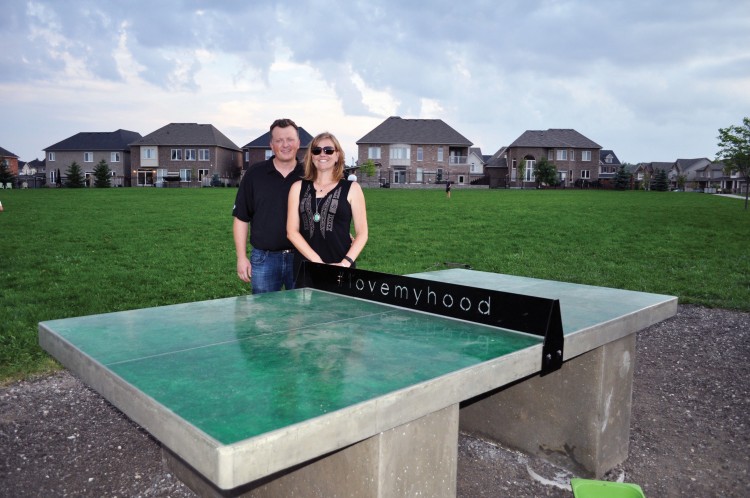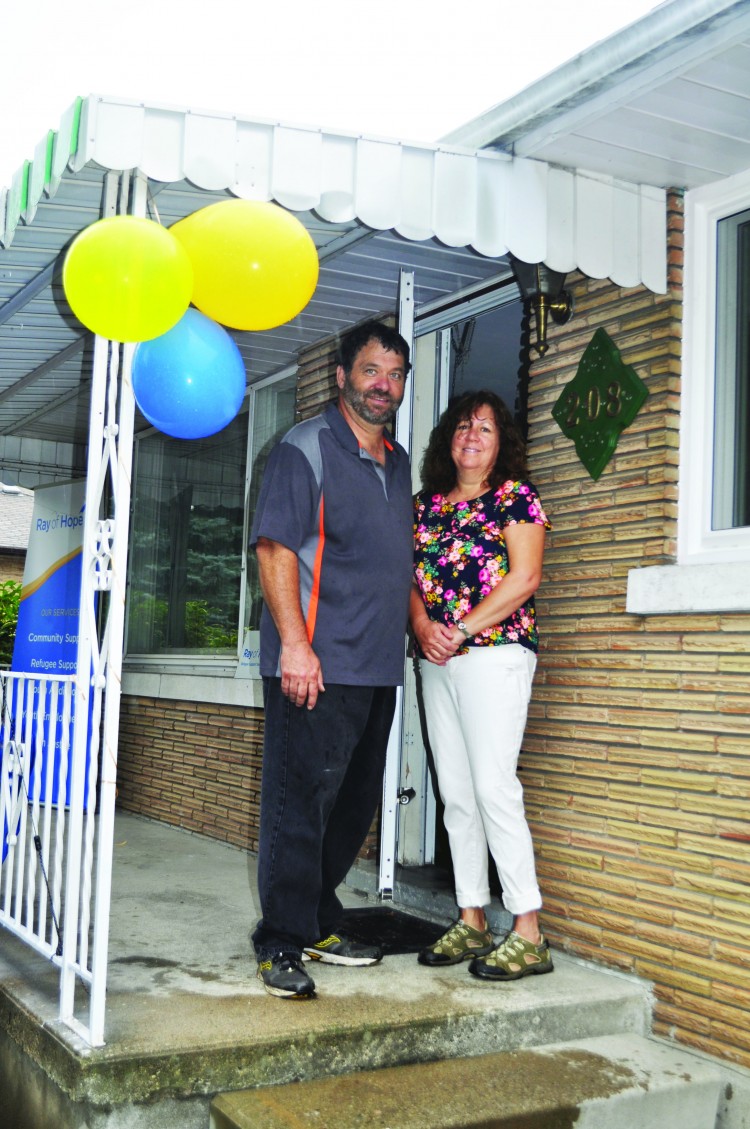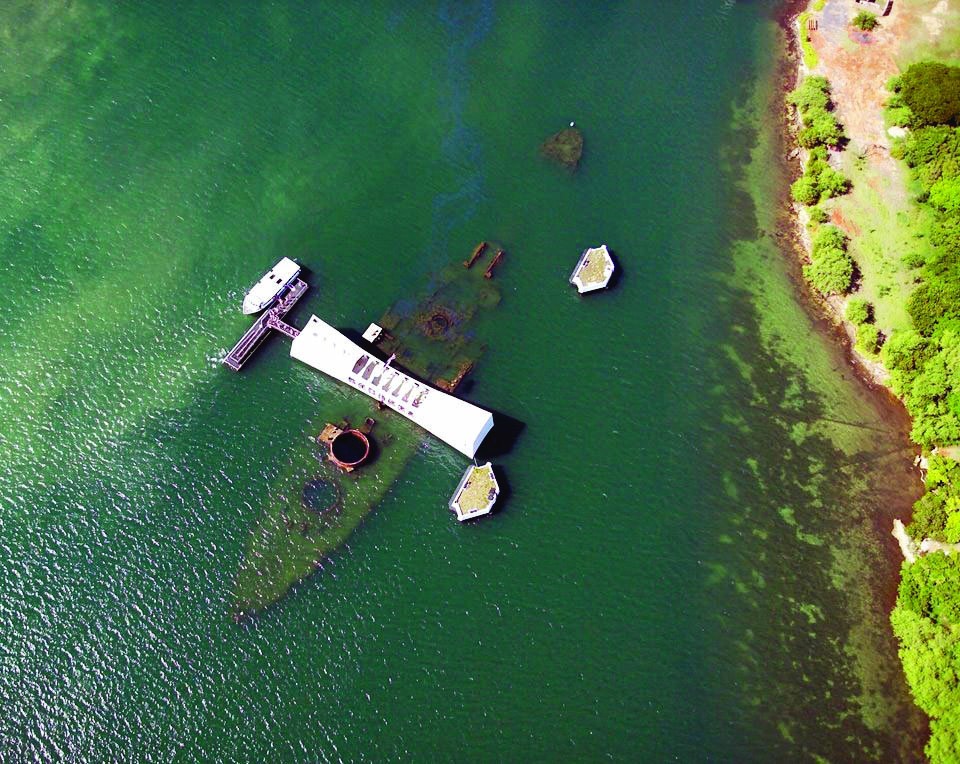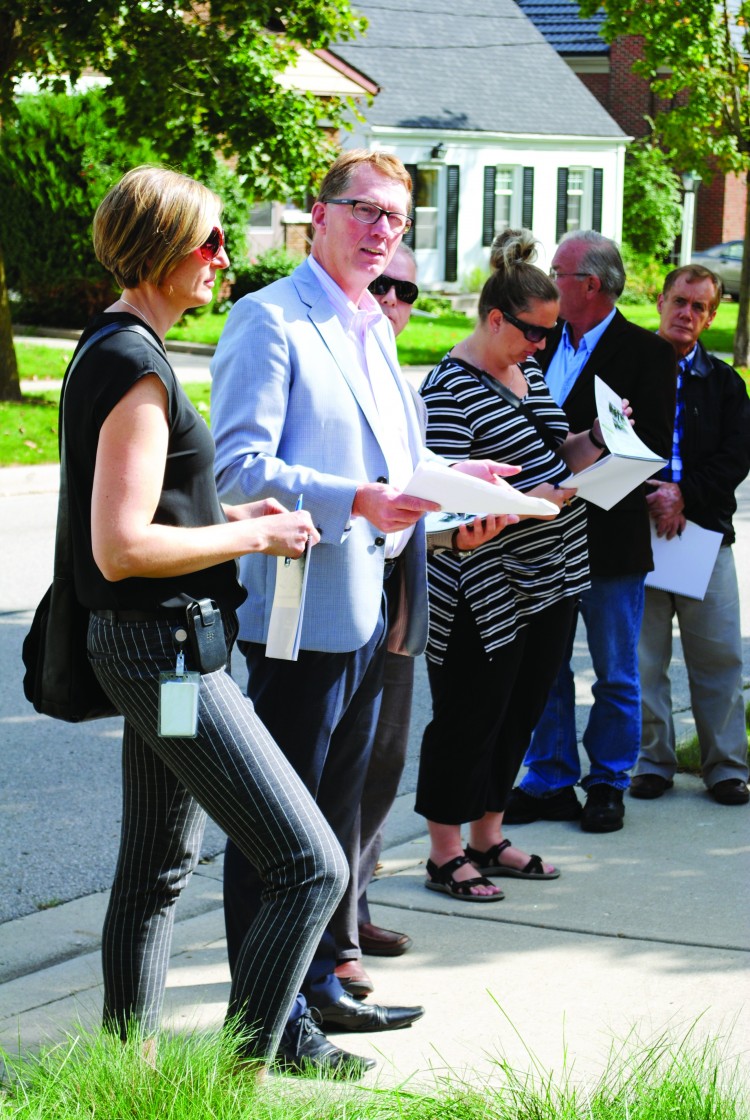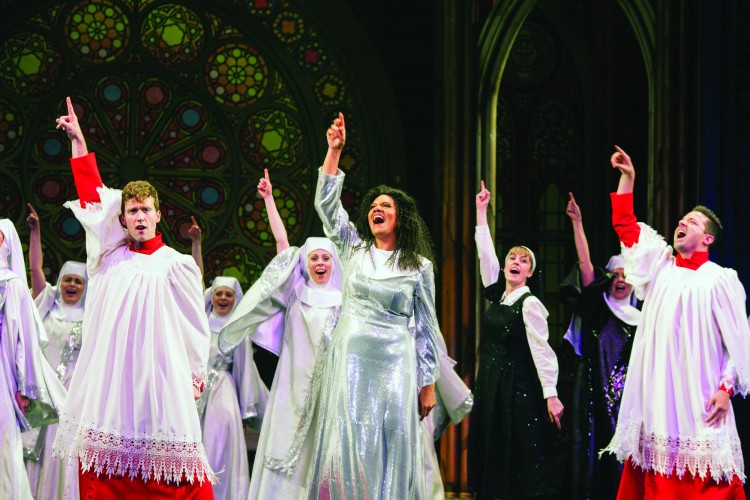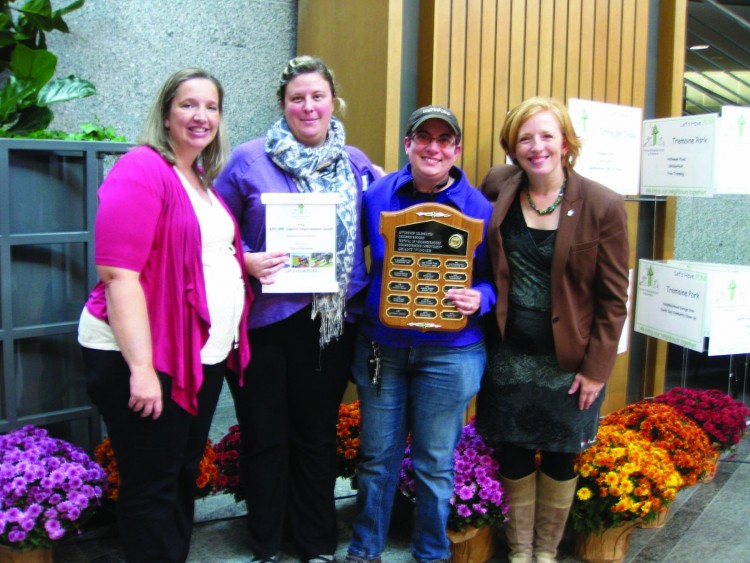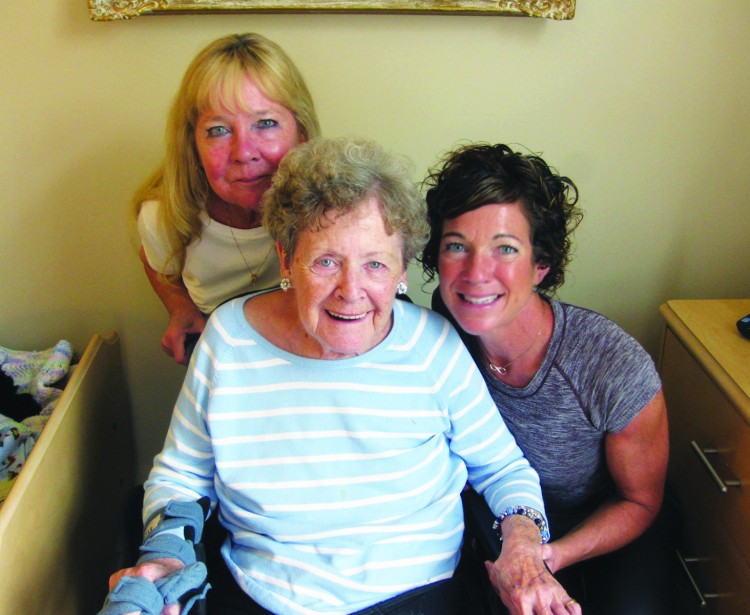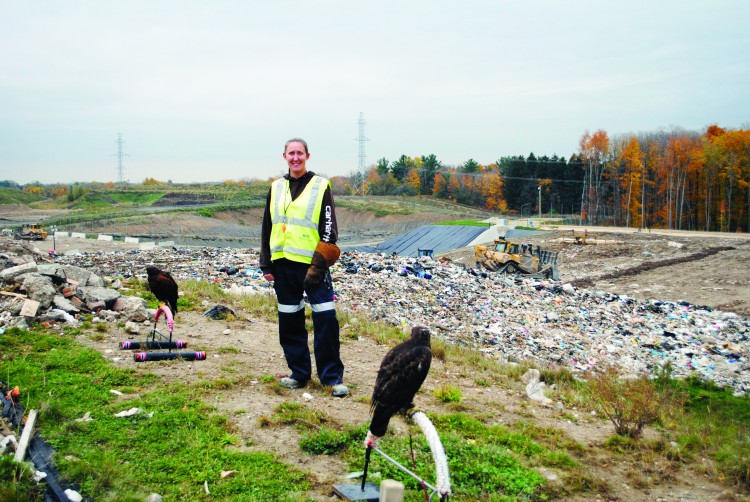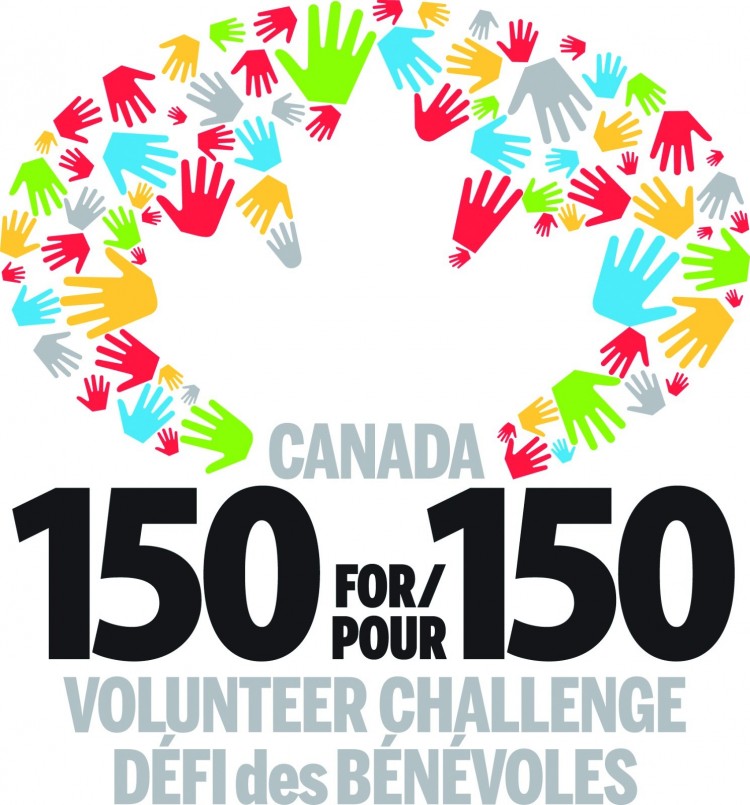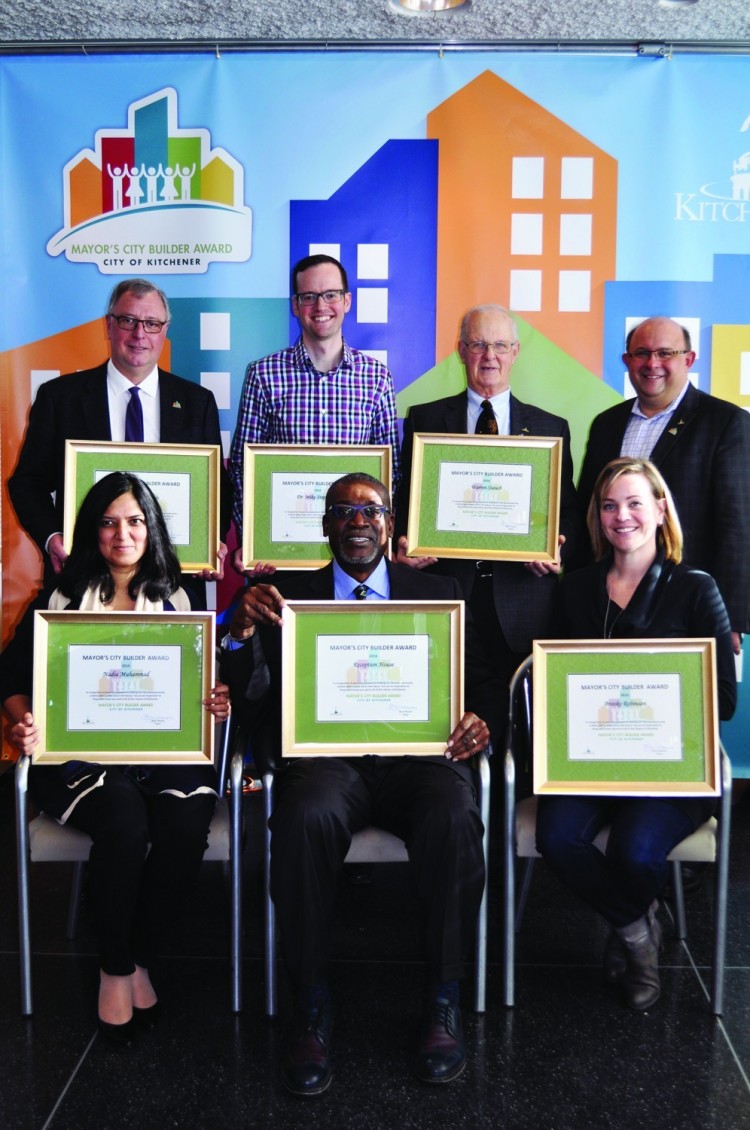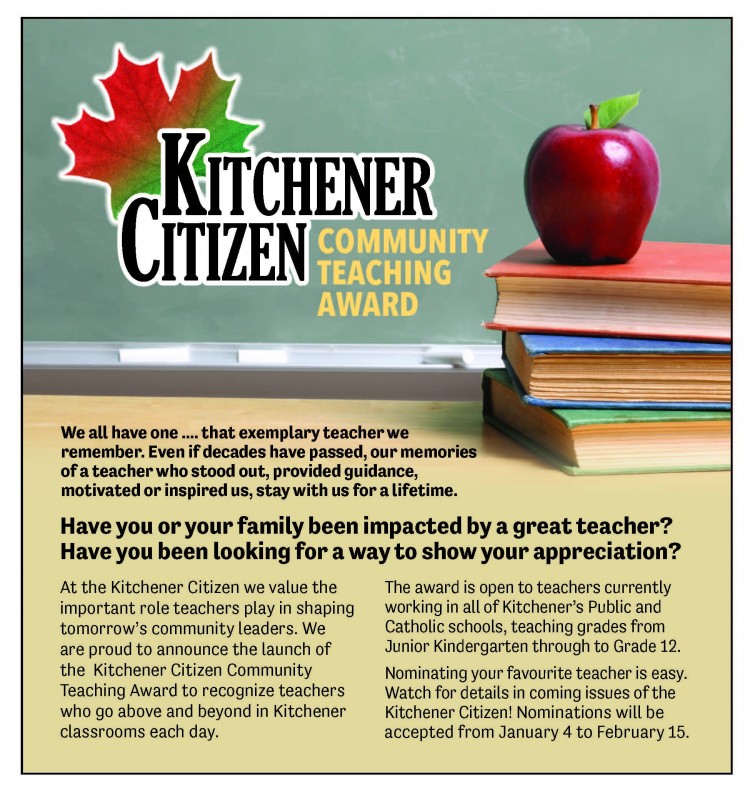 Click on ad for nomination information.