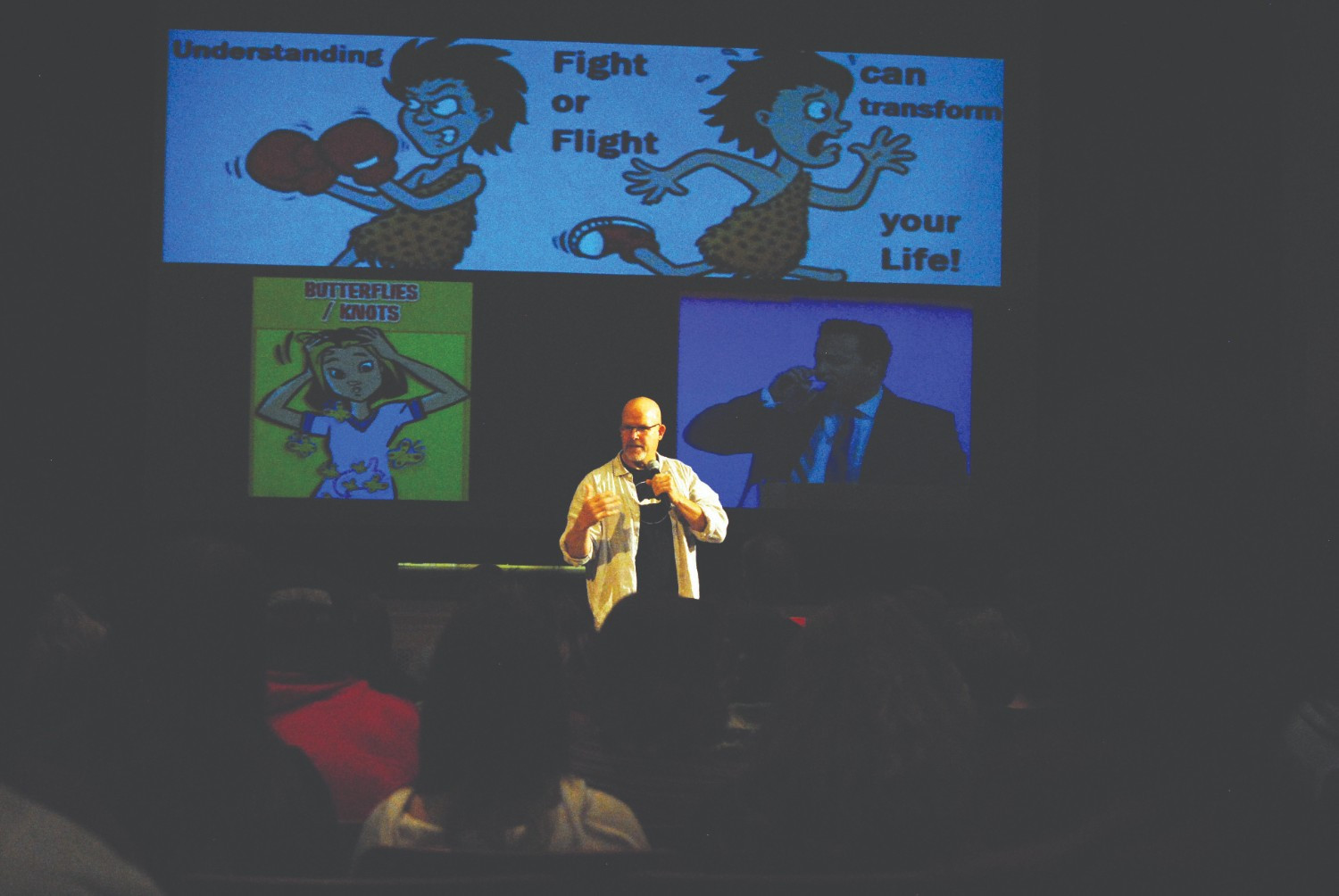 by Helen Hall

Sometimes, it is all in the way you look at things.


​When Kevin O'Reilly needed help while suffering from anxiety and depression, he decided to look at it the same way he would look at getting treatment for any other part of his body that wasn't working properly.​


"My brain is different than a lot of people's brains," he explained to a group of high school students at Kitchener Collegiate on November 26. "I've got to deal with the way my brain works."


​​
O'Reilly, a retired high school vice-principal, spent the month of November talking to students about their mental health. His plan to do 30 talks in 30 days - to coincide with the mental health theme of Movember - turned into over 50 talks in a month and a half.
O'Reilly visited schools throughout the region, from elementary schools to high schools, talking about his personal journey with his mental health, and trying to take away the stigma that many people associate with it.
​
O'Reilly described himself as a "high-functioning" person with depression and anxiety. Although he felt since high school that something "wasn't quite right", he excelled at school, quarterbacked the high school football team, married his high school sweetheart, had three wonderful kids, and was a teacher who eventually became a vice-principal.


But eventually, his brain got tired of "racing all the time", and in 2010 he had to take time off work because he was too exhausted and depressed to go on.


"The hardest thing I've ever done was walking in the door of the psychologist's office," he said in the KCI auditorium. However, once inside, he found out that "talking to them was easy."


Now O'Reilly considers his therapist like any other doctor he would see for other parts of his body.
​"I call him my brain strategist," he told the students. He said when he runs into difficulty, they discuss strategies for getting his brain back on track.


​"I have to be careful with my brain," he said.


And many students can relate to O'Reilly's story.
​
"Young people 15 to 24 are more likely to have a brain illness or substance use disorder than any other age group," he explained.
​
"If you don't talk it out, you'll act it out," O'Reilly said.
​
As a vice-principal, O'Reilly saw many students come into his office for problems with drugs, alcohol, and chronic lateness, that many times came from issues with their mental health.
​
He asked the KCI students what kind of things bring them stress that could affect their mental health. They mentioned the pressures of school and tests, and relationships with other students.


​O'Reilly left them with some tips to help them de-stress, including eating properly and exercising, and getting enough sleep.


He encouraged the students to practise "repetitive gratitude" rather than "repetitive com-plaining." While we can't control things that go on around us, we can control how we react to them and we can appreciate the good things in our lives.


​
O'Reilly suggested the students could use their five senses to reduce their stress by getting a calming sound app on their phone, feeling the touch of a weighted blanket, or the taste of good, nutritious food.
He encouraged them to talk to a trusted adult if they are struggling.
O'Reilly also encouraged them to use "breathing and blessings" to help them be calmer.
As a group, he had the students breath in through their noses, think about a blessing, pause, and then let the breath out.
​
"After a few of those deep breaths, the whole energy in the room drops," O'Reilly said, before he sent the students back to class.