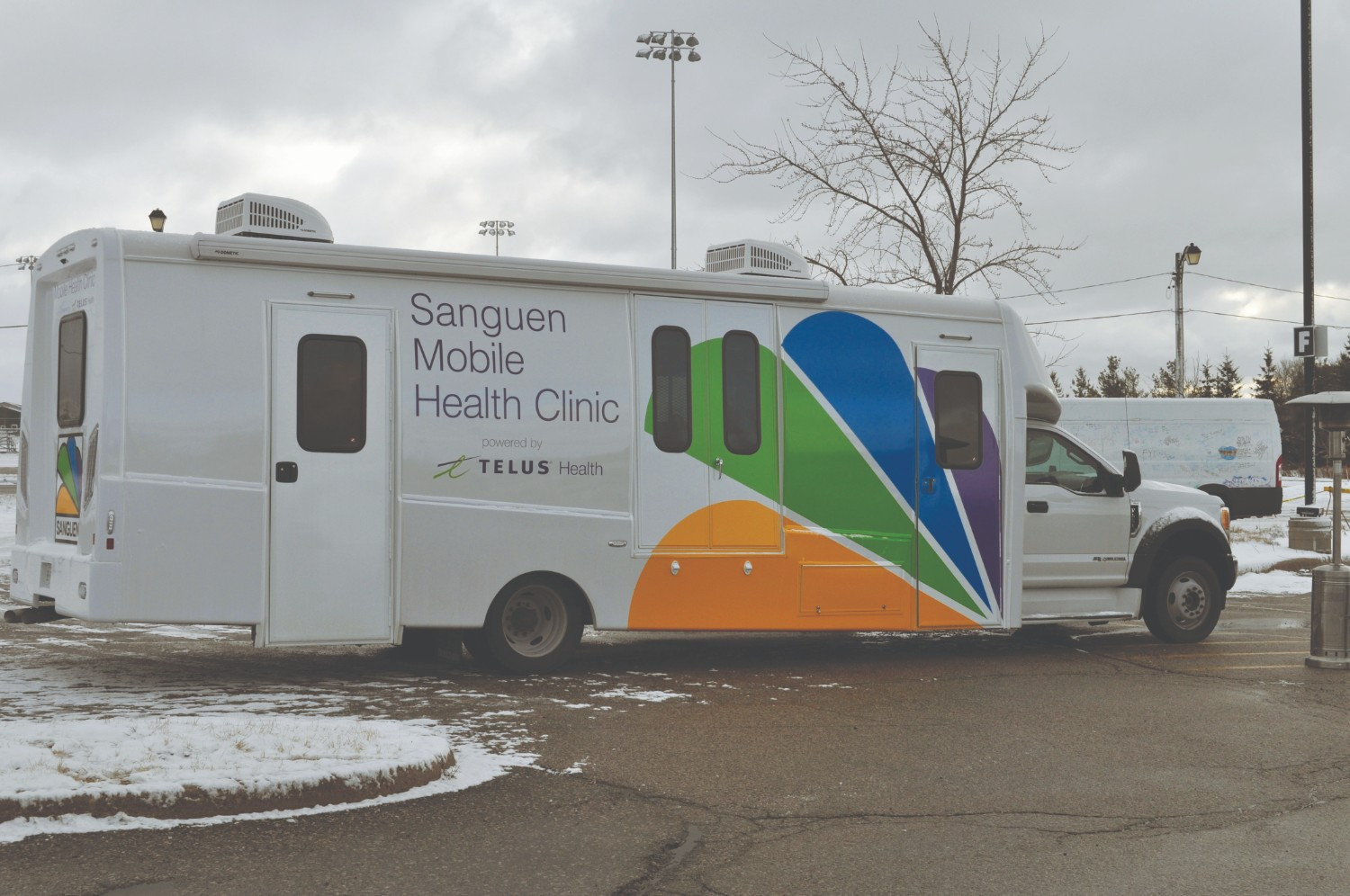 By Carrie Debrone

​

A new mobile doctor's office is now providing primary health care to those who have problems accessing medical attention in the usual way.


​
The Sanguen Mobile Health Clinic has been set up in a large van that will be driven to a variety of locations in the Region of Waterloo so that vulnerable people living on the streets or those who don't have access to health care can easily come to it and get the care they need.
​
The project to develop and operate the clinic was made possible through a partnership between the Sanguen Health Centre and TELUS, a leading communications company and the largest healthcare IT provider in Canada. The project is receiving $500,000 over five years from TELUS's Health for Good initiative that is supporting health projects in cities across Canada.
​
The $300,000 clinic on wheels, developed by Crestline based in Saskatchewan, is equipped with TELUS Health's electronic medical record technology and Wi-Fi. Doctors will be able to collect and store data, examine results over time, and provide better continuity of care to patients who previously had undocumented medical histories.
​
The clinic on wheels is divided into two main areas. The first area is for patient reception and nursing care. The second area is a private physician's office with an examination table and health practitioners' workstation. It includes the equipment necessary to provide primary health care such as routine testing, contraception, STI treatment, harm reduction services, and mental health care and counselling. The mobile clinic is also equipped with a wheelchair lift, refrigerator for vaccines, instrument pack for measuring vital signs, an area where staff can draw blood samples, an outdoor retractable awning that will provide shade in the summer, and lots of storage space.
​
"We must deliver health care to people who can't easily access it in a different way than we have been doing in the past," said Chris Steingart, Founder and Executive Director of the Sanguen Health Centre. "This represents a big change in the way we deliver health care and we hope this will be an important portal of entry into health care for them. It is necessary for people to be healthy and this way we can come to them."
​
But Steingart insists the clinic is not just a Sanguen/TELUS project.
​
"It's a community project," he said. "Things like this don't happen without partnerships and people working together. We are fortunate to have many strong agencies and health organizations in this area. We all at times need some help and this will allow us to help the folks who need it," he said, adding that the project already has partners in Ray of Hope and House of Friendship in Kitchener, and Langs Community Health Centre in Cambridge, and he hopes to continue to grow the network of partnering local healthcare organizations.
​
"We work with people who are hard to find, not reliable, hard to serve and may push their health concerns aside because there's too many other problems they are dealing with," said Violet Umanetz, Director of Harm Reduction and Overdose Prevention at Sanguen, who addressed a group of community representatives at the mobile clinic launch held at RIM Park on January 16.
​"This bus is just the best thing since sliced bread. So many people won't have to tackle problems on their own. I can't wait to see the impact this will have on people," she said.


​Regional chair Karen Redman praised the project. "Experience has taught me that no level of government can do things alone. With this program we've built trust so that we can help those who are marginalized," Redman said.


​The mobile clinic will be staffed by one full-time nurse practitioner, one full-time social worker, who will be available for mental health and addiction counselling, and one full-time outreach worker, who will help people on and off the van and drive the van.


​The clinic will also hand out personal hygiene products, clothes and food, and provide HIV and HEP C care.


​The project falls under TELUS's Health for Good program, an initiative that will see the company investing $10-million over the next five years to bring health services to vulnerable people in Montreal, Vancouver, Victoria, Calgary, Ottawa, Edmonton, Toronto, Surrey, Halifax and Waterloo Region. The company plans to set up more Health for Good projects next year, including one in Winnipeg.


​It is expected that about 20,000 people annually across Canada will access health care through the programs.


​Estimates show that 235,000 people experience homelessness in Canada each year and that they typically lack a documented medical history. It is hoped the Health for Good programs will remove many of the barriers that people living on the street face providing a private, stable and compassionate medical care.


"When you're homeless and disadvantaged you may not feel comfortable walking into a traditional doctor's office," said Jill Schnarr, VP of Corporate Citizenship at TELUS.


​"Many people feel hopeless or may not be able to get to a doctor's office or clinic. They may have lost their health card. But you don't need a health card or any ID to come to the mobile clinic. The clinic will help a whole lot of people and will take some of the pressure off of local emergency services," she said.


​Since 2015, Sanguen has been operating two smaller outreach community vans that serve people in the area, but they were used for distributing food and clothing and referring people to health care facilities. The smaller vans will continue to operate.


​"We always had our eye on being able to do more," Steingart said, adding that the new clinic's real benefit is that it allows healthcare providers to connect with people.


​And Steingart praised TELUS's involvement.


​"A telecommunications company doesn't have to be involved in health care, but yet here they are," he said.


​"I learned in my doctor's training that we couldn't be in our office and just have people come to us. We had to be out in the community. We're thrilled to be part of that," Steingart said.