ONTARIO MODEL PARLIAMENT
Student gets on-the-job experience as he ponders a life in politics
For News Tips & Advertising call...
Kitchener East - 519-578-8228
Kitchener West - 519-394-0335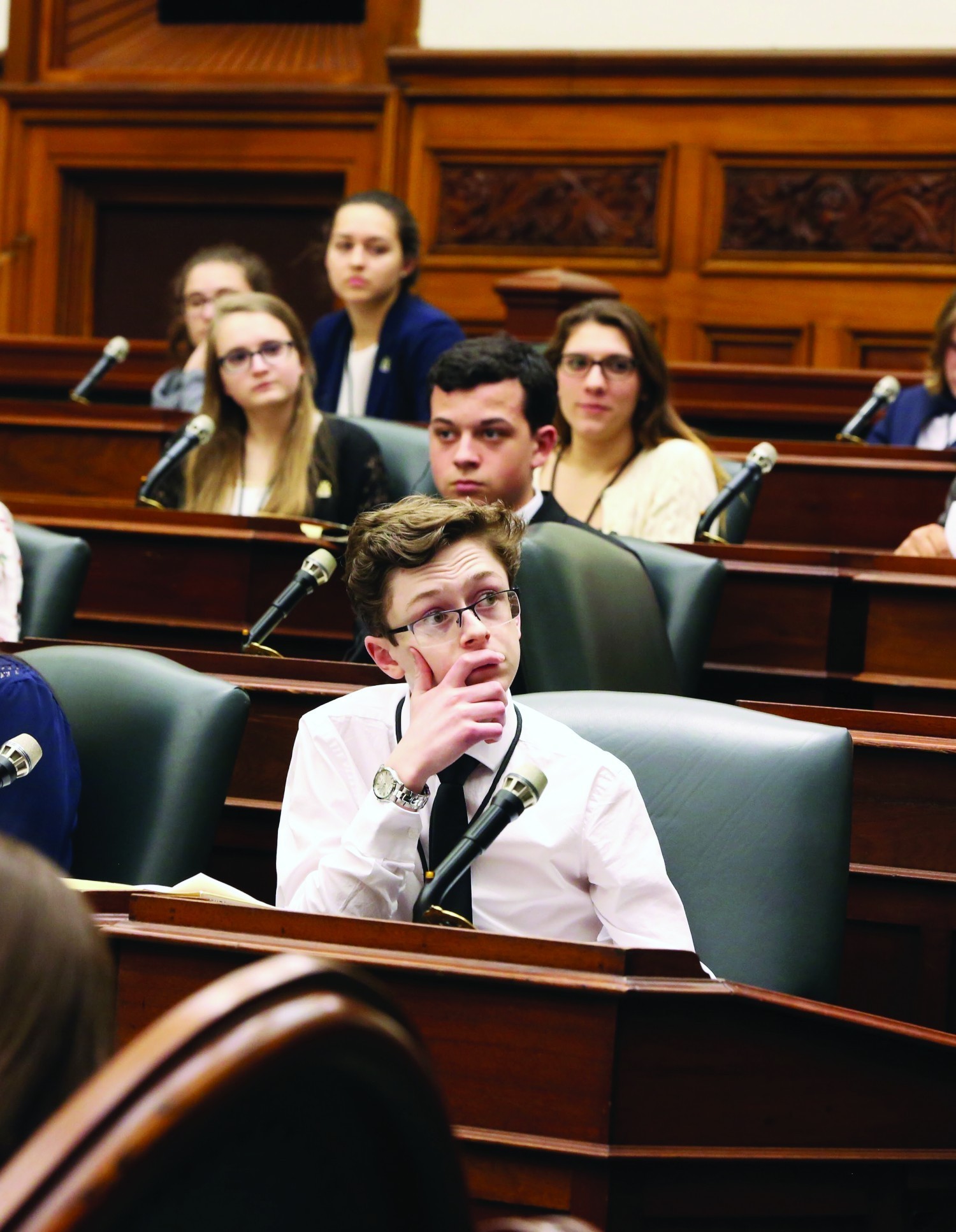 by Helen Hall
Kitchener Citizen
March 9, 2017
​​​​
While many people are not that fond of politicians these days, Ethan McCready-Branch can picture himself as one.
​
The grade 10 student from the Cameron Heights International Baccalaureate Studies program recently took part in the Legislative Assembly of Ontario Model Parliament program.
​
For three days in February, he wandered the halls of Queen's Park, talking with real provincial politicians and staff members, debating bills, writing speeches, and sitting in the Legislative Chamber.
​
"That building has a great environment," McCready-Branch said. "There is nothing quite like it."
​
And this wasn't his first trip to Queen's Park.
​
As a grade 8 student at Queensmount Senior Public School, he was selected to serve as a Legislative Page. During his five week term as a Page, he served as a messenger on the floor of the Legislative Chamber and learned about Ontario's parliamentary system of government.
​
McCready-Branch said he was more comfortable going there for the second time.
​
He had to apply to be accepted into the program, and wrote a 1,500 word essay and submitted his resume and marks from school.
​
About 100 students from across Ontario in grades 10 to 12 were selected to participate.
​
McCready-Branch said he heard about the program from Kitchener-Centre MPP Daiene Vernile.
​
The students were divided into groups as members of the Liberal, Progressive Conservative and New Democratic parties, and each student had to prepare a bill to be passed. A leader for each party was elected and names were drawn to head each ministry.
​
McCready-Branch was selected to be the Minister of Natural Resources and Forestry, which was an appropriate portfolio as the real minister, MPP Kathryn McGarry, is also from Waterloo Region.
​
For his bill, McCready-Branch wrote the "Water Bottle Taxation Act" that added a 5% tax on water being bottled and sold outside of Ontario.
​
Of all the bills written by the students, three were chosen be debated and voted on in the chamber. They included a single payer prescription plan, raising the age for buying tobacco to 21 years, and requiring supermarkets to distribute edible food to the food bank rather than dumping it.
​
The only bill that didn't pass was the bill to increase the age for buying tobacco to 21.
​
"We thought it would force a lot of youth into the black market to buy cigarettes," McCready-Branch said. And they also worried about the lost taxes.
​​
While the bill didn't pass, he said it was offered "with the best intentions from their party."
​
McCready-Branch said if he did enter politics, he would probably run locally first for Kitchener city council. And if not locally, he would prefer provincial politics over federal because you are "closer" to the people you serve.
​
One of the highlights of his time at Queen's Park was meeting 19 year old Niagara West-Glanbrook MPP Sam Oosterhoff, who is the youngest MPP ever elected in Ontario. Oosterhoff won in a byelection last November.
​
"That was very cool for us because he is close to our age," explained McCready-Branch. "It was easier to connect with him."
​
McCready-Branch hasn't settled on politics for certain. Although he is taking some courses that would help him get there, he is also interested in policing and is considering the Community and Criminal Justice program at Conestoga College.

Cameron Heights student Ethan McCready-Branch listens to a debate in the Legislative Chamber during the Ontario Model Parliament program in February.