High tech LED lights do more than shed some light on the city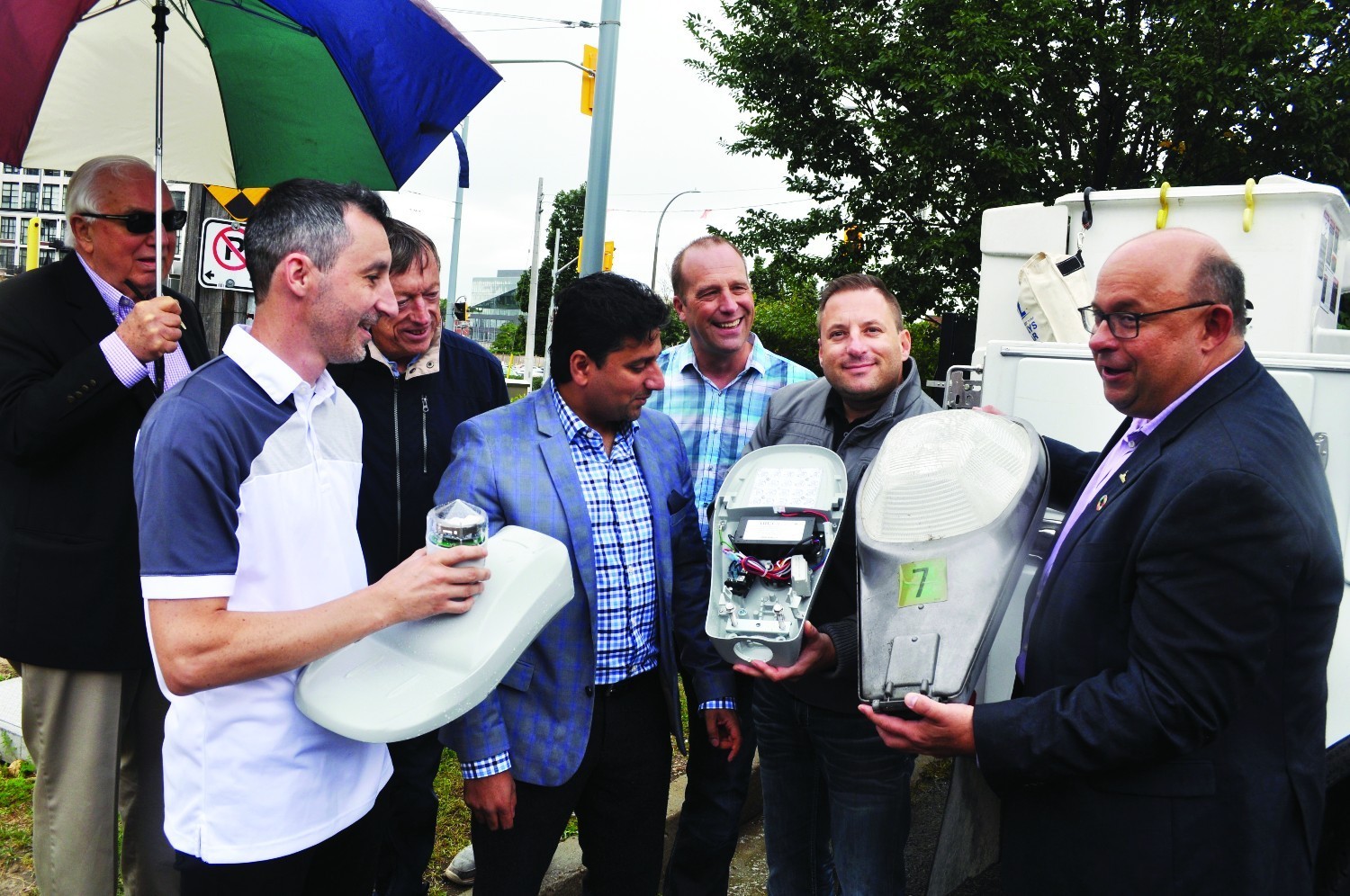 By Carrie Debrone
September ​12, 2017
Kitchener Citizen
​​
In a few years, Kitchener's new streetlights may become more than just a way to illuminate our roads – they may provide data that could save time and money.
​
The City of Kitchener is currently replacing its 16,000 streetlights with new high tech LED sensor lights, which can easily be upgraded and programmed to read your home water and gas meters, track available parking spaces, tell the city when commercial garbage bins need to be emptied, collect traffic flow data, tell traffic lights when to change colour to give priority to fire trucks or ambulances, or even to let you know when there is black ice forming on roads.
​
​​​​​​​​​These, and many other uses, are all
​possibilities because the new LED lights
​contain sensors that can communicate
​with other sensors (ones that could
​be placed on things like garbage
​bins or gas meters.) The new LED ​streetlights will create a wireless network throughout the city. Each one is essentially a small computer that can accept either plug-in sensors or be easily adapted or upgraded to future technology and programmed to gather data.
​
Kitchener is one of the first cities in Canada to install this new type of high tech lighting.
​
"Some cities in the states have them and many other cities in Canada are piloting them," said Justin Readman, Kitchener's Interim Executive Director of Infrastructure Services.
​
"This will take us down the path of becoming a smart city in the future," said Mayor Berry Vrbanovic during a press conference called to introduce the new high tech streetlights.
​
'I'm thrilled to see as a city we are taking the next steps forward to build a city that will connect people in ways that we can only imagine," said Vrbanovic.
​
With a price tag of about $7-million, installation of the new lights in Kitchener started last week and is expected to be completed by the end of October. City officials estimate the cost of replacing the lights will be recouped in about seven years through savings in energy. The lights are expected to last 20 years.
​
Officials estimate the new lights will save the city $1-million each year in the cost of energy and it has decided to use about $300,000 of that to pay for a new Civic Innovation Lab that will be looking at how the new streetlight sensor network could be used in the future.
​
"We have some ideas about how it could be used, but the cool thing is there are many solutions that we don't even know about yet," said Justin Watkins, Kitchener's Manager of Digital Strategy. The lab will begin work next year to find new applications for the light sensors.
​
"Maybe in the future we will be able to have the lights flash in front of a house where there has been a fire call, to help guide emergency services there faster," said Watkins. He also suggested they could be used to monitor storm water management ponds.
​
But, for the next year or so, the lights will function only as streetlights. They are, however, sophisticated. Already energy efficient, they can be dimmed during the wee hours of the night to save even more on energy.
The new LED lights have a colour temperature of 3,000 Kelvin, and are considered "warm," and not light polluting, eliminating the harsher blue light that often comes with many LED lights.
​
Aligning with the American Medical Association's guidelines for outdoor lighting, the new lights are also embedded further into their holders than previous models so there is less light spillage, enabling the light to shine straight down.
​
The street light conversion project is part of a larger Region of Waterloo plan to save money and energy by upgrading all street lighting, and fits into Kitchener's "Digital Kitchener" strategy and commitment to build a world class smart city by harnessing the power of digital technology.
​
"This can make the city's delivery of services more efficient and save money," Vrbanovic said.
Kitchener councillors got a close up look at the new LED sensor streetlights now being installed in Kitchener. Installation of the 16,000 new streetlights is expected to be completed by the end of October. The new lights (being held by councillors Davey and Ioannidis) are significantly smaller and have many more high tech applications than the old ones they are replacing (held by Mayor Vrbanovic, right). From left: front, Kitchener councillors Scott Davey, Paul Singh, Bil Ioannidis, Mayor Berry Vrbanovic, back, John Gazzola, Frank Etherington, Dave Schnider.