Kitchener Market celebrates 150 years
​of ​bringing the community together
A busy Saturday morning at the Kitchener Farmers Market in the 1960s, when it was located at the corner of Frederick and Duke Streets.
Photo Courtesy of the Waterloo Historical Society - Schmalz Collection
For News Tips & Advertising call...
Kitchener East - 519-578-8228
Kitchener West - 519-394-0335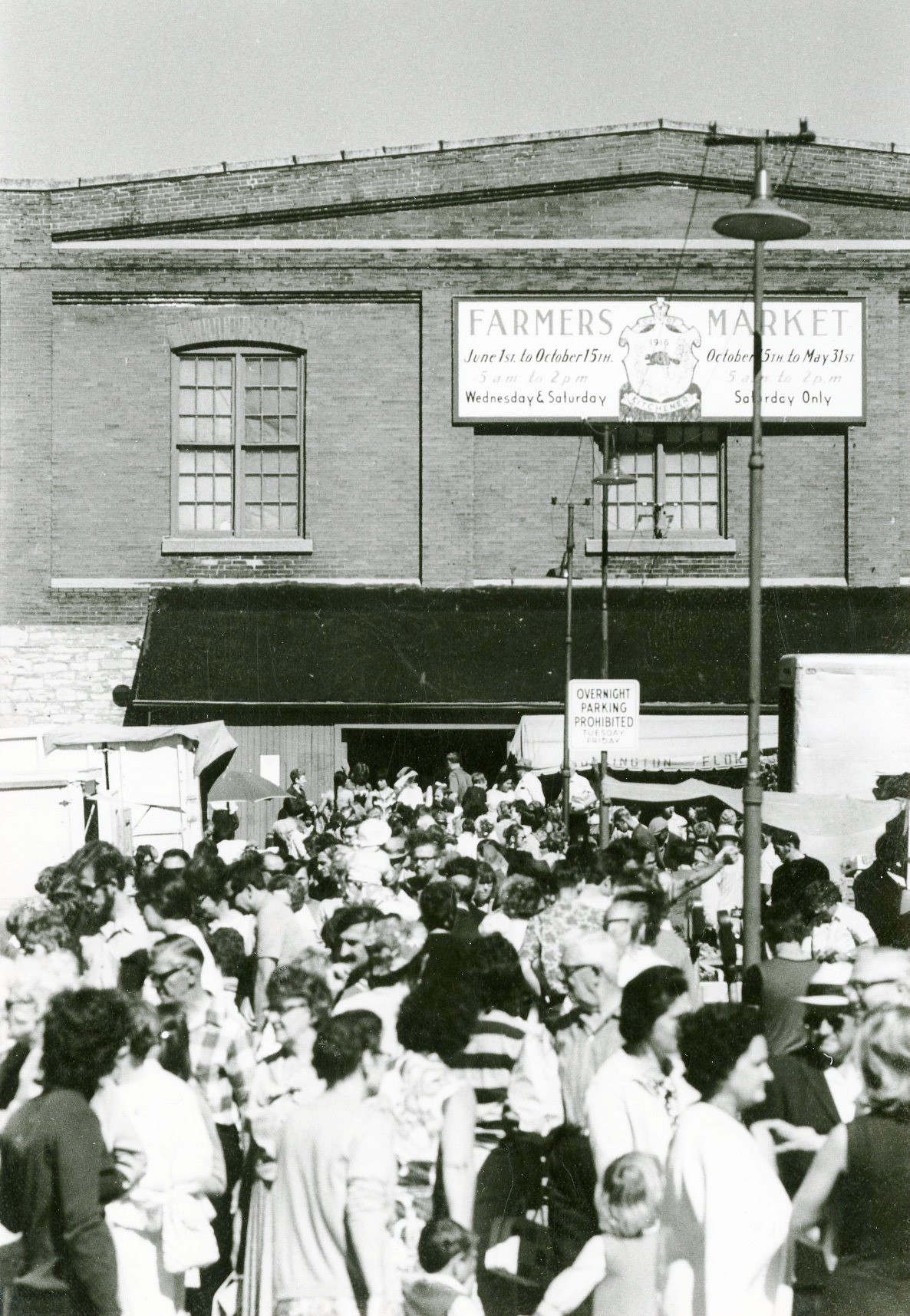 by Helen Hall
Kitchener Citizen
September 12, 2019
​​​
The Kitchener Market has served the community for 150 years because it continues to evolve with the times.
​
"It's always been a gathering place," said Market Manager Kim Freere, "but we've taken it to a whole new level."
​
On Saturday mornings, it is bustling with vendors selling local fruits, vegetables, meats and cheese, but its not quiet after closing time.
​
The Marketplace rental space has a full size commercial kitchen with state-of-the-art appliances and can be rented for events like weddings, bridal showers and retirement parties.
​
"We have an event co-ordinator who can help your event run seamlessly and be more enjoyable," Freere said.
​
It offers cooking classes featuring international cuisine, summer camps for children, bi-weekly music and art activites for kids, and craft classes for adults.
​
It even offers "Top Chefs Challenge" team building events for businesses.
​
With the downtown population growing, the Market ran a pilot project this summer of mid-week markets
on Wednesday evenings between 4pm and 8pm.
​
"We want to encourage people to shop local," Freere said. She said the mid-week markets had
​a really "good vibe."
​
Michele McBride-Roach is the event co-ordinator
​at the Kitchener Market and she isn't letting the 150th anniversary go by without a party.
​
After the Market closes at its regular time of 2pm on October 5, there will be a corn roast on the piazza, that will include local music and local craft beer.
​
There will also be activities for kids, including face painting and entertainment. The party will last until 7pm.
​
History of the Market
​
The Kitchener Market has always been in downtown Kitchener, but not always in the same location.
​
The first Kitchener farmer's markets trace back to Mennonites who settled in Waterloo Region. In the 1830s, farmers who produced more than their families could consume, held outdoor markets in the Village of Berlin (now the City of Kitchener).
​
The first permanent market structure was built in 1869. The council approved the expenditure of $7,000 to construct a two-storey town hall to house the farmers' market, Council Chambers, a public library and a post office at the intersection of Frederick and Duke Streets.
​
By 1872, the initial site was too crowded and a new market building was needed. It was constructed behind the town hall. This building was home to the market for 35 years.
​
As Berlin's population grew, a new market building was needed. In 1907, a larger two-storey building was built on the same site and it lasted more than 60 years.
​
In 1973, the Market Square building, a downtown Kitchener shopping mall, became home to the new market.
​
A 1972 brochure announcing the market's anticipated move made a commitment to residents stating: "There'll always be a market in Kitchener…the Kitchener Farmers' Market will not close this year, next year – ever."
​
The Kitchener Market moved to its current location on King Street East, between Cedar and Eby Streets, in 2004.
​
For more information on the Saturday Market, or events at the Kitchener Market, visit its website at kitchenermarket.ca.