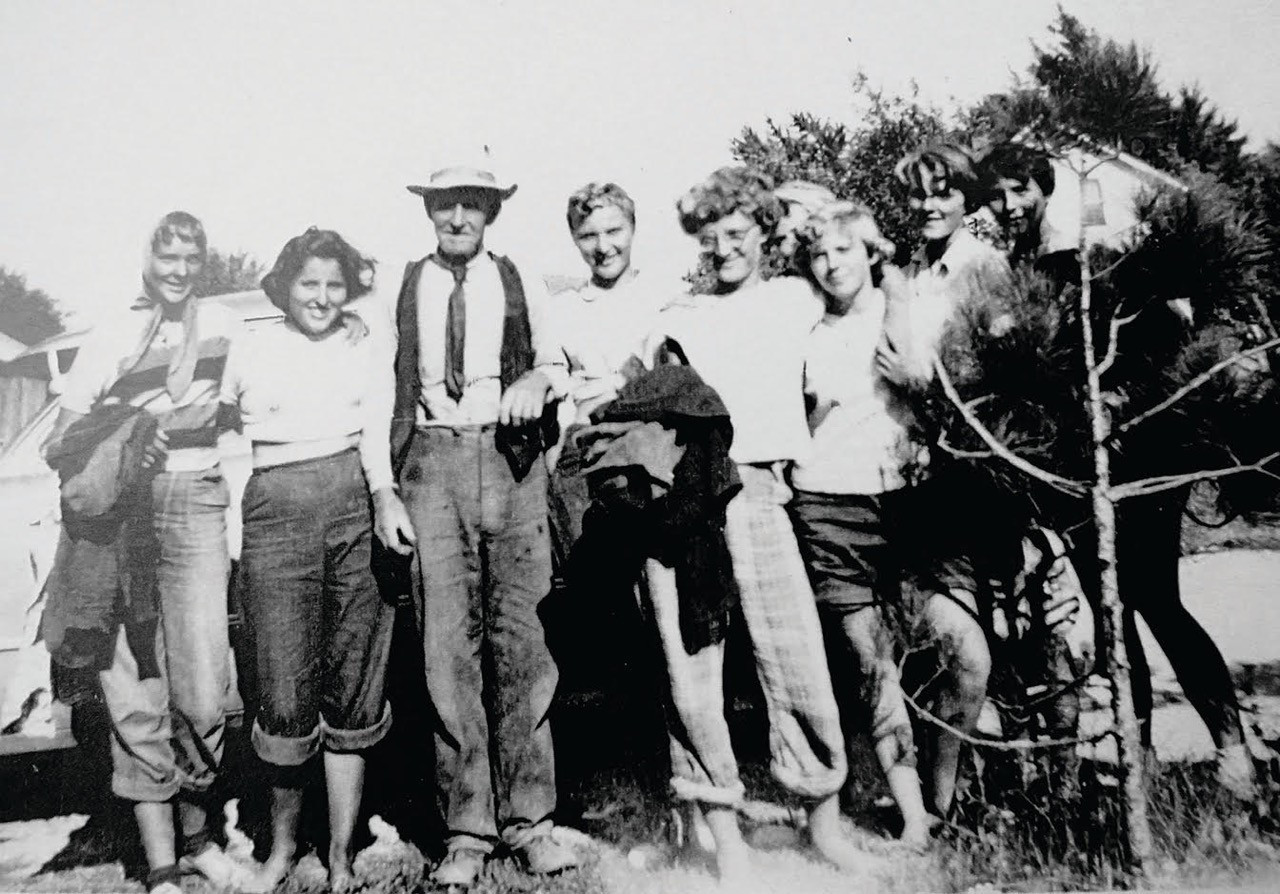 By Carrie Debrone

Kitchener Citizen
​​March 12, 2020​​


​
​
Quietly, and without fanfare, young women in Ontario became heroes in the effort to win World War II. Yet their story is almost unknown….until now.
​
These young women were members of the Farmerette program, initiated after war was declared in September of 1939 taking young men off farms to enlist. A shortage of workers in agriculture quickly occurred. Young women from all over Ontario stepped up, volunteering for the Farmerette program and taking on the work of planting and harvesting.


​



​A new book titled

Onion Skins and Peach Fuzz: Memories of Ontario Farmerettes

details the history of the Farmerettes and the experiences of these young women through letters, photos and interviews. And the book is soon to be turned into a play to be written by Alison Lawrence and staged by artistic director Kim Blackwell of the 4th Line Theatre near Peterborough in 2022.


​
This compelling story of how young Canadian women worked on Ontario farms, stepping up to do the jobs that were usually done by men, was co-authored by Bonnie Sitter of Exeter and Shirleyan English of London.

Initiated by the Ontario Farm Service Force, the Farmerette program ran from 1941 to 1952. The book offers readers a glimpse of what it was like to be in the farm work program that saw more than 20,000 women aged 16 to 18 years old move from their homes to live in camps or with billets and work at nearby farms harvesting fruits and vegetables as they came into season. The work was hard and often done in the hot sun. They sometimes worked six days a week cutting asparagus, picking strawberries, climbing trees to collect cherries, harvesting celery, peppermint, melons, onions and peaches and planting, hoeing and weeding.


​
Their work fuelled the war effort, helping to feed families at home, soldiers overseas and people in Britain who were starving.


​
Often recruited through CBC radio presentations played in high schools, and with the added incentive of not having to write final exams if they signed up for the program, the girls were paid about twenty-five cents an hour. For many it was the first time they had been away from home.


​
Although the work was hard, most remembered their time in the Farmerettes as among the best summers of their lives.


​
"I hope readers will get an appreciation for what these girls did. They didn't go into the factories to make bombs but they did something just as valuable," Sitter said.


​
"I wrote the book because I love history, but also because I was shocked that these women's history, part of our agricultural history in Ontario, had been ignored. I felt it was time to acknowledge what these women did and their volunteerism."


​
"I was a Farmerette in the last summer, 1952," said English. "In my mind the experience became for me 'that golden summer', the best and most memorable in my life. Most of the girls we heard from felt the same. The work was hard and grueling, most of us had no farm experience whatsoever, but the camaraderie was pure joy."


​
"When I mentioned I had been a Farmerette, I was met with blank stares. Most people had never heard the term, and as the years went by we were forgotten. Yet these girls made a significant contribution; they helped save the harvests and allowed market gardens and orchards to continue during the war and afterwards."


​
The book contains many memories from former Farmerettes, including one from Roberta Schofield, from Breslau, Ontario, who volunteered with the program in 1952 on Sitter's husband's grandfather's farm in Thedford.


​
"I have fond memories of the Sitters for the wonderful way they treated us. Grampa Sitter always made sure our hoes were sharp and this made a hard job easier," Schofield recalls in the book.


​
"The worst job was thinning peaches as the peach fuzz was quite an irritant to the skin," writes former Farmerette Jay Munro in the book. "But other times were fun. Some days in the watermelon season, we would be called into the storage shed and told we could eat all the melon we wanted as long as we saved the seeds. Those nights we always got home late."


​
"You had to learn to get along and I had an advantage that a girlfriend was there," recalls Eleanor Moffitt in the book. "You supported each other and you had to keep going because if you didn't finish the 13 weeks, you wouldn't get your year. So there was no thought of quitting. That fall, I went to Normal School in Toronto and had a physical. The woman doctor couldn't get over how muscular my back was. She even called someone in to see it."


​
"Girls in the Beamsville camp went to the local ice cream parlor every evening after supper," wrote former Farmerette Inge Cumberland. "I gained a measure of fame by once eating a whole brick of ice cream on a dare."


​
"Initially, the Farmerettes faced skepticism – few thought these 'city girls' who landed on the farm would be of much help, but the girls proved their mettle season after season and made a major contribution to the war effort at home," states a quote in a Niagara area newspaper from Jean Brett, who was the first Niagara teen to sign up for the Farmerettes in 1941.


​
But the book may never have been written if Sitter hadn't decided to sift through and downsize her late husband's photo collection. She came across a photo that showed three girls in farm work clothes sitting on the running board of an old car. On the back was written "Farmerettes, about 1946."


​
Sitter's interest was piqued. She researched the Farmerettes, learning they were part of the government-sponsored war effort – an effort she had never heard of.


​
Her research led her to write an article published in the Rural Voice in 2018 that, two months later, prompted a letter to the editor from reader Shirleyan English who had worked on Sitter's father-in-law's farm in 1952 and dated Sitter's brother-in-law.


​
Sitter contacted English who told her that she possessed over 300 letters from other Farmerettes that she had received in response to a request she'd placed in newspapers across Ontario in 1995. English, a writer herself, had intended to write a book about the Farmerettes but had not had time to complete it. Sitter asked English to join her to co-produce the book using the letters.


​
Both realized that because many of the Farmerettes were now quite elderly, it would be important to complete the book as soon as possible, interviewing as many of the women as they could find still living. They gave themselves one year.


​
"Bonnie and I both felt the contribution of those teenage girls, now in their 80s and 90s, was important and should be recognized; this history needed to be told," said English. "What those unsung girls accomplished and how they contributed to the war effort is a remarkable and joyous story. Needless to say, Farmerettes are delighted with the book and many persons in agriculture have been interested and pleased that a farm experience has come to light."


​
"Little did I know on that winter's day in 2018 that the small photo of the three Farmerettes would set in motion a wonderful adventure in which I would connect with Shirleyan and other Farmerettes and together we would finally tell their story," writes Sitter in the book's prologue.


​
"This is history that we need to be paying attention to."

* * *
Sitter and English are available to speak at author's readings, community events, book clubs, church groups, museums, and historical societies. They were keynote speakers at the London Heritage Festival on February 15, and at the Goderich Huron County Museum's International Women's Day event on March 8.


​
Their book has been nominated by the Huron County Historical Society for the Ontario Historical Society's Alison Prentice Award for Women's History. The winner will be announced in late June.


​
The hard cover book is now on display in the Juno Beach Museum in France, and at the Canadian War Heritage Museum in Mount Hope.


​
Printed by Briesens Corporation, Canada, and designed by Barbara Moquin Durand,

Onion Skins and Peach Fuzz: Memories of Ontario Farmerettes

costs $49 and can be purchased by emailing bonnie.sitter@gmail.com or by calling 519-235-1909 (cheque and e-transfer accepted).