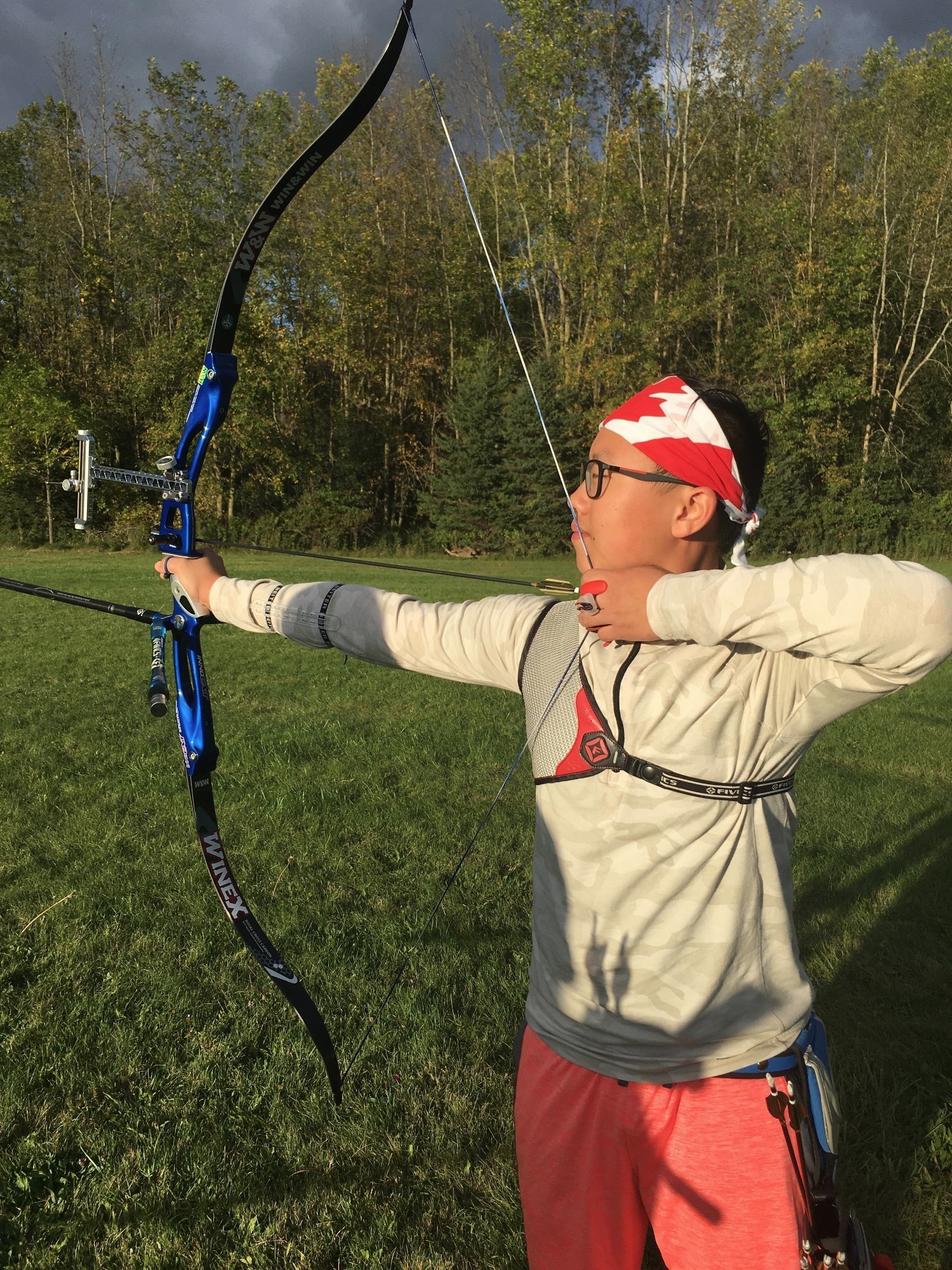 By Carrie Debrone
Kitchener Citizen
March 8, 2018​​
​
Local archer Benjamen Lee is hunting gold.
​
The grade 10 Kitchener Collegiate student is hoping to be one of the elite athletes representing Canada at the 2020 Tokyo Olympic summer games, and/or the 2024 Paris summer games.
​
Last week, Lee received some financial help towards that goal when he was named as one of 55 young athletes from across Canada selected by the Canadian Olympic Committee (COC) and Petro-Canada to receive a $10,000 Fuelling Athletes and Coaching Excellence (FACE) Program grant.
​
The grant helps athletes (from both summer and winter sports) and their coaches on their athletic journey ($5,000 directly to the athlete and $5,000 to their coach) as they compete nationally, internationally and ultimately at the Olympics.
​
FACE grants are often used for equipment, training and travel expenses.
​
Lee began archery at the age of 12, inspired by watching shows like The Hunger Games and The Avengers.
​
"My dad called the local Bow Shop here in KW, and it just so happened the instructor was also the coach of the Canadian National archery team - Shawn Riggs," Lee said.
​
Last October, Lee was invited to compete at the 2017 World Youth Archery Championships in Rosario, Argentina. Lee placed 5th in his age group (15-17 year olds - 'Cadet'). It was his first competition outside of North America.
​
"Surprisingly my year of shooting was strong, where I consistently shot over 600 points, (720 being a perfect score). During the qualification rounds, I ended up in 74th place out of 114 archers across the world," he said.
​
"I guess you can say it was a long hard fought battle. But due to this accomplishment and the Canadian Gold ranking I achieved, I was invited to the carding camp that was held in Mississauga, Ontario where all the qualifying archers are tested physically to be carded for 2018."
​
"I am grateful to receive the FACE grant," he said, adding that he did not know much about the grant before receiving it.
​
"I researched it and found out how so many athletes across Canada before me had been part of this great program, and how much it showed during these past winter Olympics. What an honour to be part of this program and the Petro-Canada Team!" he said.
​
Lee is currently training with sport psychologist Dr. Mario Faveri, and working on physical training and conditioning with Nick Anapolsky. He continues to be coached by Riggs four times a week for about four hours each session in preparation for several coming tournaments.
​
Lee will compete in Guatemala at the Youth Olympic Games Qualifier in May 2018, and if he does well there he will go on to compete at the Youth Olympic Games in Buenos Aires, Argentina in October 2018. He hopes to attend the Pan American and Para Pan American Championships (Medellin, Columbia) in August.
​
"My goal is to make our country proud and place in Guatemala at the Youth Olympics, and I hope it's me that will represent and bring home a gold medal for both YOG and Pan Am championships. My long term goal is to make the Olympic squad for Tokyo in 2020 and/or Paris 2024, where I hope to medal and be able to take a team of archers to the next Olympics," he said.
​
Past recipients of the FACE grant include Olympic and Paralympic medalists Patrick Chan, Hayley Wickenheiser, Rosie MacLennan, Mark Tewksbury, Kaitlyn Lawes, Marielle Thompson Mac Marcoux (GOLD, Para alpine skiing) and Nicholas Gill.
​
Since 1988, FACE grants have supported more than 3,000 Canadian athletes and coaches by providing more than $11,000,000 in financial support. Developed by Petro-Canada, the Canadian Olympic Committee (COC) and Canadian Paralympic Committee (CPC), the FACE Program supports up-and-coming athletes at a most critical time in their careers ---when they are striving to represent Canada at the Olympic or Paralympic Games, but don't yet qualify for government funding. Recipients are selected based on potential.
​
FACE grant recipients who participated in the February 2018 Winter Olympic Games included Kim McRae (Luge), Cendrine Browne (Cross-Country Ski), Mirela Rahneva (Skeleton), Gabrielle Daleman (Figure Skating), Mélodie Daoust (Women's Hockey) and Chris Spring (Bobsleigh).
​
In addition to providing financial support, FACE athletes and coaches are invited to an annual summit to learn from Olympians and Paralympians, and receive advice on media training, public speaking, and personal-brand development.

Benjamen Lee placed 5th in his age group in the 2017 World Archery Championships in Argentina.
Photo Submitted
One of 55 young athletes to receive FACE grant


Young Kitchener archer sets his sights on the Olympics
For News Tips & Advertising call...
Kitchener East - 519-578-8228
Kitchener West - 519-394-0335